Posted on
Mon, Feb 20, 2012 : 4:46 p.m.
Michigan basketball team says Northwestern won't be the only desperate club Tuesday in Evanston
By Nick Baumgardner
Northwestern basketball coach Bill Carmody was asked Monday whether his team's home game against Michigan on Tuesday was the biggest game in program history.
It's no secret, Carmody's Wildcats are on the bubble again, and they'll be playing desperate Tuesday (8 p.m., BTN).
But who says the Wolverines aren't in the same boat?
"They'll be inspired," Michigan coach John Beilein said Monday. "But at the same time, it's not like we're in the middle of the pack and not fighting for something.
"We have something we're fighting for right now. We're in the hunt to be the best of the best."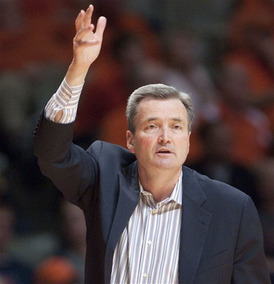 Associated Press
At 16-10, 6-8 in the Big Ten, Northwestern was listed among the "last four out" in ESPN "Bracketologist"
Joe Lunardi's latest NCAA tournament projection.
And, as most know, the Wildcats have never — ever — advanced to the Big Dance.
In need of an RPI boost, and really any added win, a Northwestern victory against Michigan (which holds an RPI of 14) would got a long way in helping the Wildcats find their way toward the steady side of the bubble.
The Wolverines know all about white-knuckling it down the stretch, as Michigan barely played its way into the tournament a year ago.
This season, things are different for the Wolverines, as they appear to again be on firm ground when it comes to NCAA tournament status.
But that doesn't mean they're not desperate.
Michigan (20-7, 10-4) hasn't won a regular-season Big Ten championship in 26 years, and with just four games to go, ending that skid is a real possibility.
"It's going to be something we have to really stay focused for, we can't let up these last few games," said Michigan senior captain Stu Douglass, whose team is a game back of first-place Michigan State in the Big Ten standings. "We don't play teams (that are ahead or tied with us), we don't play Michigan State or Ohio State again to win it.
"We play teams you've got to stay mentally focused for, and Northwestern will be perfect for us, because we know we can't relax with their system."
Beilein, as expected, said he wasn't concerned about any type of emotional letdown after beating Ohio State.
Not just because of what's at stake for Michigan, but also because of how things have gone for the Wolverines recently in Northwestern's Welsh-Ryan Arena.
Last season, in Evanston, Ill., Michigan lost by 14 to the Wildcats — an effort Beilein described as one of the team's worst.
"It's almost like guarding us," Michigan forward Jordan Morgan said of playing Northwestern and its Princeton-style offense. "It's hard action to guard, and the way we guard it is different from all our normal rules and principles.
"You've got to be on your toes."
One team's desperate to keep its season alive, one's desperate for a championship? There may be varying degrees of desperation, but Michigan says that doesn't mean much.
The Wolverines may have less to lose Tuesday, but they certainly have much more to gain.
"We realize they want this game as bad as ever," Douglass said. "As much as we want to get in, it'd also be fun to keep a team out of the tournament, too."
Checking the schedules?

Beilein said last week that his team has started to acknowledge its chances of winning a Big Ten championship.
But that doesn't mean he's overly active when it comes to standings watching, or checking to see what the other contenders have in front of them.
"I got enough things on my mind," Beilein said. "I'm not worried about who they're playing."
In terms of RPI, Michigan has the easiest remaining schedule with road games against Northwestern, Illinois and Penn State and a home game with Purdue.
Ohio State and Michigan State still have to play each other. The Spartans still have to visit Indiana, while Ohio State has to play Wisconsin.
Morgan's momentum

Morgan put together the best performance of his career Saturday against Ohio State, netting the first double-double of his career with 11 points and 11 rebounds.
A player who has seen his fair share of peaks and valleys in the past two years, Morgan says the goal is to build off the Ohio State performance.
"I had a lot of energy (against Ohio State) and I felt like my motor was pretty high," Morgan said Monday. "Coach Beilein doesn't settle for lackluster effort from me, especially. He knows how good this team can be, and he (knows) how good I can be.
"That's why he pushes us so hard."
Beilein says Morgan's performance against Jared Sullinger on Saturday should, if nothing else, give him confidence moving forward.
Starting Tuesday at Northwestern.
"He was outstanding," Beilein said. "If you can guard somebody like Sullinger, you can play against a lot of people."
Home away from home?

Tuesday will be another road game for Michigan, but the Wolverines certainly won't be without their supporters in Evanston.
Whenever Michigan visits Northwestern — whether it be in football or basketball — several Chicago-area UM alums seem to make their presence known, a fact Douglass said the team is aware of.
"When we go to Chicago and New York, there's always a bunch of Michigan alums," Douglass said. "It helps a little bit, that gym's pretty small and it doesn't get too loud.
"But anything on the road like that can help."
Nick Baumgardner covers Michigan basketball for AnnArbor.com. He can be reached at 734-623-2514, by email at nickbaumgardner@annarbor.com and followed on Twitter @nickbaumgardner.
Want to stay connected to Wolverine basketball in your Facebook newsfeed? "Like" AnnArbor.com's Michigan Basketball News & Views.