Posted on
Sun, Mar 7, 2010 : 6:30 a.m.
Bill Martin leaves Michigan's athletic department better than he found it
By Michael Rothstein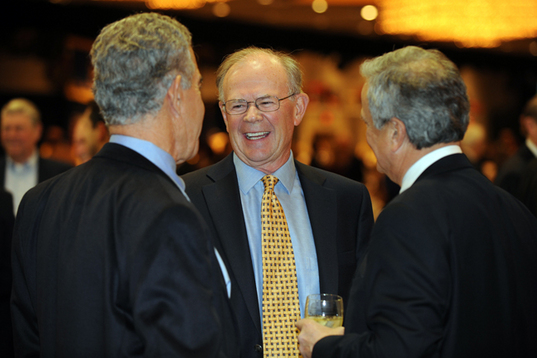 This is the second time
Bill Martin
is packing his office to say goodbye to the Michigan athletic department.
The first time was as a placeholder, helping out then-Michigan President Lee Bollinger on an interim basis until he found a replacement for Tom Goss. He thought he'd be done by Labor Day, 2000.
A decade later, he's packed for good, a replacement named and starting Monday to pick up where Martin left off.
So ends the accidental athletic director reign of Martin, whose last day is today and whose final act will be attending Michigan-Michigan State basketball game in East Lansing.
He never thought he'd be in this job - the one consuming his life the past decade - for a year, let alone 10.
Ten years and three days ago, he met with the Michigan athletics staff in Cliff Keen Arena, and took the job on an interim basis two days later. Monday, he hands the job off to new athletic director Dave Brandon.
"I never designed to be involved in amateur sports," Martin said Thursday in a conference room in Weidenbach Hall as his carpets were being cleaned and as he prepares to move his office to the administration building. There, he'll finish overseeing the improvements to Michigan Stadium and work on other projects for Michigan President Mary Sue Coleman.
His foray into this began in 1980 when he won a dispute about an illegal boat in a qualification race for the Admiral's Cup. From there, he served on a committee within the United States Sailing Association, was eventually named vice president and then president of the organization. That led to being on the board of the United States Olympic Committee and then for a brief time running the USOC while he was Michigan's athletic director.
Now, 30 years after he started and a few days from leaving amateur athletics to become a very well-informed fan, the man called "Boss" by many in the Michigan athletic department has begun to think back to his time as Michigan's sports leader.
"I look back on the last decade and it's been really full," Martin said. "People ask me 'How do you like the job of being athletic director?' I say it's not a job. It's a way of life because it's 7 by 24 every single day.
"You're never off."
It's a lifestyle that's about to change.
Martin took over an athletic department in debt in 2000 and made it one of the most robust departments in college sports. He almost completely rebuilt Michigan's athletic facilities and had the final piece of the reconstruction - Crisler Arena renovations - passed in January. Sensing the facilities project was close to completion two years ago, he met with Coleman informing her that when Michigan Stadium was done, so was he.
Those projects may determine is his legacy at Michigan. Not that he said he's thought about it.
"I really don't," Martin said. "Legacy is something other people think about. I'll miss the people, no question about it."
It is these people - notably associate athletic directors Mike Stevenson and Joe Parker - that helped him turn around the Michigan athletic department. They helped with the fundraising for his facility endeavors. They offered counsel and advice and friendship.
They, Martin said, made his job much easier.
But the bulk of what has happened during his reign falls on him, and he's OK with it even if most people will judge his tenure based off the success or failure of Michigan's two current big-name coaches - football coach Rich Rodriguez and basketball coach John Beilein.
"Absolutely, it will be," Martin said. "And I'll live with it."
During his half-hour conversation with a visitor, Martin described how he took over Michigan's program. It was an unprofitable department with staffing issues, "a basketball program going south" and embroiled in the Ed Martin basketball scandal with the eventual vacating of victories.
Now, as he departs, it is a profitable program with new facilities, coaches in place, a basketball program searching for stability and a football program awaiting a meeting with the NCAA Infractions Committee in August in Seattle that could lead to major - although not as drastic as the Martin scandal - penalties.
Martin, though, believes he has left the athletic program in a better spot than when he inherited it. For the most part, he is right.
"You're taking a snapshot of one thing in the 10-year career," Martin said when he was asked if he'd like to leave on a better note for Michigan sports. "I look at the 10-year career. I don't look at the last moment.
"Yeah, do I wish we were winning more? Of course. Do I wish we didn't have the challenges we face right now with the NCAA? Of course. Of course. But it is what it is, and you deal with it and you learn from it and you move on."
On the whole, though, he did well as Michigan's leader in sport.
And at least one person thinks so. When Martin announced his retirement in October, he received a letter from the man who called him while he was packing in 2000 and hired him after listening to his coaches - Bollinger.
It was an actual letter, one sentence long.
"He said 'One of the best things I did at Michigan was hire you,'" Martin said. "I thought it was cute for him to do that."
With that, Bill Martin is off to his next adventure.
Audio from Bill Martin's interview last week on WTKA-AM (1050): 008 - Bill Martin 030510.mp3
Michael Rothstein covers University of Michigan athletics for AnnArbor.com. He can be reached at (734) 623-2558, by e-mail at michaelrothstein@annarbor.com or follow along on Twitter @mikerothstein.