Posted on
Thu, Dec 22, 2011 : 10:19 p.m.
Awkward family reunion? Michigan basketball coach John Beilein says no way
By Nick Baumgardner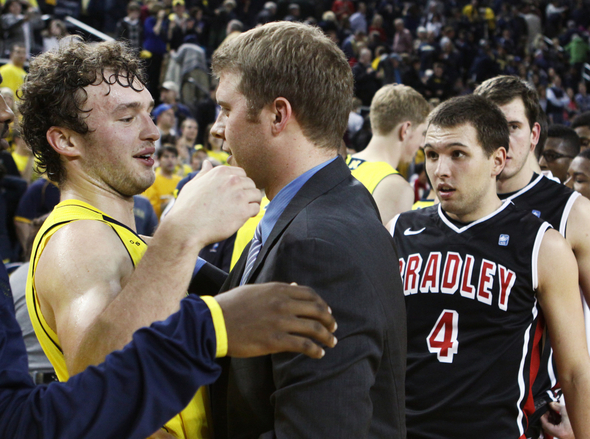 Jeff Sainlar | AnnArbor.com
For the first time ever in Beilein family history, it was father against son.
With Michigan basketball coach John Beilein facing off against Bradley, a program that employs his son, Patrick, as a director of basketball operations, Thursday had the potential for some serious conflict of interest.
So, was it weird?
Not even close.
"I've been doing this my whole life," John Beilein said after his team's 77-66 win. "I'm so focused on the game, my mother could be on the other bench, my late mother -- bless her heart.
"And you know what, she'd be the same way."
Patrick Beilein, who played for his father at West Virginia and was a member of his staff as a Michigan graduate assistant from 2008-10, is in his first year on Bradley coach Geno Ford's staff.
He spent last season as an assistant coach at Dartmouth.
"It's going to be a little bit different on a personal level, but not just with my dad, but with his assistants and all the guys on the team that I know really well," Patrick Beilein told AnnArbor.com earlier this week. "It's going to be a lot of fun just to take it in. It's something I'll look back upon and remember in my coaching career, the first time going against my dad."
Following Michigan's win, Patrick embraced most of the Michigan roster with a hug in the handshake line.
The reception he got from dad?
A business-like handshake.
"Your job is to win that game," Beilein said with a smile. "You let all that (other) stuff go."
The business of basketball took a backseat immediately following the game, though, as Patrick intends to remain in Ann Arbor with his family for a small holiday break.
The on-court Beilein family reunion went in favor of dad, and because of that, the Christmas family reunion should prove to be much more peaceful, as well.
"(Patrick's) going to be staying at the house tonight," John said, still smiling. "And we'll have a better Christmas than we would have had (if Michigan had lost).
"My mother raised me to be a tough guy. ... Win. Just win, baby."

Multiple helping hands

Entering Thursday's game, turnovers had been a major concern for the Wolverines.
In Michigan's three prior outings, the team had committed 51 turnovers.
Against Bradley, the Wolverines coughed the ball up just six times. And, more impressively, handed out a season-high 25 assists.
"We were just sharing the ball," said freshman point guard Trey Burke, who led the way with eight assists. "That was our main focus in the second half, getting everyone involved and making the defense move."
Beilein admitted Bradley surprised Michigan by implementing a 3-2 zone, something the Wolverine coaching staff wasn't expecting.
Following a few first-half hiccups, the Wolverine coach said he felt his team handled itself well -- playing as efficient a half as they've had all season.
"They played more zone than we anticipated, and you're not going to turn it over a lot against the zone," Beilein said. "But that was a really good (assist) number. I don't know if we've had a number better than that."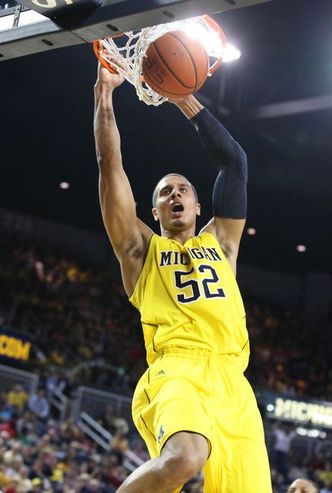 Jeff Sainlar | AnnArbor.com
Rebound turnaround
For the first 20 minutes, Michigan had no answer for Bradley in the post. The Braves out-rebounded Michigan 26-18 and out-scored the Wolverines 12-8 in the paint.
The second half was a different story. The Wolverines out-rebounded Bradley by 11 after the break and out-scored the Braves by 14 on the block.
A large part of the second-half turnaround was due to sophomore Jordan Morgan, who scored 13 of his 15 points after the half and pulled down four of his seven rebounds during the final 20 minutes.
Morgan's performance was needed, as Michigan was once again without the services of sophomore forward Jon Horford, leaving the Wolverines short-handed on the low block.
"I think I just did my job to finish to the best of my abilities," Morgan said.

Odds and ends

Horford once again did not dress Thursday, sitting out the game with a boot on his injured right foot. ... Freshman guard Carlton Brundidge played three first-half minutes, but did not see any action after the break. Burke played the entire second half, leading the team with 37 minutes. ... The total number of bench points scored Thursday was six, three by Michigan and three by Bradley. ... The home crowd of 11,298 was a season-high for Michigan.
Nick Baumgardner covers Michigan basketball for AnnArbor.com. He can be reached at 734-623-2514, by email at nickbaumgardner@annarbor.com and followed on Twitter @nickbaumgardner.
Want to stay connected to Wolverine basketball in your Facebook newsfeed? "Like" AnnArbor.com's Michigan Basketball News & Views.