Posted on
Thu, Dec 15, 2011 : 5:58 a.m.
B1G Notes: Hey, look everybody, it's basketball season
By Nick Baumgardner
Something happened while you were eating Thanksgiving dinner and wrapping up the final few weeks of the college football season.
Basketball.
Big Ten play won't start until Dec. 27, but that doesn't mean conference teams haven't already been putting in work.
As of Tuesday, six Big Ten teams were ranked in both The Associated Press' Top 25 and the USA Today/ESPN Coaches Poll. In addition, none of the league's top nine teams have more than two losses, combining for an overall record of 79-11.
Is the Big Ten back? We're about to find out.
Here are a few early-season stories to keep an eye on: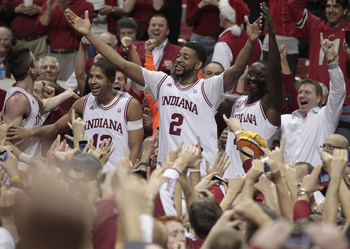 AP Photo
Indiana's return to glory?
It might be a bit early to officially say Indiana basketball is back, but the Hoosiers are off to their best start in the Tom Crean era.
After knocking off No. 1 Kentucky on Saturday, Indiana is 9-0 and nationally ranked for the first time since 2008.
Led by freshman phenom Cody Zeller (15 ppg, 7.4 rpg), the Hoosiers have been one of the country's most pleasant surprises of the season.

Is Michigan State back, too?
The Spartans dropped their first two games, against North Carolina (on an aircraft carrier) and against Duke (in New York City), but have since rattled off eight consecutive victories.
The most impressive of that stretch was a seven-point road win at No. 22 Gonzaga on Saturday.
After playing without passion and toughness for a good portion of last season, Tom Izzo's team seems to be back to its old ways -- relying on rebounding (41.9 boards per game) and defense (57.7 points allowed per game).
AP file photo
Sullinger's banged up,
but Ohio State's still rolling
Ohio State sophomore forward Jared Sullinger missed two straight games with back spasms, and continues to be day-to-day, but Ohio State doesn't care at this point.
The Buckeyes did lose at Kansas without the league's best player, but it was only by nine points (and Kansas is pretty darn good).
Ohio State has scored wins against Florida and Duke and is expected to get a boost from the return of freshman forward LaQuinton Ross, a four-star prospect who recently regained academic eligibility from the NCAA.

Other notables

Michigan freshman guard Trey Burke has made folks in Ann Arbor forget about Darius Morris rather quickly. The freshman point guard is averaging 12.5 points and 4.8 assists this season. … Northwestern is hoping to secure its first NCAA tournament bid, and the 7-1 Wildcats may have a shot if John Shurna keeps up his 18.9-point scoring average. … Robbie Hummel has returned to form for Purdue, averaging 18.3 points and 5.5 rebounds per game. … Unbeaten Illinois received a major jolt from sophomore 7-footer Myers Leonard. A candidate for the league's most improved player, Leonard is averaging 13.4 points and 7.2 rebounds. … Despite losing all-conference forward Trevor Mbakwe for the season to a knee injury, Minnesota and Tubby Smith have managed an 11-1 start.

Sky high: No. 18 Indiana (9-0)
For the first time since 2008, the Indiana basketball program has a Top 25 ranking. No, seriously. It's been that long.
After Christian Watford sank a buzzer-beating 3-pointer to knock off No. 1 Kentucky on Saturday, the Hoosier faithful stormed the Assembly Hall court and virtually every college basketball writer with access to a laptop deemed Tom Crean's program as being "back."
Crean entered this season as a coach with something to prove, sitting with a 28-66 record in his first three years in Bloomington.
He's still got a long way to go this season, but starting 9-0 and grabbing the first real eye-popping win of his Indiana career is a start.
Are the Hoosiers back? I'm not sure. But it'll be fun to watch and find out.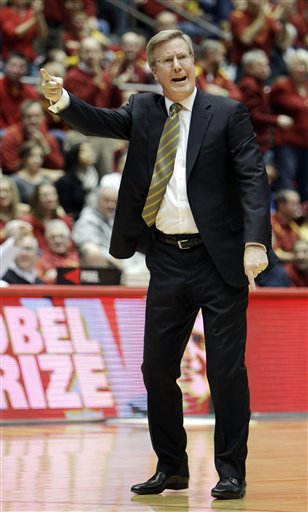 AP Photo
Rock bottom:
Iowa (5-5)
The Hawkeyes haven't exactly set a tone during their non-conference schedule this season.
After coach Fran McCaffery got ejected during a 20-point road loss to in-state foe Northern Iowa, Hawkeye athletic director Gary Barta declared the series between the two schools would not be renewed.
Iowa wasn't done, though. The Hawkeyes turned around and lost by 10 to another in-state foe, this time at Iowa State.
Now, to be clear, Northern Iowa and Iowa State aren't pushover opponents.
However, as it stands now, Iowa (a Big Ten school) sits in a distant third for supremacy in the state for which it is named.
Not great.

Last week's heavy lifter: Draymond Green, Michigan State senior F
Draymond Green put on a scoring clinic Saturday during the Spartans' 74-67 win at Gonzaga, dropping in 34 points on 11-of-13 shooting to go along with three steals and three assists.
Earlier in the week, Green continued to build his reputation as a complete player, putting up 14 points, nine rebounds, four assists and three blocked shots.
Tom Izzo continues to mention Green in the same sentence as Magic Johnson and Mateen Cleaves. I'm not so sure about that, but still, Green looks poised for a terrific senior campaign.

Standout stats


1,372
Days, as of Monday, since Indiana had found its way into a Top 25 poll. The last time the Hoosiers were ranked, they came in at No. 24 in the coaches poll on March 17, 2008.
9
Big Ten teams with an RPI inside the top 68, according to
RealTimeRPI.com
(Wisconsin, Michigan, Minnesota, Michigan State, Ohio State, Indiana, Northwestern, Illinois and Purdue).
+11
Michigan State's rebounding margin through 10 games this season, best in the Big Ten and sixth nationally.
24.8
Scoring differential for Ohio State (8-1) through nine games, including its one loss.

Quotable
"They deserve to storm the court, they deserve to stand on chairs and tables and be excited."

-- Indiana coach Tom Crean on the reaction from his fanbase
following a 73-72 win over No. 1 Kentucky on Saturday

Off the cuff
This isn't a Big Ten note, but it's a college sports (more specifically, college basketball) topic worth addressing.
In the wake of an embarrassing bench-clearing brawl between Cincinnati and Xavier on Saturday, Bearcats coach Mick Cronin offered a sentiment often lost on the modern college sports fan.
This is a game. It's not life and death. Calm down.
In Cronin's words: "All these kids all need to realize they're here to get an education. … Very few of them are ever going to make a dollar playing basketball. They're here to get an education at two great universities, and they need to appreciate that.
"The world doesn't revolve around them and around basketball. They need to learn how to act, they need to have respect for the fact that they're on a scholarship.
"I (coach at a) school at a place where they discovered a vaccine for polio and created Benadryl. I think that's more important than who wins a basketball game."

Nick Baumgardner covers Michigan basketball for AnnArbor.com. He can be reached at 734-623-2514, by email at nickbaumgardner@annarbor.com and followed on Twitter @nickbaumgardner.