Posted on
Tue, Jan 17, 2012 : 11:46 p.m.
Back in the starting lineup, Stu Douglass hits another game winner against Michigan State
By Nick Baumgardner
This one didn't quite have the same zest to it.
Rather than heaving a 25-footer with a hand in his face, Stu Douglass' task Tuesday was simply to drop in an uncontested layup a mere foot from the hoop.
But in the end, both shots helped the Michigan basketball team topple Michigan State -- and Douglass will take it.
"Somebody said 'another game-winning shot,'" the senior guard said laughing after the Wolverines' 60-59 win over the Spartans on Tuesday. "It was a little different (this time), it wasn't quite the same thing.
"But it's good."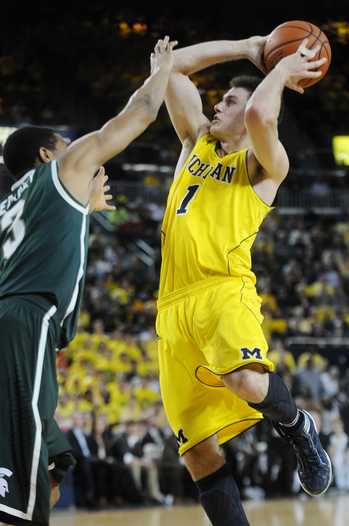 Melanie Maxwell | AnnArbor.com
A year ago in East Lansing, Douglass' clutch 3-pointer with 20.2 seconds left clinched a 61-57 win, giving Michigan its first road victory in the Michigan State series since 1997.
On Tuesday, the senior co-captain found himself on the receiving end of a dump-off pass from freshman point guard Trey Burke, resulting in the game-winning layup.
Right place at the right time? Perhaps.
But again, he'll take it.
"We need to build these streaks up, my sophomore year we got swept by a couple teams and that can just kill you mentally," he said. "We want the reverse of that, especially (considering that) we want to take this program back to the top of the Big Ten."
Tuesday's game was noteworthy for Douglass prior to the final basket, though, as it marked his return to Michigan's starting lineup for the first time since the season-opener.
Leading into the Michigan State game, the Wolverines had gone with a starting lineup of Burke, Zack Novak, Tim Hardaway Jr., Evan Smotrycz and Jordan Morgan.
But with Smotrycz in the midst of a scoring funk, Michigan coach John Beilein opted to call on one of his seniors prior to the team's biggest home game to date.
The move paid off.
"We want to put our best five on the floor, and put guys that we felt understood our defense and understood what we were doing the best," Beilein said. "Stu is such a great defender, and I wanted him on the floor from the very beginning.
"We hadn't had a good start against Northwestern, we hadn't had a good start at Iowa, we said 'let's change this up.'"
Douglass has maintained a team-first stance all season, explaining how a spot in the starting lineup isn't something he's too concerned about.
As a senior, in his final go-around, Douglass says he just wants to win.
On Tuesday, his team did just that.
He'll take it.
"As a senior, you want to lead by example," said Douglass, who finished with nine points and four rebounds in 36 minutes. "I try to give my all on defense and be a team leader on the defensive end.
"You win championships with defense."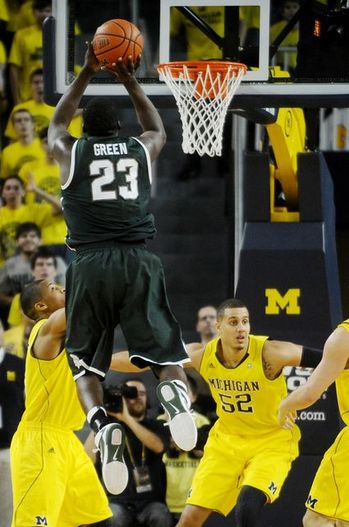 Melanie Maxwell | AnnArbor.com
Slowing down Draymond
Michigan State senior forward Draymond Green is currently in the midst of an All-Big Ten type season.
But his last three games against Michigan haven't been all that memorable.
Green, who scored just 15 combined points in a pair of losses to the Wolverines a year ago, finished Tuesday's game with seven points and 11 rebounds, but went 3-for-8 from the floor and committed five turnovers.
"We tried to give him different looks at different times," Beilein said. "It's so rare when you see a kid (like Green) that can shoot 3's, can post up and can pass the heck out of the ball.
"We limited him to just three assists, that was big."
Green was relatively quiet, and MSU sophomore big man Adreian Payne was even more silent -- logging just four points and one rebound in 14 minutes.
The third cog of Michigan State's front court, Derrick Nix, did make an impact in the paint, putting up 13 points on 6-of-9 shooting.
But overall, Michigan held its own in the paint with the Spartans -- being outscored just 30-28.

No whistles

So much for foul trouble.
The first foul of the game wasn't called until the 10:36 mark of the first half, and when all was said and done, just 20 combined fouls were called Tuesday in a game that's been known to be rather physical over the years.
Michigan was whistled for eight fouls, while Michigan State was called for 12. The Wolverines went 8-for-13 from the foul line, the Spartans 4-for-5.
"That's always our plan, to not give people easy points, and we really did an exceptional job of that today," Beilein said. "We kept them away from getting easy baskets and getting to the foul line."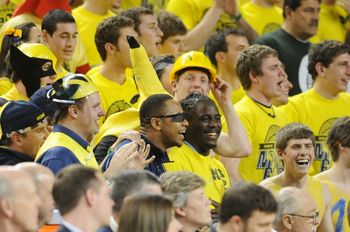 Melanie Maxwell I AnnArbor.com
Star-studded crowd
The Crisler Center crowd of 12,721 Tuesday officially went into the books as a sellout.
But it also featured plenty of familiar Michigan faces.
Michigan junior quarterback Denard Robinson made his second straight appearance inside the "Maize Rage," once again being joined by junior receiver Roy Roundtree.
Former Fab Five guard Jimmy King was shown on the arena video board and given an official 'welcome back,' as was former Michigan football coach Lloyd Carr.
Carr caught the game from a courtside seat, directly next to Beilein's chair on the Michigan bench.

Odds and ends
The win was Michigan's second over a top-10 opponent this season. Memphis was ranked No. 8 when the Wolverines toppled the Tigers at the Maui Invitational in November. ... Michigan held Michigan State to a season-low 59 points. The Spartans entered the game averaging 76.7 points per contest. ... The Wolverines remain unbeaten at the Crisler Center this season, running their current home record to 12-0.
Nick Baumgardner covers Michigan basketball for AnnArbor.com. He can be reached at 734-623-2514, by email at nickbaumgardner@annarbor.com and followed on Twitter @nickbaumgardner.
Want to stay connected to Wolverine basketball in your Facebook newsfeed? "Like" AnnArbor.com's Michigan Basketball News & Views.