Posted on
Sat, Feb 4, 2012 : 11:49 a.m.
Beat writers share keys to victory for the Michigan at Michigan State basketball game
By Nick Baumgardner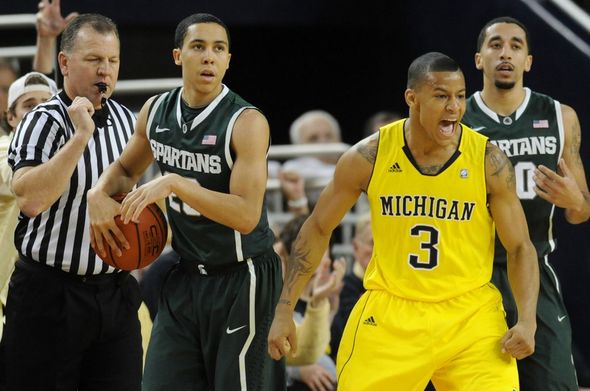 Melanie Maxwell | AnnArbor.com
A game so nice they had to play it twice.
For the second time this season, the Michigan State and Michigan basketball programs will square off as ranked opponents when the 23rd-ranked Wolverines travel north to East Lansing on Sunday (1 p.m., CBS) for a rematch with the ninth-ranked Spartans.
Michigan can make it four straight wins over MSU with a victory, something that hasn't happened since 1998.
Here are a few keys to victory, from both sides of the coin.
(Spoiler alert: Nick makes a pick).
Diamond Leung
Michigan State beat writer
MLive.com
Michigan wins if:

Trey Burke has another big game for the Wolverines. Keith Appling is Michigan State's best perimeter defender, but he can't guard everyone. The Wolverines will be successful if Burke is able to not only score, but also use the weapons around him with a small lineup that has shown it can play up-and-down with the Spartans.
Michigan State wins if:

Draymond Green comes back healthy from a knee injury and is able to consistently score and rebound inside. The Spartans will look to get the ball inside in order to maximize their size advantage with centers Adreian Payne and Derrick Nix, and what the Wolverines can't have happen is watch Green get easy baskets on put-backs and tip-ins.
Matchup to watch:

Green said he saw double-teams and triple-teams at times during the last meeting between the two teams, when he had seven points and five turnovers. He has promised to solve whatever kind of defense the Wolverines throw at him in possibly the senior's final game against Michigan.
Stat to watch:

Appling is struggling with his shot, going 2-for-19 in field goals over his past two games. With Green hurting, the Spartans need Appling to heat up again. The sophomore led Michigan State in scoring against Michigan last month and says he hasn't lost confidence. The Wolverines could do a lot add to his frustrations.

Nick Baumgardner
Michigan beat writer
AnnArbor.com
Michigan wins if:

Burke out-plays Appling again, and if the Wolverines continue to show improved transition defense. Michigan State had absolutely no answer for Burke's high pick and roll last time out and, honestly, I'm not sure what all you do to adjust. It's not like Tom Izzo and company didn't see that coming the last time, they just couldn't stop it. Defensively, Michigan did a nice job of forgetting the offensive glass and getting back on defense. The Wolverines used the same strategy against Indiana, and it once again paid off.
Michigan State wins if:

Green plays the way he does against everyone else in the Big Ten. Knee injury aside, Green has never been himself against Michigan. He's averaged just 6.2 points and five rebounds for his career against the Wolverines, a far cry from his numbers against everyone else. Zack Novak (who gives up substantial height and weight to Green) has flustered, frustrated and confounded Green over the last two seasons, and if the Spartans want to snap this losing skid, their captain is going to need to lead the charge.
Matchup to watch:

Who checks Burke? Against Indiana, Michigan's freshman point guard faced several different looks, including matchups against some rather large Hoosier forwards in Victor Oladipo and Christian Watford. The move seemed to catch Burke by surprise, and seemed to work for a time -- as he went roughly 30 minutes without a point. Does Izzo follow suit? Burke torched Michigan State last time. On Sunday, will Izzo go exclusively with Appling on Burke, or does he mix it up, allowing the likes of Branden Dawson or Brandan Kearney to get a crack at him?
Stat to watch:

Tim Hardaway Jr. is simply too good to be shooting 22.2 percent (14-for-63) from 3-point range in Big Ten play this season. But that's exactly what's happening. The 6-foot-6 swingman has been criticized for not going strong to the basket more during his recent slump, and it's been just. However, at some point, Hardaway will find his outside shot. Will it be in East Lansing? If it is, Michigan State could be in trouble.
Nick's pick:

A healthy Draymond Green would make what I'm about to do much more difficult. But, in reality, he's just not going to be 100 percent.
In Ann Arbor earlier this season, Michigan ended up with a one-point victory over Michigan State. However, for roughly 30 minutes that night, the Wolverines were hands down the better basketball team.
Michigan's small lineup with Zack Novak at the four and Stu Douglass at the two seemed to give the Spartans fits, and no one in green and white had an answer for Trey Burke.
Michigan State has a tremendous bulk advantage inside, but over the past three meetings, that really hasn't mattered.
Home court or not, I think Michigan's lineup is just a bad matchup for Michigan State. And, if anyone has extra pressure on its back to get a win Sunday, it's the Spartans, not the Wolverines.
Add all that up, and I'll say Michigan makes it four straight.
But barely.
Michigan 63, Michigan State 61
Nick Baumgardner covers Michigan basketball for AnnArbor.com. He can be reached at 734-623-2514, by email at nickbaumgardner@annarbor.com and followed on Twitter @nickbaumgardner.
Want to stay connected to Wolverine basketball in your Facebook newsfeed? "Like" AnnArbor.com's Michigan Basketball News & Views.