Posted on
Fri, Jan 15, 2010 : 1:06 a.m.
Behind Manny Harris, Michigan basketball pulls away from Indiana, 69-45
By Michael Rothstein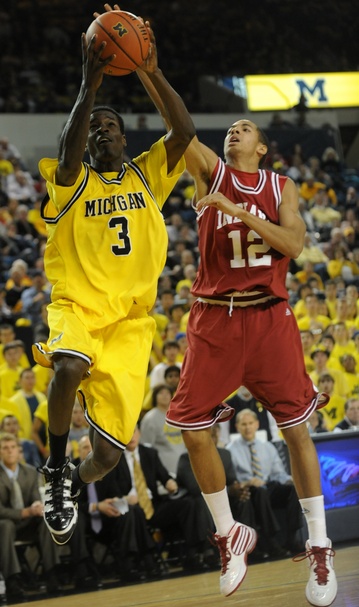 Melanie Maxwell | AnnArbor.com
With his team's offense needing a spark Thursday night, Manny Harris exploded.
Already considered one of the best players in the Big Ten, Harris dominated during the Michigan basketball team's 69-45 win over the Hoosiers.
He scored a game-high 21 points, 17 of which came in the Wolverines' decisive 23-13 second-half run that iced the game. He went 6-for-6 from the free-throw line, added six rebounds and three assists.
Harris looked, in many ways, like he did early in the season against Creighton, when he was one rebound shy of a triple-double and single-handedly carried the Wolverines to a come-from-behind overtime win over the Blue Jays on Nov. 26.
Harris saved his best for after Michigan coach John Beilein briefly sat him in the second half because of what Harris deemed a missed assignment. When he returned to the game with 14:16 left, he went to work, 17 of his 21 points in those final minutes.
"When I came in, we needed some spark from somewhere," Harris said. "That's what I tried to do."
Once he found his rhythm, Indiana couldn't stop him. Michigan (9-7 overall, 3-2 Big Ten) closed the game on a 15-0 run.  
(Click here for Thursday's complete box score).
"We ran some stuff for him to get some 1-on-1 opportunities," sophomore guard Stu Douglass said. "Try to clear out one side, get him to use the screen or choose the screen and go baseline."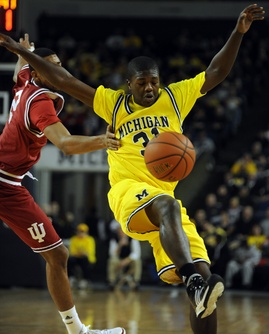 Melanie Maxwell | AnnArbor.com
Michigan was helped, too, by its defense.
The Wolverines kept Indiana (7-9, 1-3) looking disorganized. The Hoosiers had as many turnovers (19) as field goals. They had twice as many turnovers as assists. Only one Hoosier, Christian Watford, scored in double figures with 16 points.
Michigan held Indiana almost eight points under its average shooting percentage; the 36.5 percent shooting was the lowest by a Michigan opponent since Coppin State on Dec. 22, when it held the Eagles to 33.3 percent from the field.
In the post-game statistical pack that lists "significant runs," which are categorized as eight points or more, the Hoosiers had none.
Michigan wasn't much better in the first half, committing 11 turnovers compared to five assists. Neither team shot better than 33 percent in the first half.
"It was another great example of Big Ten defense," Beilein said. "That's why I'm so proud of us. If we don't guard, we don't win this game. It would have been one of those 43-42 games and we could have been on the short end of that.
"We really guarded and that allowed us to score on offense."
Michael Rothstein covers University of Michigan basketball for AnnArbor.com. He can be reached at (734) 623-2558, by e-mail at michaelrothstein@annarbor.com or follow along on Twitter @mikerothstein.