Posted on
Mon, Mar 5, 2012 : 1:20 p.m.
Big Ten coaches size up Freshman of the Year debate: Trey Burke or Cody Zeller?
By Nick Baumgardner
One's nearly 7-feet tall, the other's often the shortest player on the floor.
One serves as a hometown savior, the other hails from enemy territory.
Indiana forward Cody Zeller and Michigan basketball point guard Trey Burke aren't really alike at all, but they are clearly the two best freshmen in the Big Ten this season.
So, who's better, exactly?
"How could you go wrong with either one?" Nebraska coach Doc Sadler said Monday during the Big Ten coaches' teleconference. "You pick one, and I'll pick the other."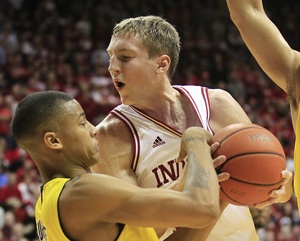 Burke and Zeller each earned seven
Big Ten Freshman of the Week
nods this season, and the ultimate honor will be announced at 7 p.m. Monday on Big Ten Network.
Earlier in the day, most league coaches were asked to make a case for both, and ultimately, to divulge for whom they voted.
Iowa coach Fran McCaffery said he gave his vote to Zeller, but not without plenty of difficult thought.
Illinois coach Bruce Weber said he voted for Burke, because he helped lead his team to a share of the Big Ten championship. But, ultimately, he believes Zeller has the higher ceiling as a player.
Michigan State coach Tom Izzo wouldn't reveal his vote, but did say both players made his all-conference team.
Most coaches declined to offer their decision, but no one called it an easy choice
"Both of those guys are really good players," Purdue coach Matt Painter said. "I'm not going to get into who I voted for, because it's always going to upset somebody, and then you're going to have to play them, and I'm not adding motivation.
"Both of those guys are great players, and I did vote for both of them for all-conference. It's a great argument, you can go back and forth and you can take that one to court, and both attorneys would feel like they're going to win."
Zeller finished the season with a better impact statistically, leading all league freshmen in points (15.4), rebounds (6.4), field goal percentage (63.5), steals (41) and blocked shots (40).
Burke finished just behind Zeller in scoring (14.6), and also led league rookies in assists (4.6) and minutes played (35.9).
Zeller became the ultimate centerpiece of Indiana's offense, as the Hoosiers generally ran most set plays through him, and ultimately improved their win total from last season by 12.
Burke, though, spent more time with the ball in his hands than perhaps any other player in the league this season. Taking over for NBA-departed point guard Darius Morris in November, Burke brutalized opponents this season with high-ball screens, arguably turning into Michigan's best player in the process.
And, perhaps most importantly, it'll be Burke -- not Zeller -- who receives a Big Ten championship ring next season, as he helped guide the Wolverines to a share of their first Big Ten title in 26 years.
"They're neck and neck," Penn State coach Pat Chambers said. "Trey Burke just hits big-time shots at the end of games. We cut it to four (Sunday against Michigan) and he hits an and-one three. That's the type of kid Trey Burke is, Trey Burke has really helped Michigan spread out and run coach Beilein's offense.
"That's a neck-and-neck race They're both very, very talented freshmen."
Beilein was asked Sunday if he felt Burke wasn't just the best freshman in the league, but also the conference's best guard. Like most of his colleagues, he didn't take the bait.
"There's a lot of educated people, there's some bright minds out there with coaches and everyone and they see him play and they know the value he's brought to this team," Beilein said. "We lost a very good guard last year in Darius Morris, and for him to do this in the situation he was in, (was tremendous).
"It's really been great, and he couldn't be calmer. I'll let the educated people make the decision, and I'm sure they'll make the right one."
Burke or Zeller.
Zeller or Burke.
The ultimate verdict will be revealed Monday night. But no one has to wait that long to get an evaluation of the duo's overall on-court impact this season.
"You choose one, I'll take the other one," Sadler said. "And both of us would be happy."
Nick Baumgardner covers Michigan basketball for AnnArbor.com. He can be reached at 734-623-2514, by email at nickbaumgardner@annarbor.com and followed on Twitter @nickbaumgardner.
Want to stay connected to Wolverine basketball in your Facebook newsfeed? "Like" AnnArbor.com's Michigan Basketball News & Views.