Posted on
Thu, Dec 29, 2011 : 10:21 p.m.
Big Ten debut not an issue for Michigan freshman point guard Trey Burke, and more notes
By Nick Baumgardner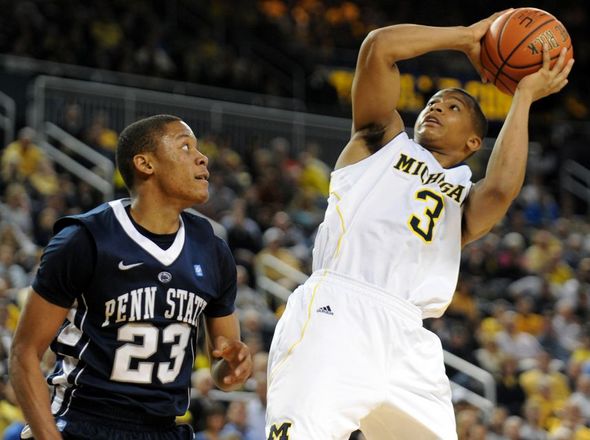 Angela J. Cesere | AnnArbor.com
Sure, Trey Burke turned in an impressive non-conference performance.
But this is the Big Ten. It's more physical, it's tougher mentally -- it's just different.
For Burke, Thursday night was just more of the same.
The fantastic Michigan basketball freshman floor leader continued to impress early this season, netting 13 points to go along with seven assists, five rebounds and no turnovers as the 18th-ranked Wolverines ran by Penn State in the league opener, 71-53.
"It's a more physical conference, the refs let you bang more, it's more competitive and the crowd was into it more," Burke said of his first Big Ten experience. "I enjoyed playing tonight.
"I had fun out there."
While Burke continues to have fun, his teammates keep reaping the rewards.
At this point last season, with current NBA point guard Darius Morris running the offense, Michigan had 190 assists as a team.
Through 13 games this year, with Burke handling the steering wheel, Michigan has 196 assists as a team.
Go figure.
"I thought (Penn State) did a really good job on the ball-screen and doubled us quite a bit," Michigan coach John Beilein said. "But (Burke) was patient."
While Thursday was Burke's first Big Ten experience, it was also his first game against the team he once agreed to play for.
A one-time Penn State-commit in high school, Burke said there wasn't too much awkwardness due to the fact that current Nittany Lions coach Patrick Chambers was not the person who recruited him -- ex-PSU coach (and current Navy boss) Ed DeChellis was.
"It was good (being able to) play against Trey Lewis, a former AAU teammate of mine, and going up against Tim Frazier, who was there when I had committed to Penn State," Burke said. "But that was so long ago, I was a sophomore (in high school). It wasn't really weird, just a game I knew we had to come out and play.
"They have a rebuilding program and they're hungry for wins."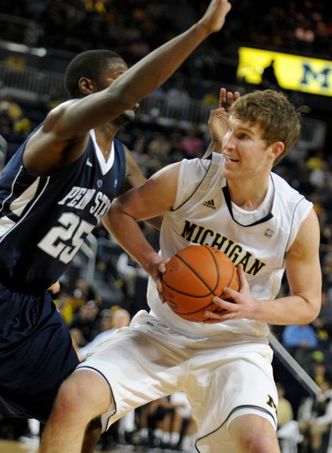 Angela J. Cesere | AnnArbor.com
Smotrcyz stays tough inside
When asked to comment on sophomore Evan Smotrycz's third straight double-double, Beilein had one quick response.
"How about that," he said, grinning.
The 6-foot-9, 235-pound Smotrycz, who finished with 10 points and 10 rebounds, started off his Big Ten season where he finished his non-conference slate -- playing as an effective inside-out performer.
With forward Jon Horford on the bench for a fourth straight game due to a broken bone in his foot, Smotrycz picked up the slack yet again inside, spending time periodically at the center and not giving up much ground in the process.
"I love coaching Evan Smotrycz," Beilein said. "He may not think it sometimes, but I do. He's high-risk, high-reward at times, but he's learning how to take some of that risk out."
With Horford on the bench again, Beilein used junior forward Blake McLimans as a third post player behind Smotrycz and Jordan Morgan.
McLimans played just four minutes, but offered a productive effort, according to Beilein.

Short bench

Despite being up by double-digits for the entire second half, Beilein played just eight players Thursday.
Absent from the box score was freshman guard Carlton Brundidge, who had seen action in Michigan's past three games. McLimans played just four minutes off the bench and junior guard Eso Akunne did not see the floor.
"I can't tell you why, I realized that after the game was over," Beilein said of his decision to play with a short bench. "Those 20-point leads late, believe it or not, I'm not as apt to go to the bench and just hope we can get it to 25 or 30.
"I know 20 can become 10 in a matter of seconds. We didn't feel we needed (an extended bench) today, maybe I'll second-guess myself tomorrow."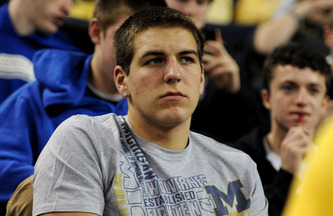 Angela J. Cesere | AnnArbor.com
Special guest at Crisler
The Crisler Center crowd was technically listed 30 people over capacity, as the turnout of 12,751 gave Michigan its first home sellout of the season. One of them was future Michigan player Mitch McGary, on hand for his first Wolverines game of the season.
McGary, rated the country's No. 1 power forward prospect for the class of 2012, signed a letter of intent in October to play at Michigan next season.

Odds and ends

The Wolverines finished the month of December with a 6-0 record. ... Michigan has struggled to find free throw-consistency at times this season. On Thursday, though, the Wolverines went 13-for-15 from the line, their best single-game percentage of the season. ... Michigan has now had at least three players finish with double-figure scoring numbers in 12 of its 13 games this season.
Nick Baumgardner covers Michigan basketball for AnnArbor.com. He can be reached at 734-623-2514, by email at nickbaumgardner@annarbor.com and followed on Twitter @nickbaumgardner.
Want to stay connected to Wolverine basketball in your Facebook newsfeed? "Like" AnnArbor.com's Michigan Basketball News & Views.