CBSsports.com writer says Michigan's Trey Burke could make the 2016 U.S. Olympic team
Posted on Wed, Aug 1, 2012 : 1:15 p.m.
Trey Burke an Olympian?
One writer sees that as a very real possibility in 2016.
CBSsports.com's Jeff Goodman unveiled his prediction for the United States' 2016 Olympic basketball roster Wednesday, and the Michigan floor leader was listed as the club's starting point guard.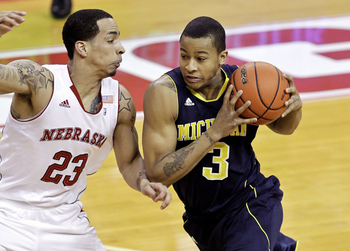 AnnArbor.com file photo
Part of Goodman's rationale in selecting Burke, and the rest of the squad, focuses on his belief that Olympic basketball will go to a 23-and-under rule for the '16 games.
If the rule -- which has been a topic of national media speculation recently -- becomes a reality, players like LeBron James and Kevin Durant would not be eligible to make the team.
Burke won't turn 24 until Nov. 12, 2016 -- making him seemingly eligible for the squad during the summer, should that rule be put into place.
The rest of Goodman's projected lineup features a majority of current college players. His five projected starters are Burke, former Kentucky star and current New Orleans Hornet Anthony Davis, UCLA's Shabazz Muhammad, Indiana's Cody Zeller and 2013 top prospect Jabari Parker.