Posted on
Wed, May 30, 2012 : 5:59 a.m.
Chemistry 101: John Beilein says 5 new elements will help Michigan basketball team's cohesion
By Nick Baumgardner
Attrition, as John Beilein puts it, is normal.
While statistics show that the Michigan basketball coach is probably right, there's nothing ordinary about having to replace five bodies inside every corner of your program.
Five new faces at practice, five new voices in the locker room, five new plates at the dinner table -- and five new personalities that need to be meshed together in an incredibly short amount of time for a program with extremely lofty immediate expectations.
Is Beilein worried?
Not really. He's the opposite, actually.
"My early sense for the younger guys coming in, I've watched some of them for three years, some for three months," Beilein told reporters earlier this month. "But I sense that they're all really good teammates, and they'll enhance team chemistry the minute they walk out here.
"Because they really have a great spirit about them."
Beilein expected to lose departed senior co-captains Zack Novak and Stu Douglass, the team's backbone, but didn't think he'd have to replace three other bodies.
That's exactly what happened, though, when Evan Smotrycz, Colton Christian and Carlton Brundidge left the program shortly after the season closed.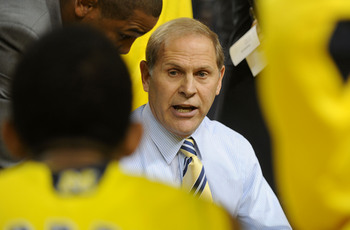 Angela J. Cesere | AnnArbor.com
Smotrycz, Novak and Douglass were the only three losses that really hurt Michigan's bottom line in terms of statistics, but for a club as close-knit as Michigan's 2011-12 group, replacing five bodies can't be that easy.
Countless times a year ago, players raved at how close the group was on and off the court. Freshman sensation Trey Burke routinely gave credit to Novak and Douglass for making him feel "comfortable," allowing him to play up to his potential -- eventually earning co-Big Ten Freshman of the Year honors.
And when he was in the midst of a mid-season shooting slump, Tim Hardaway Jr. credited the constant support of his teammates -- roommate Smotrcyz included -- for helping him find his way out.
Five new faces will join the fold in 2012-13, as incoming freshmen Mitch McGary, Glenn Robinson III, Nik Stauskas, Spike Albrecht and Caris LeVert become part of the program. The rookies are expected to report to campus in June.
From there, they won't just work on transitioning to the college game, but also to figure out a way to re-capture some of the solid chemistry that helped Michigan earn a share of the Big Ten regular season title a year ago.
"If you've watched (the freshmen) on their teams, watched them on their bench," Beilein said. "You watch a guy like Mitch McGary when his team's up by 25 and the bench players are in, he's up cheering the whole time.
"Those are things that I think will really help with this influx of new players. I like the spirit that they've shown."
As for on-court development, Beilein says Michigan should be able to get ahead of itself in that area, thanks to new NCAA legislation. In fact, he says it'll have to.
In January, the NCAA passed legislation allowing members of college coaching staffs to have limited training sessions with incoming freshmen, so long as they're in summer school.
The rule changes also allow the coaching staff to work with returning sophomores, either in summer school or in possession of 30 credit hours, as well as generally progressing juniors and seniors.
The new rule gives coaches up to two hours a day for skill development, and eight hours of access per week during summer school sessions. In the past, only strength and conditioning coaches could work with players during the summer.
"What's really going to be important to us is that our coaches can be involved with them and do some things in July that we used to have to wait until September to do," Beilein said. "(We used) to go into October, and we were still figuring out if someone can go to his right or his left or what his blind spots are. We should know that by the end of the summer, where we have to work as a team.
"It gives us a head start on where we used to be, but it gives everybody else a head start as well."
Michigan's task of building top-notch chemistry with five new bodies won't be easy.
But replacing Novak and Douglass as team leaders will likely be even more difficult.
After the 2011-12 season ended, both Burke and Hardaway expressed interest in leading by example next season. Seniors Matt Vogrich and Josh Bartelstein have also been vocal, as has sophomore Jon Horford and junior Jordan Morgan.
Beilein says he'll have players read books about leadership, run through leadership drills during practice and even in the weight room.
One way or another, he says, Michigan will have leaders in 2012-13.
"There is a big void (at captain), as there is with almost every team," Beilein says. "Stu Douglass is a great example. Stu was not really comfortable (leading) early, but he grew into that role and was terrific (last) year."
"We'll be doing things all summer with the whole team, the team building will begin (when they arrive this summer). And that will (continue) all year long."
Nick Baumgardner covers Michigan basketball for AnnArbor.com. He can be reached at 734-623-2514, by email at nickbaumgardner@annarbor.com and followed on Twitter @nickbaumgardner.
Want to stay connected to Wolverine basketball in your Facebook newsfeed? "Like" AnnArbor.com's Michigan Basketball News & Views.