Posted on
Thu, Jan 26, 2012 : 5:57 a.m.
Clutch scoring, improved dirty work by Tim Hardaway Jr. in the Michigan basketball team's win at Purdue
By Nick Baumgardner
Of all the people hurting from the Michigan basketball team's road struggles prior to Tuesday, Tim Hardaway Jr. seemed to be feeling it the most.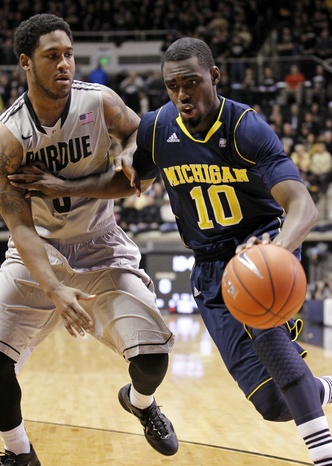 AP Photo
In the Wolverines four previous road stops, Hardaway was averaging a respectable 10.1 points -- five points less than his season average, but nothing to completely grumble about.
How he got those 10.1 points, though, was a different story. Hardaway had been shooting just 30.4 percent from the floor (14-for-46) and just 2-for-22 from 3-point range.
"I'm just trying not to force anything," a noticeably dejected Hardaway said following Michigan's loss at Arkansas last Saturday. "I trust my teammates.
"I'm not worried about it."
He didn't seem like he meant it at the time, but Hardaway was definitely telling the truth.
The 6-foot-6 sophomore forward picked himself up off the mat Tuesday during Michigan's 66-64 win at Purdue, and it wasn't a moment too soon for the Wolverines.
Hardaway, still the team's leading scorer at 15.2 points per game, dropped in 19 points on 8-for-15 shooting and played the entire 40 minutes to help Michigan earn its first road victory of the year.
"It felt really good," Hardaway said after. "I was trying to take only open shots, and if they weren't open, I wanted to get to the basket and find my teammates. They made great plays, and that opened the lane for me, too.
"We've got to keep doing that."
After blowing a double-digit second-half lead and igniting 14,533 Purdue fans, Michigan seemed in desperate need of its star scorer.
Unlike previous road trips this season, the Wolverines' top gun answered the call in a big, big way.
After Purdue grabbed a two-possession lead with less than five minutes to go, Hardaway quickly brightened Michigan's fading hopes with a deep 3-pointer to quiet the arena and give the Wolverines new life.
Then, with Michigan down one with less than three minutes left, Hardaway passed up an open 3-pointer and drove hard to the hoop against Purdue guard Terone Johnson, getting a runner to fall in the lane and giving the Wolverines the lead back.
"He's getting more comfortable with physical play," Michigan coach John Beilein said. "His body's changed, and he made a couple muscle plays inside that were just strong.
"(It's hard to get into the lane) against Purdue, and he got there a few times."
Hardaway's offense kept the Wolverines in the game, but his improved defense seemed to bring them the rest of the way home.
After a Robbie Hummel 3-pointer went long, Hardaway successfully sealed off his man in the paint, grabbing possession back for the Wolverines with less than 10 seconds to go.
From there, the game was over.
During his scoring slump, Hardaway repeatedly discussed how he tried to focus more time on other parts of his game, notably defense, hoping that his shot would soon follow.
Both were in sync Tuesday.
"(Working on the little things) has really helped me out lately," Hardaway said. "Rebounding, pushing the ball, and all of that (comes from a) hard-work factor.
"A heart factor."
Nick Baumgardner covers Michigan basketball for AnnArbor.com. He can be reached at 734-623-2514, by email at nickbaumgardner@annarbor.com and followed on Twitter @nickbaumgardner.
Want to stay connected to Wolverine basketball in your Facebook newsfeed? "Like" AnnArbor.com's Michigan Basketball News & Views.