Posted on
Thu, Apr 21, 2011 : 5:58 p.m.
Darius Morris declares for NBA Draft, not hiring agent leaves him eligible to return to Michigan
By Michael Rothstein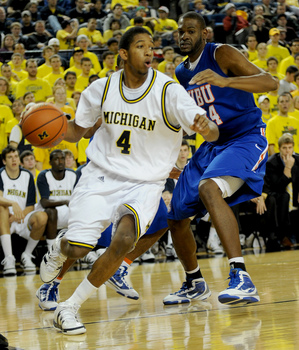 AnnArbor.com file photo
Michigan basketball guard Darius Morris went from a role player to a star this season. Now, he's entering the NBA Draft.
The sophomore from Los Angeles officially put his name in as an early entry candidate on Wednesday, but did not hire an agent leaving the possibility he could return to Michigan for his junior year.
Now, he'll have to make that decision by May 8, the early-entry withdrawal deadline.
"All my life it has been a goal of mine to play in the NBA," Morris said in a statement. "I am blessed to have the opportunity to take this step towards that dream.
"I look forward to going through this process with the potential of playing at the next level."
Morris is projected anywhere from a late first-round pick to a second round pick by various NBA mock drafts in the past month.
He is coming off a season where he broke the Michigan all-time single-season assist record with 235, one more than Gary Grant's 234 in 1987-88.
He had a triple-double with 12 points, 10 rebounds and 11 assists against Iowa. Morris averaged a team-high 15 points a game last year.
The announcement came after a month of speculation about his future after his brother, DeWayne Morris Jr., announced to the Detroit Free Press he'd declare for the draft and not hire an agent last month.
A few days later, Michigan coach John Beilein said he'd submit his name to the NBA Draft advisory committee to find out where he stood.
Apparently, what he heard was enough to push him into at least testing the draft for a few more weeks.
"This is the next step in gathering as much information as possible to assist Darius in making an educated decision," Beilein said in a statement. "As Darius considers his options we will continue to support him in every way we can throughout the process."
If Morris leaves, he will be the only defection from a Michigan team that reached the NCAA Tournament round of 32 last season and is projected to contend for the Big Ten title along with Ohio State next season.
Morris, though, has always looked at his professional aspirations as a family venture.
"If I make it, we make it," Morris told AnnArbor.com in January. "That's speaking for my whole family because if it wasn't for them, I wouldn't even be here. If I make it, we make it.
"Anything I do, any success that comes along, not only is it my success but it is my family's success and also the team's success. Those people are responsible for any success I receive."
Michigan said due to studying for finals, Morris would not be available for further comment.
Morris is one of three Big Ten players who have declared early for the draft, joining Northwestern's John Shurna and Illinois' Jereme Richmond. Shurna and Morris have not hired agents. Richmond has.
Michael Rothstein covers Michigan basketball for AnnArbor.com. He can be reached at 734-623-2558, by e-mail at michaelrothstein@annarbor.com or follow along on Twitter @mikerothstein.