Posted on
Sat, Feb 25, 2012 : 9:49 p.m.
Defensive collapses haunt Michigan basketball team in loss to Purdue, and more notes
By Nick Baumgardner
Offensively, the Michigan basketball team was far from sparkling Saturday.
But during a 75-61 senior night loss to Purdue, the amount of made shots was hardly the issue.
"It all starts with defense," senior guard Stu Douglass said. "We've got to have our offense come from our defense, and they're one of the worst transition defense teams in the Big Ten.
"We just didn't turn our defense into offense."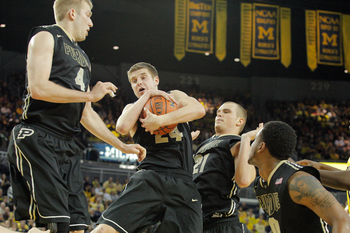 Chris Asadian | AnnArbor.com
The Boilermakers shot 57.7 percent during the second half, and went 11-for-12 from the foul line as they outscored Michigan 35-19 in the game's final 12 minutes.
Purdue guard Terone Johnson dropped in a season-high 22 points, effortlessly getting to the basket for most of the night and finishing 9-of-12 from the floor. Johnson, who entered the game shooting 35.1 percent from the foul line, went 4-for-4 from the stripe.
As a team, Purdue was shooting 64.1 percent from the stripe — a Big Ten-worst. On Saturday, the Boilermakers went 14-for-16.
Purdue's 75 points was easily the most points Michigan has allowed at home this season, and the 14-point margin was the Wolverines' worst home defeat since an 80-67 loss to the Boilermakers on Dec. 28, 2010.
Saturday also marked the seventh time in Michigan coach John Beilein's five seasons as head coach that Michigan allowed at least 75 points at home.
"We got down early and we missed some things, and it's not our two seniors that are making the mistakes," Beilein said. "When they run their stuff they run it at such a high speed, and they don't turn it over.
"They look for each other great, and you couldn't give them much room."
Despite the porous defense, Michigan wasn't without its chances.
The Wolverines clawed back from an early double-digit deficit to take a 42-40 lead midway through the second half, but immediately gave the edge back as Purdue rattled off six points in less than two minutes.
Michigan had one final chance after Tim Hardaway Jr.'s inside bucket drew the team within four late, but Purdue answered with back-to-back triples from Robbie Hummel — shots that Beilein said should have never happened.
"Those were just complete mixups in our defense, and they were really disappointing," he said. "We worked on it, we worked on it, we worked on it, but obviously we've got to work more on it.
"It was just lack of communication."
For every punch Michigan threw Saturday, the Wolverines seemed to take two as a counter.
It went down as the team's worst defensive performance of the season, and should serve as a learning tool down the stretch.
"We didn't check (anyone)," Michigan senior co-captain Zack Novak said. "It didn't happen tonight."
Limited space for Burke

Michigan freshman point guard Trey Burke was limited to one of his worst offensive outputs of the season at Purdue last month, finishing with six points.
He scored 12 on Saturday against the Boilermakers, but coughed the ball up four times, and never seemed comfortable.
"We've got a lot of respect for him, not many people in the country have an elite guard like him," Purdue coach Matt Painter said. "When you watch film, you've got to make sure you can get the ball out of his hands. The problem is, other guys can shoot.
"We tried with our size to hedge (screens) and get the ball out of his hands and stay with him."
The strategy worked.
"Hummel's was probably hedging in kindergarten," Beilein joked. "They switched with a lot of ball screens and made us play one on one.
"And we didn't make some of those shots."
Subdued crowd

Michigan scored its eighth sellout of the season Saturday, the most since 1994-95.
But still, the building lacked the overall energy it has had over the past month, thanks in large part to the absence of most Michigan students.
The university is in the midst of spring break, keeping plenty of the "Maize Rage" members away from Crisler Center for the regular-season home finale.
William Davidson honored

The late William Davidson was honored Saturday with a halftime ceremony.
The Michigan graduate and ex-Detroit Pistons owner recently received a posthumous honor from the school as the basketball program named its new Player Development Center in his honor.
On hand to accept the recognition were members of Davidson's family, as well as Detroit mayor, and ex-Piston great, Dave Bing.
Odds and ends

Walk-on senior Corey Person entered the game in the final minutes, and proceeded to log a career-high four points. He went 2-for-3 from the field, the only two field goals (to date) of his career. ... Beilein is 2-6 against Purdue in his Michigan tenure. ... Michigan freshman guard Carlton Brundidge was active Sunday, and he saw his first game action in nearly a month after missing five games due to asthma-related complications. ... Michigan was whistled for 15 fouls Saturday, while Purdue was called for eight.
Nick Baumgardner covers Michigan basketball for AnnArbor.com. He can be reached at 734-623-2514, by email at nickbaumgardner@annarbor.com and followed on Twitter @nickbaumgardner.
Want to stay connected to Wolverine basketball in your Facebook newsfeed? "Like" AnnArbor.com's Michigan Basketball News & Views.