Posted on
Mon, Jan 23, 2012 : 12:21 p.m.
Despite tough losses, John Beilein says confidence high in Michigan basketball locker room
By Nick Baumgardner
The Michigan basketball team was on the wrong end of a blowout just 10 minutes into the game Saturday at Arkansas.
Yet, despite the early 20-point deficit, the Wolverines had a chance to steal the thing at the buzzer.
Michigan is 0-4 on the road this season, but that doesn't mean confidence is lacking inside the locker room.
"Our kids realize that with good, solid defense and (the fact that we have) several guys that can shoot or score the ball, we're (never) out of a game," Michigan coach John Beilein said Monday on the Big Ten coaches teleconference. "There's growing confidence that even when another team makes their first 11 shots, you can still stay in a game.
"And win it."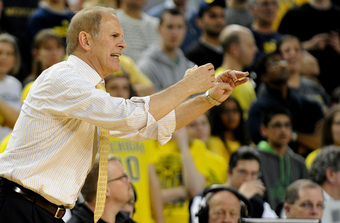 Angela J. Cesere | AnnArbor.com
Arkansas began the game Saturday 11-for-11 from the floor, held a 13-point lead at halftime and a 13-point lead with less than seven minutes to play.
Yet, the Wolverines came within one Trey Burke missed 3-pointer at the buzzer from winning.
A similar situation took place at Indiana earlier this year, when Michigan found itself down double-digits twice before having another shot to win at the buzzer.
Michigan heads back to the road twice this week, with games at Purdue (Tuesday, 7 p.m., ESPN) and Ohio State (Sunday, 1 p.m., CBS).
"I don't see any games as being critical until you get down to the last couple games, and your back has to be absolutely against the wall before I say something's critical," Beilein said. "I don't think we've played that poorly on the road. We've got a semi-road win over Oakland, Virginia's very good and we led for most of the first half, Indiana was a two-point loss and (Arkansas) was a last-second loss.
"Iowa's just a game where we didn't have it. We've played pretty well (on the road), unfortunately, the ball just didn't bounce (our way) enough. And that's what it comes down to in close games. It's not about road or home."
Trey Burke and Eli Manning?

As has become customary practice, Beilein was asked about the play of Burke.
The Michigan freshman point guard won his fourth Big Ten Freshman of the Week honor earlier Monday, and is averaging 14.6 points and 4.9 assists per game.
"His court demeanor and his practice demeanor (is what makes him great)," Beilein said. "Forget about the numbers. I thought about it (Sunday) watching (New York Giants quarterback) Eli Manning just get knocked down, knocked down, knocked down, and the next thing you know, he's up calling the next play.
"Trey Burke has a long way to go to get to that category, but he shows those qualities. He can bounce back during adversity and stay level-headed during times we're playing well."
Painter brushes off Izzone criticism

Following a loss at Michigan State on Saturday, Purdue coach Matt Painter was none too pleased with MSU's student section, "The Izzone."
Painter had a brief exchange with the student section late in the game, claiming a member of the crowd made an inappropriate comment toward Purdue star Robbie Hummel.
"I think the Izzone is great," Painter said Saturday. "But if they're going to say, 'I hope you tear your ACL again,' I'm going to say something. He doesn't deserve that. We've got guys in our student section that probably say things that are out of line, too, but I'm just not taking it. If he hears that ... someone's got to fight for him."
On Monday, Painter said the comment was made by one fan — not the entire section — and said he was pleased with how Michigan State handled the situation.
"It was one guy; it wasn't their (whole) student section," Painter said. "The game manager at Michigan State was great. He handled it and took care of it. In hindsight, I wish I wouldn't have said anything back to it.
"But there's a part of me as a coach that wants to defend your player. ... I wish I hadn't even answered the question after the game, but I was impressed by the professionalism of the guys at Michigan State, the game manager who handled it."
Purdue hosts Michigan on Tuesday.
Pat Chambers reacts to Paterno passing

Penn State coach Patrick Chambers took a few minutes Monday to speak about how important the late Joe Paterno was to the entire Nittany Lion athletic department, not just the football program.
The longtime Penn State football coach passed away Sunday. He was 85.
"It's never easy when you lose the man of a magnitude of a Joe Paterno, who has done so much for the university and so much for the men's basketball program," Chambers said. "Everything that he's done over his tenure, included the men's basketball program. There's something to be said for that. Some of the amenities we have now are because of him, the recruiting budget that we have now is because of him.
"Because of the things he's done with success and fought for has helped the men's basketball program tremendously, and I won't forget that. We will press on and do everything we can to make this program successful."
Nick Baumgardner covers Michigan basketball for AnnArbor.com. He can be reached at 734-623-2514, by email at nickbaumgardner@annarbor.com and followed on Twitter @nickbaumgardner.
Want to stay connected to Wolverine basketball in your Facebook newsfeed? "Like" AnnArbor.com's Michigan Basketball News & Views. Also, do it by Jan. 29 for a chance for 4 tickets to the Ohio State at Michigan game on Feb. 18.