Posted on
Tue, Feb 7, 2012 : 4:30 p.m.
Michigan basketball traveling '11 strong' to Nebraska on Wednesday
By Nick Baumgardner
The Michigan basketball team's traveling party will be a bit light Tuesday night when it makes its way to Nebraska.
Wolverines coach John Beilein said Tuesday that neither sophomore forward Jon Horford nor freshman guard Carlton Brundidge would be making the trip for the team's Wednesday road date with the Cornhuskers (8:30 p.m., BTN).
"We're going in there 11 strong," Beilein said. "(Redshirting freshmen) Sai Tummala and Max Bielfeldt are going to attend class tomorrow, Carlton Brundidge will stay back and get treatment, as will Jon Horford."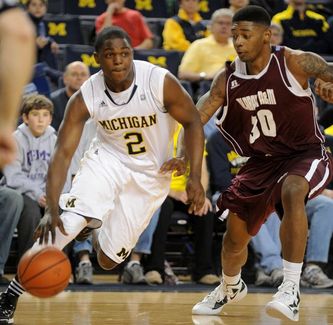 Angela J. Cesere | AnnArbor.com
Horford continues to sit out due to lingering issues with a right foot injury that's cost him 15 consecutive games.
Beilein said the 6-foot-10 big man has still not played full court to this point, and a medical redshirt is still a possibility, but not a guarantee.
"It doesn't take a rocket scientist to figure out that you don't want to use him if he's not ready, and save the redshirt," Beilein said. "But he's ready to go if he feels good and we need him, I think both those things have to happen.
"And he has to show me he's making those strides."
As for Brundidge, the freshman guard from Southfield did not travel to East Lansing with the team Sunday prior to a loss at Michigan State due to complications with asthma.
Beilein said Brundidge did not practice with the team Monday, and will continue to be monitored.
"He tried some light shooting but did not feel very good, so getting well is the No. 1 objective," Beilein said. "I don't know enough about asthma and I'm not qualified to (get into detail about it), all I know is it's a very scary situation when you can't catch your breath."
Brundidge has appeared in 12 games off the bench this season, totaling six points.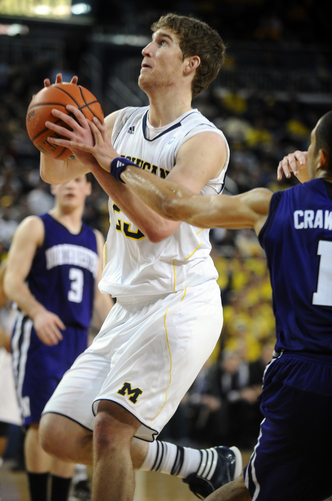 Melanie Maxwell | AnnArbor.com
Encouraging Evan
Beilein said the shooting slump sophomore forward Evan Smotrcyz is currently going through has more to do with mental struggles than anything else.
"Yogi Berra, right, what'd he say, 90 percent of baseball is mental?" Beilein said. "That's the same thing. Everyone on our team, every coach, has mental things they have to work through.
"Shooters are like golfers, it's like that with everybody."
Smotrycz is now 4-for-26 from 3-point range over his last nine games, and has played more than 15 minutes just once in his last six games.
Beilein says the 6-foot-9 sophomore still has the green light.
"You show him confidence and you tell him 'I want you taking that shot,' "Beilein said. "Because history tells us, you make it.
"History is not a three-week or four-week thing, it's over a two-year span, and he makes that shot."

First timer

When the team arrives in Nebraska on Tuesday night, it will be the first time Beilein has stepped foot in the state.
Wednesday will also be his first time coaching against Cornhusker coach Doc Sadler, something that's made his preparation even more intense.
"I have no history with Doc Sadler or their players. I've never even seen one of their players in AAU or anything," Beilein said. "When you play Michigan State, you know all their players and their coaches. You have to be careful not to take things for granted because they can change.
"This one's fresh, so you just do what you can do. There's no comfort in that, but there's also comfort in knowing (you don't) know them too well. Our kids have to study them more than they normally do."
Nick Baumgardner covers Michigan basketball for AnnArbor.com. He can be reached at 734-623-2514, by email at nickbaumgardner@annarbor.com and followed on Twitter @nickbaumgardner.
Want to stay connected to Wolverine basketball in your Facebook newsfeed? "Like" AnnArbor.com's Michigan Basketball News & Views.