Posted on
Thu, Feb 4, 2010 : 10:15 a.m.
Evan Turner's back, gains ground on John Wall in player of year voting
By Michael Rothstein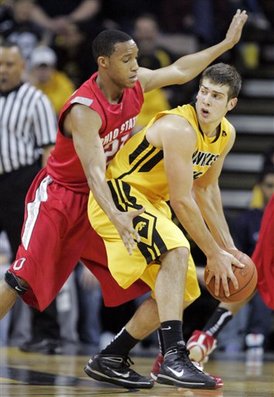 Earlier this season, Ohio State junior guard
Evan Turner
missed six games with a back injury. It didn't take him long to return to form, and voters in AnnArbor.com's national player of the year voting noticed.
When AnnArbor.com's first Player of the Year poll came out Jan. 20, Kentucky freshman John Wall had a commanding lead as Turner was just returning for the Buckeyes.
After big games against Purdue and Iowa, Ohio State is back in the Top 25 and Turner is within 24 points of Wall. Turner averages 23.2 points and 9.8 rebounds in six games against ranked opponents. In 16 games, Turner is averaging 18.4 points and 9.5 rebounds per game.
"Basketball is not like riding a bike, it just doesn't come back to you when you get back on it," Ohio State coach Thad Matta said about Turner's return last month. "I was surprised in the Indiana game because he practiced one time leading into that game and he was a little bit sloppy and his timing wasn't great.
"But he's a kid that cares and wants to do really well, so maybe it isn't as surprising from that standpoint."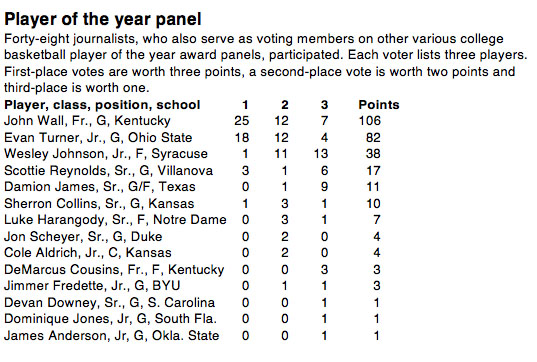 MORE ANALYSIS: • While the amounts of respondents to the second poll increased by three, the total number of players receiving at least one point - equivalent to a third-place vote - jumped from 11 in the first poll to 14 in the second.
• Six players made their first poll appearances of the year: Aldrich, Cousins, Fredette, Downey, Jones and Anderson. Three players dropped out: Kansas freshman Xavier Henry, Radford senior Artisom Parakhouski and Duke forward Kyle Singler.
• The biggest move was made by Villanova senior Scottie Reynolds, who went from eighth place to fourth and jumped in points from 7 to 17. Evan Turner made the biggest jump in points, from 32 to 82. He also went from having three first-place votes to 18.
• Six players had first-place votes in the first poll. Five have first-place votes in the second.