Ex-Michigan basketball forward Josh Asselin makes Dominican Republic national team
Posted on Tue, Jun 12, 2012 : 11:07 p.m.
Former Michigan basketball forward Josh Asselin is continuing his longtime international basketball career with the Dominican Republic national team.
Asselin, a Caro native, was listed on the 15-man roster for the club -- which is led by current Kentucky coach John Calipari.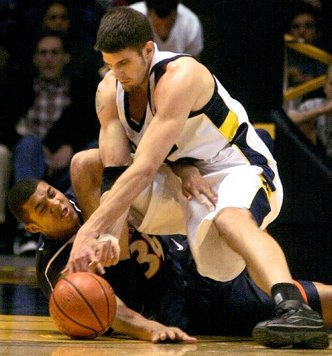 Associated Press file photo
The Dominican Republic team will attempt to qualify for the 2012 Olympics next month during the Olympic Qualifying Tournament, which begins on July 2 in Caracas, Venezuela.
Asselin averaged 7.3 points in 121 games at Michigan from 1997-2001. A four-year letterwinner, the 6-foot-11 center was fifth on Michigan's all-time shots blocked list at the end of his career.
After leaving Michigan, Asselin has enjoyed a lengthy international career that's included stops in Spain, the Dominican Republic and Ukraine. According to his EuroBasket profile, Asselin holds citizenship in both the United States and the Dominican Republic.
Current Michigan forward Jon Horford was also originally listed on the 15-man roster, but will not be a member of the team as it attempts to qualify for the Olympics, according to a Michigan spokesman.
Horford practiced with the team, but the spokesman said to his knowledge, the 6-foot-10 forward will not move forward with the group.
Horford's brother, Al, is a member of the Dominican squad.
Want to stay connected to Wolverine basketball in your Facebook newsfeed? "Like" AnnArbor.com's Michigan Basketball News & Views.