Posted on
Mon, Jan 28, 2013 : 2:59 p.m.
Experiencing U-M men's basketball team at number one, in 1992 and now
By Jenn McKee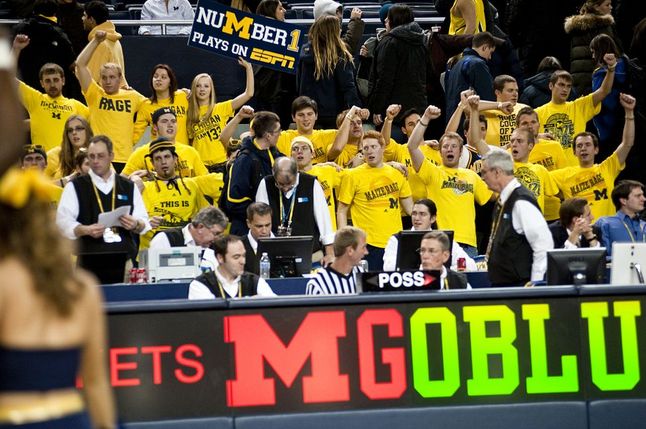 Joseph Tobianski | AnnArbor.com file photo
My senior year of college - which was my third year playing trombone in the University of Michigan men's basketball band - was the last time the team was ranked number one in the country.
And boy, do things feel different now. We've come a long way, but - for hardcore Wolverine hoop fans deeply stung and disillusioned by the Fab Five/Ed Martin scandal - it feels like it's taken an awfully long time to get back to this place, too.
Back in 1992, after our five "diaper dandy" freshmen decided to "shock the world" by making it to the NCAA tourney finals (where, admittedly, they got trounced by Bobby Hurley, Christian Laettner and the rest of the Duke Blue Devils), we started the 1992-93 season with a number one ranking and something to prove.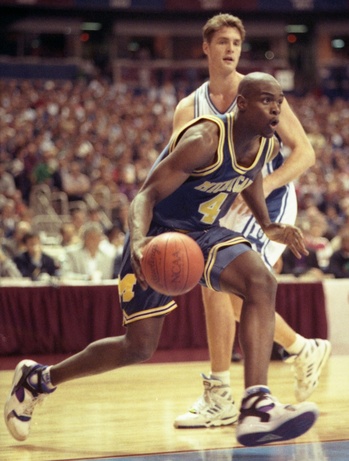 AnnArbor News file photo
The team gave the media fits, as sportswriters scrambled to decide whether we were an inspiring, anti-establishment Cinderella team, or a bunch of undisciplined, trash-talking, shorts-that-look-like-pants-wearing kids that had talent, but would never be able to close the deal.
We were both, of course.
And because I was a senior at the time, my own feelings and anxieties got wrapped up in the team's fate. An English major with no clear direction, and a dwindling sense of my own potential, I feared my own looming graduation day; and far from "shocking the world," I thought I'd instead just be shocking my parents by settling for a minimum-wage job after they'd invested thousands in my top-notch education.
But the on- and off-court swagger of Jalen Rose, Chris Webber, Juwan Howard, Jimmy King, and Ray Jackson gave me the vicarious thrill of bravado. When they jawed at opponents between plays, and shamelessly showboated on a breakaway, I swooned at their fearlessness and unapologetic ego. At a time when I felt painfully vulnerable and scared most of the time, my team, 40 minutes at a time, made me feel like I could fly.
We had wax wings, of course, and flew too close to the sun. We lost the final game of the NCAA tournament yet again - I'll just say the words "time out" and it will all come painfully rushing back to you - and we lost our biggest star, Webber, to the NBA. Our moment had passed, and we had nothing but some great games and memories to show for it.
A few years later, allegations surfaced about U-M booster Ed Martin giving money to Webber (as well as Louis Bullock, Robert "Tractor" Traylor, and Maurice Taylor); and I was asked to play with a ragtag group of alumni band members at a "We Believe in Steve" rally, where cardboard paddles emblazoned with Steve Fisher's apple-cheeked face were defiantly held in the air.
Booth Newspapers file photo
Fisher left Ann Arbor shortly thereafter, trailing dark clouds in his wake, and former assistant coach
Brian Ellerbe
stepped in. And things got worse for Michigan basketball.
In the fall of 2002, the NCAA's sanctions hit the program and fans hard, but with this hitting-rock-bottom moment came a single glimpse of silver lining: Maybe now we could gradually put the scandal behind us and build a team we're proud of again.
Tommy Amaker had the unenviable task of seeing us through that period, when recruiting was an impossible task. He did so with impeccable class and dignity - exactly what we all needed. And there were flashes of fun Michigan basketball moments along the way.
But when the NIT seemed to be all we could hope for, John Beilein was brought on board in 2007. Of the hires from West Virginia that year, football coach Rich Rodriguez got the lion's share of ink. Beilein, though, was the quiet, unfussy hero who would finally bring Michigan basketball back to number one.
Now I'm 20 years past my Fab Five fan days. I'm almost 10 years married (to a man who played trombone a few chairs away from me in the basketball band), and have two young daughters. We don't get to many games at Crisler, but we record every one, to watch them after the kids are in bed.
We watched Beilein's inevitably rough first season, then thrilled to see him, after just one year, not only bring the team back to the NCAA tournament for the first time in 11 years, but win its first-round game.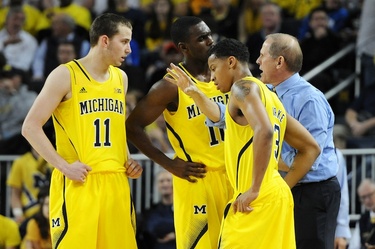 Melanie Maxwell | AnnArbor.com file photo
And more recently, the play of
Trey Burke, Nik Stauskas, Mitch McGary, Glenn Robinson III
and
Tim Hardaway Jr.
regularly inspires my husband and I to yell and pump our fists and jump up and down in our living room, as if we were those 20-year-old versions of ourselves again, standing in the band section of Crisler (when the back-row trumpets weren't constantly chiding us to sit down, that is).
The electricity that made the Fab Five era so exciting is finally back in Crisler, thanks to Beilein's brilliant coaching and recruiting, and to the young players he's convinced to come to Michigan, in hopes of bringing the program back to where it should be.
Yes, we'll likely lose this number one ranking during the course of the brutal Big Ten season. But I'm really, really enjoying it for now. Strangely, when I was in college, the team's number one ranking felt like something we were entitled to. Now, it feels like an unexpected bit of grace. We get to feel like we're flying again.
But this time, it feels more like we're riding a phoenix instead of catching a ride with Icarus.
Here's hoping, anyway.
Jenn McKee is a digital journalist for AnnArbor.com. Reach her at jennmckee@annarbor.com or 734-623-2546, and follow her on Twitter @jennmckee.