Posted on
Thu, Nov 10, 2011 : 7:01 p.m.
4 things to watch in the Michigan basketball team's season opener on Friday
By Nick Baumgardner
The Michigan basketball team had its first dress rehearsal of the season last week in a 47-39 exhibition win over Wayne State.
Not exactly a barnburner, but a win nonetheless.
On Friday, the 18th-ranked Wolverines will open their 2011-12 season with a 7 p.m. contest against Ferris State.
Here are four things to watch during the opener:
1. Long-distance shooting
Michigan struggled from 3-point range against Wayne State, connecting on five of 24 shots.
Tim Hardaway Jr. was 2-for-7, Zack Novak went 2-for-8, Stu Douglass misfired on two 3-point shots, as did sharpshooter Matt Vogrich.
In short, no one found a rhythm.
Was it first-game butterflies? Pure rust? Or one isolated instance of a poor shooting night?
Michigan too many capable 3-point shooters to finish a game with numbers like that.
Michigan coach John Beilein moved freshman point guard Trey Burke into the starting lineup, he hopes the move will further free up Douglass to look for his own shot. If Burke can work his way into the lane, it might open up the rest of the group.
Good shooters shoot their way out of a slump. It's far too early to say the Wolverines are in a shooting slump, but if these types of numbers persist, it might be time to get concerned.
2. Horford or Morgan?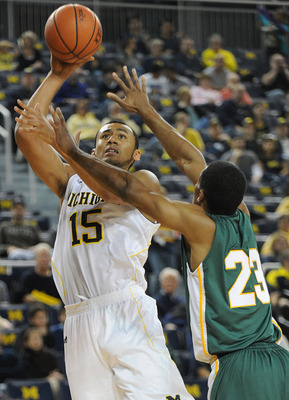 Angela J. Cesere | AnnArbor.com
Sophomore forward
Jon Horford
earned the start at the five-spot against Wayne State in front of classmate
Jordan Morgan
, something that seems odd considering Morgan started every game at the position a year ago.
The same will happen again Friday, as Beilein said no further changes would be made to the starting five outside of Burke.
Technically, Morgan (18 minutes) played more than Horford (17 minutes). But the latter was far more effective than the former.
Horford finished with six points and six rebounds to go with two blocked shots. Morgan did not score, but picked up four rebounds and two steals — missing the only shot he attempted.
Horford's only real issue came at the foul line. He was aggressive enough to draw five attempts, but he missed all five.
I'm not ready to call anything one way or another on Beilein's starting lineup until Michigan takes the floor against Memphis in the Maui Invitational, its first real test of the season.
But it'll be interesting to watch the continued performance of these two players, to see which one earns a leg up in the race for the starting five spot.
3. Paging Evan Smotrycz
No one was overly sharp Friday against Wayne State, but Smotrycz seemed downright cold.
During the preseason, Beilein had heaped plenty of praise on the 6-foot-9 Smotrycz for his added muscle, his willingness to crash the boards and his new-found ability to finish at the basket.
Smotrycz grabbed four rebounds in 23 minutes of action, but missed all five of his shots, a pair of 3-pointers, and three two-point field goal attempts.
He didn't get to the free-throw line, he didn't record an assist, a block or a steal.
On the stat sheet, at least, he was rather invisible.
Smotrycz is far too talented to be this quiet on the stat sheet. Look for Michigan to work him early to try to get him some confidence.
4. Rebound, rebound, rebound
Being able to battle on the glass is something Michigan had to improve on during the off-season.
Against Wayne State? Things didn't look good.
The Wolverines were out-rebounded 40-31, and perhaps most concerning, Wayne State had a 12-9 edge on the offensive glass and outscored Michigan 8-3 on second-chance points.
Horford, Smotrycz and Morgan have to establish themselves as factors in the paint. Michigan can't always allow on its backcourt to shoulder the rebounding load.
Novak, Hardaway and Burke combined to pull down 14 rebounds. Horford, Smotrycz and Morgan combined for 14 boards.
That has to change.
Michigan has to be better on the block. Because sooner, rather than later, the Wolverines will be exposed for poor play inside.
Nick Baumgardner covers Michigan basketball for AnnArbor.com. He can be reached at 734-623-2514, by email at nickbaumgardner@annarbor.com and followed on Twitter @nickbaumgardner.