Posted on
Wed, Mar 17, 2010 : 1:30 p.m.
Five reasons to be optimistic about Michigan basketball next year and five reasons to worry
By Michael Rothstein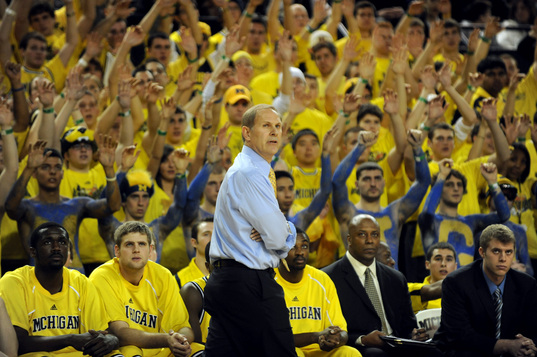 Melanie Maxwell I AnnArbor.com
As the off-season begins its third official day, it's time to look at what the biggest concerns and reasons for hope are for Michigan's 2010-11 basketball team.
The Wolverines will return at least three starters in guards Zack Novak, Stu Douglass and Darius Morris. If Manny Harris chooses to come back for his senior year, that gives the Wolverines four starters back. But is that enough?
Five reasons to be optimistic:

1)Â Law of averages. There's no way Michigan can shoot as poorly as it did this past season again. Too many shots rimmed out and fell just short. Michigan also saw opponents hit last second shots to beat the Wolverines three times (at home against Michigan State and Penn State, against Ohio State in the Big Ten tournament). That'll flip, right?
2) Tim Hardaway Jr. The son of the former NBA All-Star is committed to come to Michigan and is, by many accounts, an extremely good shooter with a lot of range. Despite freshmen often struggling with inconsistency in John Beilein's system, it's likely both he and commit Evan Smotrycz will contribute early.
3) Darius Morris' emergence. By season's end, Morris became one of the better point guard defenders in the league. His offense is still suspect and he had issues finishing at points this year but now that his freshman year is over, look for him to take more of an active leadership role with this team. On a team that was desperately searching for leadership this year, that's a positive.
4) Manny Harris returns. This is far from a certainty, but if the junior wing comes back, he gives the Wolverines a legitimate star and No. 1 scoring option looking to prove this year was an anomaly for NBA scouts. Teams will focus on him more, but e could end up as the most versatile player in the league if Evan Turner leaves Ohio State.
5) Faith in John Beilein. The Michigan coach enters his fourth year and he's won everywhere he's been. Why should Ann Arbor be any different? His team will be more experienced and he'll have a bunch of upperclassmen (even if Harris leaves) he can rely on. There would still be youth and a lack of depth, but there'd be reason to believe they'll grasp the offense and defense better.
Five reasons to be worried:
1)Â Height. Michigan will have very little of it next year. The Wolverines' top returning rotation players are 6-foot-5 guards Zack Novak and Manny Harris - more on Harris later - and there will only be one returning player taller than 6-foot-8. Blake McLimans, at 6-foot-10, is raw. Jordan Morgan, a big-bodied 6-foot-8, hasn't been healthy all year. Other than that, the Wolverines will have no inside players with even scout team college experience.
2) Shooting woes stay. Was this season an aberration or a sign of the type of shooters Stu Douglass, Zack Novak and Laval Lucas-Perry really are? Michigan will need those three to produce points next season or it'll be a long year without the consistent production of Sims.
3) The rest of the Big Ten is going to be better. The league, pre-NBA defections, looks like it could be even tougher next year. Purdue returns Robbie Hummel, JaJuan Johnson and E'Twaun Moore. Ohio State has the best recruiting class in the conference and could return everybody, although it'd surprise no one if Evan Turner leaves for the NBA. If Talor Battle stays, Penn State is dangerous. Wisconsin always seems to win. Illinois might be the second-most talented team in the league next year, especially if Demetri McCamey returns. Indiana should be better with the return of Maurice Creek and another strong recruiting class. Northwestern will be better next year with the return of star Kevin Coble and could finally break its NCAA curse. Meanwhile, Michigan loses DeShawn Sims and if Manny Harris goes, will see more than half of their scoring disappear (34.9 ppg. of a 64.3 ppg. average).
4) Scheduling. The full schedule won't be out for months, but here's what is known: Michigan is playing in the Legends Classic with three 2010 NCAA tournament teams. Kansas is coming to Crisler Arena. And the Big Ten isn't going to be easy.
5) Recruiting. Right now, Michigan is in on a bunch of top-rated guys, including 2010 wing Trey Zeigler, 2011 big men Amir Williams and Marshall Plumlee are still considering Michigan. But will this season change who will come to Ann Arbor?
Michael Rothstein covers University of Michigan basketball for AnnArbor.com. He can be reached at (734) 623-2558, by e-mail at michaelrothstein@annarbor.com or follow along on Twitter @mikerothstein.