Posted on
Tue, Jul 9, 2013 : 4:51 p.m.
Ex-Michigan captain Zack Novak unsure about pro career but proud to see teammates begin theirs
By Pete Cunningham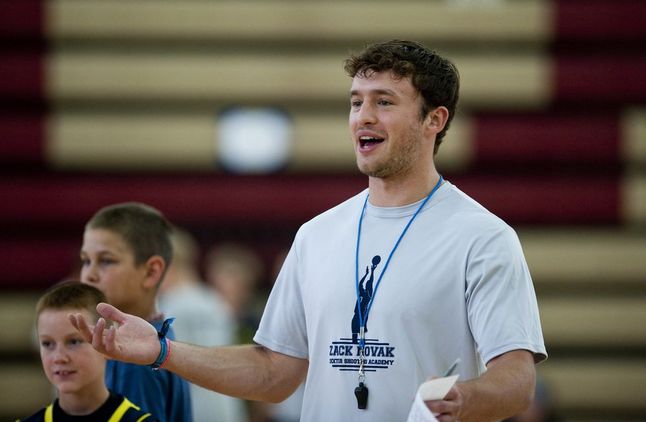 Daniel Brenner | AnnArbor.com
Former Michigan basketball player Zack Novak blew the whistle around his neck on Tuesday and every game being played on the courts at the Dexter High School gym came to a halt. On Day 2 of the Zack Novak Dexter Shooting Academy, the ex-Wolverine captain was calling the shots.
Novak doesn't have that type of control over games of the NBA summer league, but they'll determine how he proceeds with his professional basketball career, nonetheless.
"My agent's working on it right now. He's already talking to some teams," Novak said. "We're going to wait for the (NBA) summer leagues to end and then we're probably going to sit down and have a conversation."
Novak, 23, played for Landstede Basketbal Zwolle in the Netherlands last year - his first as a professional - and was the team's second leading scorer with 17.8 points game. Novak has said before that he's considering trading his high-tops for wing-tips and entering the business world, and that if he were to return to Europe he'd like it to be in a better league. He said nothing has been decided yet on Tuesday.
"Right now I'm looking at all my options. Either way, I'm really exploring business. Just trying to network, meet as many people as can, see what kind of opportunities come up," Novak said. "I haven't shut the door completely (on continuing to play in Europe). It's still open."
Novak said that outside of basketball he's looking into being an entrepreneur. If the popularity of his basketball camp is any indication, he should do just fine.
"They're having a great time. I enjoy that and to see the kind of fun they're having is the best reward," said Novak while surrounded by campers and several of his former Michigan players, who were working as counselors. "The kids really enjoy seeing all the guys from the team."
Two of Novak's former Michigan teammates who weren't working as counselors for obvious reasons were Trey Burke and Tim Hardaway Jr., who were both recently picked in first round of the 2013 NBA Draft. Novak couldn't quite match the millions they're now set to make after both signing with their respective teams -- Burke with the Utah Jazz, Hardaway Jr. with the New York Knicks -- last week.
Novak said he couldn't have been prouder than he was to his former teammates get selected on draft night.
"It was kind of unbelievable to see Timmy and Trey both go in the first round. It's just another step for the program," Novak said. "It's been a long time since they had two first rounders and it was just awesome.
"I know both those guys and I've seen the work they've put in, seen how much they've grown as players and people, so to see their dreams come true, I couldn't have been happier for them."
Pete Cunningham covers sports for AnnArbor.com. He can be reached at petercunningham@annarbor.com. Follow him on Twitter @petcunningham.