Posted on
Wed, Apr 10, 2013 : 3:30 p.m.
Food Gatherers gets hefty donation from Subway after Michigan basketball team's performance
By Pete Cunningham
The game-tying 3-point basket Trey Burke made against Kansas didn't just feed Michigan basketball fans hungry for a Final Four run.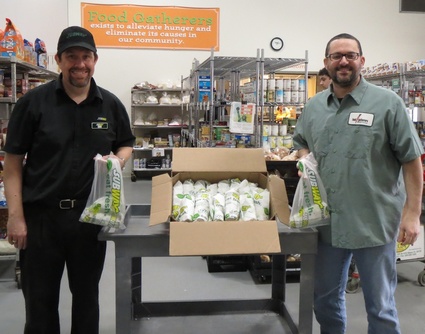 Photo courtesy of Food Gatherers
It will help feed the homeless in the area as well.
Subway Restaurants is donating 3,333, $3, 6-inch-long sandwiches to Ann Arbor's Food Gatherers food bank after it pledged to to make a donation to a food bank in the community of the team which led the NCAA Tournament in 3-pointers.
With 49 3-point baskets made during its NCAA Tournament run, which ended with an 82-76 loss to Louisville on Monday, the Michigan basketball team far eclipsed second-place Wichita State, which made 37. Had Burke's game-tying shot against Kansas not dropped and Michigan lost in the Sweet 16, Michigan would have ended with just 26 3-pointers for the tournament.
Subway delivered 555 of the sandwiches to Food Gatherers, located at 1 Carrot Way in Ann Arbor on Wednesday. The remainder of the donation will come in on Mondays and Wednesdays in the coming weeks.
Pete Cunningham covers sports for AnnArbor.com. He can be reached at petercunningham@annarbor.com. Follow him on Twitter @petcunningham.