Q&A:

Former Michigan and Arizona State basketball coach Bill Frieder knows his skateboarding

Posted on Mon, Feb 8, 2010 : 10:37 a.m.
Bill Frieder spent 32 years coaching college basketball and won the NIT championship as Michigan's coach in the 1983-84 season. He assembled the 1989 NCAA title team before being famously fired before the tournament after he told then-athletic director Bo Schembechler he'd be leaving for Arizona State.

Since then, he's rarely been back to Ann Arbor - but it doesn't mean he isn't busy. AnnArbor.com caught up with Frieder before his 1984-85 Big Ten championship team was honored by the school on Saturday.

Question: Since you left coaching, what have you been up to? Bill Frieder: "I do a variety of things. I do broadcasting for Westwood One, one of their lead analysts. I do the NCAA tournament games, things like that. So that's a full schedule. Then I do summer camps. I did camps for the Phoenix Suns and Sacramento Kings. The Sacramento Kings owners are Joe and Gavin Maloof and long story short, they got me into skateboarding and I run a huge skateboarding event called the Maloof Money Cup. This is competition skateboarding. We've got it on national television and it's the world's greatest skateboarding event with the richest purse. We have a half-million purse at each place. This year we're doing Orange County Fairgrounds and New York and in '11 we're doing those two plus South Africa. It's really big, so it's taken a lot of my time."

Q: Did you ever imagine you'd be in skateboarding? BF: "No. No. And then I do the Michael Jordan Fantasy Camp in Vegas so camps, clinics, and I still work a little for Nike. So all basketball-related stuff except for the skateboarding, but it's with the guys who run the Sacramento Kings. It's basketball-related, too, I guess."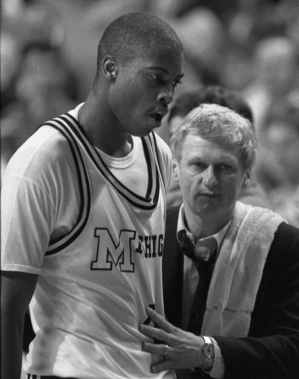 Q: Do you miss coaching?
BF:
"No. No. I got out 13 years ago and had done it for 32 years. That's a long grind. When I got out, the first month I had so much fun not doing it. Spent time watching my daughter grow up and spent time with my family, do what I want to do, and I knew I would never go back into coaching."
Q: What's the worst part of coaching? BF: "You know, when I started coaching at Michigan as an assistant it was 90 percent coaching and 10 percent everything else. Now it's 10 percent coaching and 90 percent everything else with the NCAA and the recruiting and all the riff-raff, second, third and fourth parties that you've got to deal with in recruiting and all the problems today, it's so much different."
Q: Do any of the skateboarding guys know who you are and what you did? BF: "Oh yeah, they do. What's real interesting about skateboarding is skateboarders are kids that are really into doing things individually. They've never had a team concept in their life. They are the kind of guys who told their eighth-grade football coaches where to shove it, and now I'm dealing with these guys and I enjoy them. They have great athletic ability and are fantastic guys."
Q: So a guy like Tony Hawk… BF: "I knew who Tony was, but I haven't met Tony. But all the other guys that you see and read about, Jake Brown is that guy a few years ago who took that huge fall, he's the first guy I contacted. He's the guy who said 'Coach, don't run a camp, run a competition and you'll get all the good skateboarders.' That's what we did and we got them all, Shaun White, Chris Cole and all of them, Rob Dyrdek, he's got a show on TV, these guys are big-time people and all skate in our event."
Q: When you do a skateboarding event, what's your role there? BF: "I put it together. Work year-round to put it together and I have another guy that works for me and he probably does most of the work and we put it together. When it ended last July, where are we going to run them next year? Get the facilities, start your plans, it's a lot of work."
Q: What's your fondest memory from coaching at Michigan? BF: "In all honesty, my fondest memories are two. In 1986, we had to beat Indiana and Bobby Knight to win the Big Ten Championship and that was the first time ever that Michigan won a Big Ten Championship on the last day of the season. So that was huge, and then the NIT Championship was huge because it was the first championship that Michigan had won. They won the national after that, but Michigan had never won the NIT or NCAA. So those two things are really special to me."
Q: How often have you been back since (1989)? BF: "I haven't been back to Michigan 10 times since I left. I love the warm weather, and I always told my family I'm not coming back and if you want to see me, I'll get you an airline ticket. So I never came back much. I was back in '05 for Don Canham's funeral that was at Crisler and then I was here last year for the (Final Four) in Detroit, but I haven't been back much at all. I'm in Phoenix and Del Mar, California."