Posted on
Fri, Dec 3, 2010 : 6 a.m.
Former Michigan basketball coach Tommy Amaker returns to Ann Arbor on Saturday
By Michael Rothstein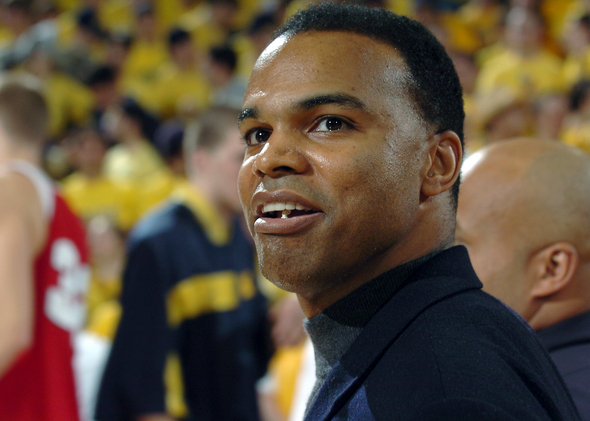 File photo
Tommy Amaker isn't sure how he'll be received Saturday when he returns to Ann Arbor for the first time as a head coach since he was fired at Michigan in 2007.
The way he spoke during a Thursday teleconference, it's tough to tell whether or not he cares.
"You guys would know better than me," Amaker said. "Those are not questions for me to answer. You would know better."
Will Amaker be looked at as the basketball coach who couldn't finish what he started at Michigan? Or will he be viewed as the coach that picked a program up off the scrap heap and brought it close to respectability?
Those close to Amaker say looking back and playing what-if isn't how he operates. He'll see people he used to know, and he'll recognize faces and the building.
Otherwise, life for the former Michigan coach Saturday will be a lot like any other road game when Harvard comes to Crisler Arena (1 p.m., Big Ten Network).
"We really haven't talked about it, and we talk all the time," said Eastern Michigan coach Charles E. Ramsey, a former Amaker assistant at Michigan. "Anyone who knows Tommy knows Tommy's in the moment. Tommy is more interested in the game at hand, and this weekend it happens to be Michigan.
"… It hasn't been anything that's been on his conscience."
Amaker was fired after six seasons at Michigan, inheriting a train wreck of a program following self-imposed and NCAA sanctions handed down from the Ed Martin scandal, including a postseason ban in 2002-03 and the loss of one scholarship from 2004-08.
He never reached the NCAA tournament while at Michigan, but made three NIT tournaments, including winning the 2004 NIT crown. With a 109-83 record at Michigan, he never finished higher than a tie for third place in the Big Ten. That came in 2002-03, the same year the Wolverines were ineligible for the postseason.
Amaker has been to one NCAA tournament in his 13-year head-coaching career, when he led Seton Hall to the the Sweet 16 in 2000.
When Michigan fired Amaker, he said nothing but positive things about his tenure in Ann Arbor. He stuck with that theme Thursday.
"I was very proud of the opportunity to teach, to lead and to serve," Amaker said. "I mentioned all of that when I was fired and I had an opportunity to speak to the media and expressed some thoughts and feelings about my tenure at Michigan. I'll always be grateful for the chance to represent that great school and be part of that state.
"It's been, it seems like it's been a lifetime ago since I was there."
It's been just four seasons -- and Amaker's return was coincidentally of his own doing. He's the one who scheduled the two-for-one deal with Harvard. Michigan has a large alumni base near Boston, and Amaker recruited Courtney Sims and Kendric Price to Michigan from the area.
Amaker said when he took over at Harvard, they discussed not playing, but decided to go through with it.
"It's not in his DNA, not in his makeup (to carry a grudge)," said Red Jenkins, Amaker's high school coach at T.C. Woodson in Northern Virginia. "When he was a sophomore in high school, I told him he had more character in his little finger than I have in my whole body.
"… Tommy is right at the top. He has no ill feeling toward Michigan. He accepted the decision, they made the decision, and he moved on."
He moved to Harvard, where the Crimson are 5-1 this year and went 21-8 last year, the most wins in program history. His team beat Michigan the last time they played in 2007, 62-51.
It's a place where he feels comfortable, where he's winning again and has Harvard winning for the first time. It was that type of potential that drew Amaker to one of the nation's most prestigious universities in the first place.
"It was an absolute tremendous job, tremendous," Ramsey said. "If someone could go someplace and do something they have never done, that being the place, I thought he was the perfect fit.
"The absolute perfect fit."
Michael Rothstein covers Michigan basketball for AnnArbor.com. He can be reached at 734-623-2558, by e-mail at michaelrothstein@annarbor.com or follow along on Twitter @mikerothstein.