Posted on
Sun, May 2, 2010 : 5:14 p.m.
Former Michigan forward Anthony Wright might play at a Division II or NAIA school
By Michael Rothstein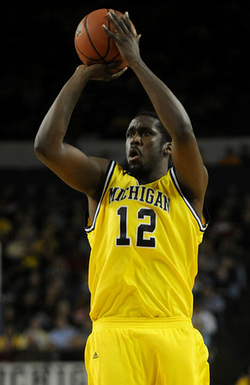 Even though
Anthony Wright
won't play for the
Michigan basketball team
next year, he might not be done with the college game.
Wright said Sunday he is contemplating using his final year of eligibility at either a Division II or NAIA school.
"It was just something that has been, my mom was talking about because I do have another year," Wright said by phone Sunday afternoon.
Wright, who walked at graduation this weekend and will finish his final two classes to complete his degree this spring, was not extended a scholarship to Michigan for his fifth year. He can't transfer to a Division I school because of NCAA transfer rules.
So it left him with two options and one complication.
He could try and play professionally now or play one more year in college somewhere else. Currently, Wright said he is "60-40" leaning toward returning to college.
"I'm going to start looking into it within the next couple weeks, might even visit some local schools just to see how the whole process works," Wright said. "I'm not saying I'll stay here in Michigan but I'm pretty open to what I'll end up doing, whether I stay here and take a job and working out and getting ready for my professional career after that."
The complication is the results of an MRI he received last week. The MRI showed Wright had four herniated discs in his back with two of them pinched against nerves. He also was diagnosed with an annular disc tear in his back.
Wright said he has had back issues since before he enrolled at Michigan.
"Stuff like that isn't just from standing up and one instance," Wright said. "It's been an issue."
While he makes his decision, Wright said he is starting rehabilitation on his back Monday. Either way, when he does play again, Wright said he believes he'll be playing with more confidence.
The 6-foot-6 forward averaged 3.2 points a game during his career and shot 32 percent from the field. As his Michigan career wore on, his minutes dropped from 18.8 his redshirt freshman year to 8.6 minutes this season.
"I have a lot to give, more than what I've shown, a lot more," Wright said. "After I get my back right and after I just, be able to train the same way the same way I do when I'm back at home, I'll get back to the way I played with a lot of confidence and not afraid of when I'm coming out of the game or going in the game.
"So just having the confidence in myself. When I had that confidence, I played pretty well."
Michael Rothstein covers University of Michigan basketball for AnnArbor.com. He can be reached at (734) 623-2558, by e-mail at michaelrothstein@annarbor.com or follow along on Twitter @mikerothstein