Posted on
Fri, May 20, 2011 : 2:41 p.m.
Darius Morris explains why he left Michigan basketball program for shot at the NBA
By Michael Rothstein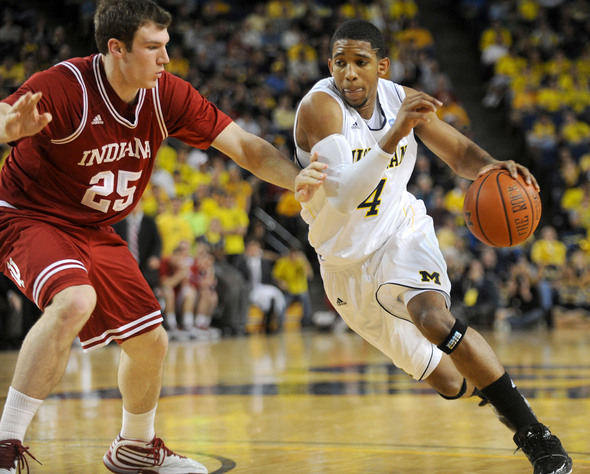 CHICAGO — In his final month as a full-time University of Michigan student, Darius Morris fielded the same question over and over.
Students and others in Ann Arbor would ask him — almost begging him, really — to return to the Michigan basketball team for his junior season.
Every time, Morris said the same thing. He couldn't promise anything.
"I was like 'I can't give you my word. I don't want to lie to you,'" Morris said in Chicago on Thursday, his first main public comments since he decided to stay in the NBA Draft earlier this month. "That was tough. Everywhere I went it was like 'Don't leave,' or 'Stay one more year.'"
It was a tough decision for Morris, who acknowledged the way this year's class unfolded — with some potential top picks returning to school and his skill set as a pure point guard — helped push him to stay in the draft.
He figured once he announced his decision there would be some pushback from Michigan fans. After all, he had people asking him all April to stay in Ann Arbor. Yet the level of criticism he heard on Twitter and Facebook surprised him.
"Once these people were considered your fans, your biggest fans, and to instantly turn on you is something that comes with the territory, I guess," Morris said. "But it definitely, it was a little shocking especially with Michigan's fanbase. I didn't expect to get that, that hate.
"But I can understand fans get emotional, and I have nothing but love for them."
Morris said he didn't respond to those fans— mostly hearing he wasn't "a Michigan man," that they were glad he was gone and that he was making a mistake — but eventually he heard words of support, too.
His teammates and coaches also expressed support, as did former Michigan guard Manny Harris, who made a similar decision a year ago.
Now a pro, Morris knows what he has to prove. He spent the past month working on his outside shooting with his brother, DeWayne Morris Jr., former Michigan guard Demetrius Calip and Morris' trainer in Los Angeles, Joe Abunassar.
A year ago, the trio helped set Morris up as a training partner with John Wall. Now, he's going through the same routines.
He'll work out three times a day: in the morning, after lunch and then at night at Windward, his old high school. His agent, Brian Dyke, has been working on setting up individual workouts for the 6-foot-5, 190-pound point guard and Morris said he's heard from New York, Indiana, Houston, Cleveland, Miami, Portland and Oklahoma City interested in seeing him work out.
In the meantime, he's working on his 3-point shot — something he said went well during the NBA Combine on Thursday — and proving he is a first-round draft pick. Most mock drafts have Morris, who is Michigan's single-season assist record holder with 235 and averaged 15 points a game last year, as a late first- or early second-round selection.
"You don't need to impress everybody," Morris said. "You just need that one team to believe in you. That one team with a first-round pick."
Michael Rothstein covers University of Michigan basketball for AnnArbor.com. He can be reached at (734) 623-2558, by email at michaelrothstein@annarbor.com or follow along on Twitter @mikerothstein.