Posted on
Tue, Oct 26, 2010 : 9 a.m.
Former Michigan guard Manny Harris starts his NBA career Wednesday with the Cleveland Cavaliers
By Michael Rothstein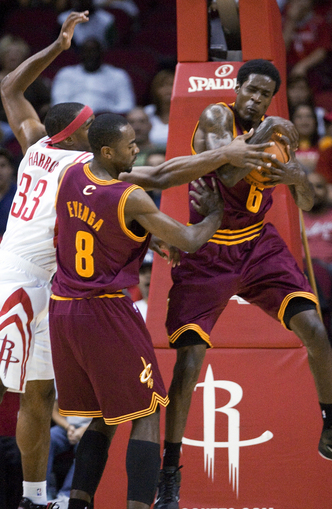 AP photo
Byron Scott pulled Manny Harris aside after a practice last week. The Cleveland Cavaliers head coach had seen enough of the undrafted rookie from Michigan to deliver the news.
There wasn't an official meeting, but the message was clear. Manny Harris, you made the team.
"It felt good but, at the same time, I know it's one step in what I'm trying to do," Harris said. "I would never get complacent or settle for just making it. It feels good, but I still know that there's a lot more I want to do here to be a better player."
After calling his mother, Merrick Harris-Carter, he went right back to doing what he did to make the NBA team in the first place. He worked.
Harris wasn't selected in June's two-round NBA Draft, a scenario he was prepared for. Harris said his agent, Henry Thomas, discussed that possibility with him. Part of the reason was he hadn't been able to show what he could do.
He injured his ankle and couldn't participate in the NBA's pre-draft camp in Chicago. Then, after the draft, he couldn't play on Cleveland's summer league roster, but earned a training camp invite.
The theme goes back further.
Harris said Monday that his hamstring, which he injured before the start of Michigan's 2009-10 season, was never fully healthy throughout last year. He still led the Wolverines in scoring at 18.1 points a game, but the injury consistently nagged him.
He said he continued to play out of loyalty to his teammates.
"Last year, I knew how I was feeling and I was doing it more for our team," Harris said. "There were times I knew I should probably just have sat down for a game or two. It would have helped me more to just sit down and not play a few games, but for the team, I felt it was better to be out there looking to win. I stayed on the floor.
"But the way my hamstring felt last year, especially in the beginning part of it, was awful."
Once healthy and in the Cavaliers' camp, Harris' game -- the same one that impressed NBA coaches and scouts at the LeBron James and Paul Pierce camps before his junior year at Michigan -- began to re-emerge.
His goal during camp was to be first in everything in order to make an impression and to stick in the NBA.
"Even if it was just a running drill, I wanted to be first in the running drills," Harris said. "I really focused on defending and not letting my man score. I took pride in that a lot.
"There were so many different things. Just tried to show a little bit of everything in my game, rebounding, getting assists, showing them I can score."
Harris averaged 8.5 points, 3.3 rebounds, 2.2 assists and a steal during Cleveland's preseason, including shooting 57.1 percent from the 3-point line. Then, when Cleveland waived Danny Green, Harris looked like he might make the opening day roster.
So when the Cavaliers open their season on Wednesday, he isn't sure what is going to happen. All he knows is one thing: he'll be in Quicken Loans Arena as a member of an NBA team playing the Boston Celtics.
"First game of my NBA career," Harris said. "I don't know what will happen. I don't know if I'll dress, I don't know if I'll be in a suit, I don't know anything at all.
"So all I can do is control every day, just getting better."
It's the attitude that landed Harris on the roster in the first place.
Michael Rothstein covers University of Michigan basketball for AnnArbor.com. He can be reached at (734) 623-2558, by e-mail at michaelrothstein@annarbor.com or follow along on Twitter @mikerothstein.