Posted on
Tue, Feb 21, 2012 : 11:20 a.m.
Former Michigan player Manny Harris back with Cleveland Cavaliers on a 10-day contract
By Rich Rezler
This story was updated at 1:03 p.m.
Former Michigan basketball player Manny Harris is back in the NBA. For a few days, at least.
The Cleveland Cavaliers have signed the 6-foot-5 guard to a 10-day contract, according to the Cleveland Plain Dealer.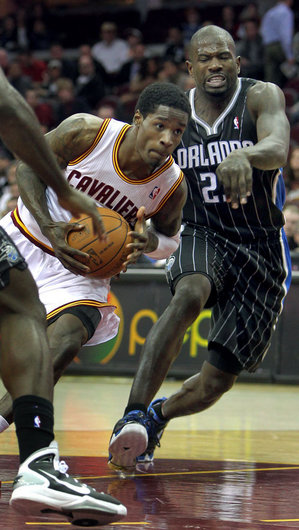 Cleveland Plain Dealer
Tom Reed, the Cavaliers' beat writer for the Plain Dealer, calls the move "a bit curious" because the upcoming break in the schedule for the NBA All-Star Game. From Reed's story:
(Harris) can dress for just four games in that span before they must decide to sign him to another 10-day, sign him for the remainder of the season or release him.

More from Reed on Harris' prospects:
Daniel Gibson (ankle) is expected to play tonight, but the Cavs other regular at shooting guard, Anthony Parker (back), remains questionable for the next two games.

The Cavs received good reports on Harris from the Charge coaching staff, which includes (Cleveland coach) Byron Scott's son, Thomas. Scott hopes to see improvement in two areas -- ball handing and mid-range shooting. Last season, Harris was either shooting 3-pointers and driving to the basket.

Harris will wear No. 6 for Cleveland and the Detroit native will be available tonight when the Cavaliers host the Pistons, according to a team release.
After being waived by the Cavaliers prior to this season, Harris had been playing with the Canton Charge of the NBA Development League. He was named the league's player of the week on Monday, becoming the first player to earn the honor twice this season.
Harris averaged 41.0 points, 9.0 rebounds and 6.0 assists in two games last week and is averaging 21.4 points, 7.9 rebounds and 3.3 assists in 17 games this season.
Harris was waived by the Cavaliers in December after being unable to practice because of an injury to his right foot.
According to the Cleveland Plain Dealer, Harris suffered a freezer burn on his foot after wearing wet socks into a cooling chamber at the Nike facility in Oregon. Because of the NBA lockout, Harris could not be treated by team doctors.
After skipping his final his senior year at Michigan following the 2009-10 season, Harris was not selected in the 2010 NBA Draft. He was invited to the Cavaliers' training camp as an undrafted free agent, made the team and averaged 5.9 points, 2.6 rebounds and 1.6 assists last season in 54 games.
Harris averaged 17 points, 5.7 rebounds and 3.7 assists in three years at Michigan.