Posted on
Mon, Feb 28, 2011 : 5:49 p.m.
Former Michigan star Cazzie Russell named to National Collegiate Basketball Hall of Fame
By Michael Rothstein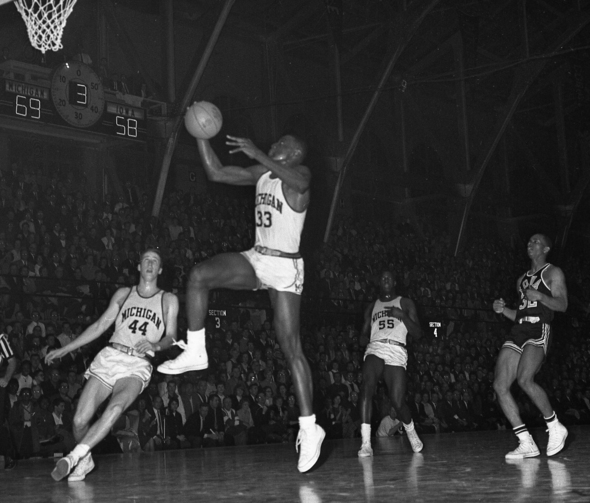 File photo
Cazzie Russell came from Chicago, a player headed to a school with no basketball tradition. He arrived at Michigan in 1962 as a name with potential for a better future.
He left a legend.
Forty-five years after he departed, Russell will be inducted into the National Collegiate Basketball Hall of Fame.
"What a great honor," Russell said after the Hall of Fame's Class of 2011 was announced on Monday.
Before Russell became the player that spawned the building of Crisler Arena — known in Ann Arbor as "The House that Cazzie Built" — he was a special player who, along with his highly-regarded teammates, turned a moribund Michigan basketball program at a football school into a basketball power.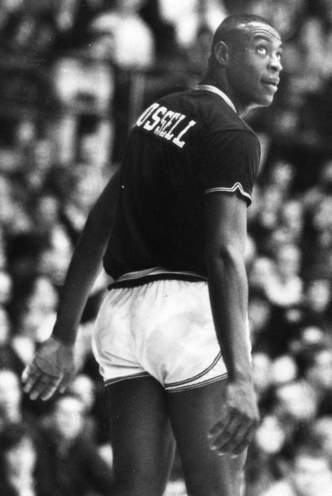 File photo
"All of us went to Michigan to become a star because they were so terrible, we felt anybody could be a hero there," said former Michigan captain Larry Tregoning, who was a year ahead of Russell. "So we all went to Michigan and, yeah, we did well immediately.
"…We knew we were going to be good. When that freshman class joined us, we determined and thought we would be one of the better teams in the country. But it was a bad basketball program until we got there."
The two years before Russell arrived on campus, Michigan went 6-18 and 7-17. In his freshman year, when he and his recruiting class couldn't play due to NCAA rules, Michigan went 16-8 with Tregoning and future All-American Bill Buntin.
That was a prelude to the next year with Russell, which started a string of three straight Big Ten championships, two Final Four appearances and a National Player of the Year award for Russell his senior year in 1965-66.
"He was a key to that," said former Michigan coach Johnny Orr, who recruited Russell when he was an assistant at Wisconsin. "He had Bill Buntin, Larry Tregoning, those guys, they were terrific."
Russell was the star.
When he left Michigan, he was the school's all-time leading scorer with 2,163 points. More than 40 years later, he still has the fifth-highest total in school history and he's the only one in the top 5 who played less than four seasons.
He still owns the school record for highest scoring average in a single season (30.8 points in 1965-66) and in a career (27.1).
Even though Buntin and guys who played professional basketball, like John Clawson and Oliver Darden, surrounded Russell, he was the electrifying presence. It was his closeness with those players and other teammates that stuck out to Russell on Monday, when he spoke about the honor.
"Winning the Big Ten three years in a row and me coming out of Chicago, the college life and the opportunity to have the God-given gift to play basketball," Russell said. "I would say my relationship with a lot of players, college life and having the chance to go to a great institution and to meet and play with a lot of guys where that friendship goes on for years."
Clawson said that the allure of Russell was immediate. Their first college scrimmage — the freshmen against the varsity — was sold out. And Clawson said the Wolverines never played in anything but a full arena -- either Yost Arena or on the road -- during his entire varsity career from 1963-66.
"We were playing with somebody who was so exceptional that we could ride along on his back, you know," Clawson said. "He did things not too many people did in those days. Going through traffic for his little slam dunks was always a lot of fun.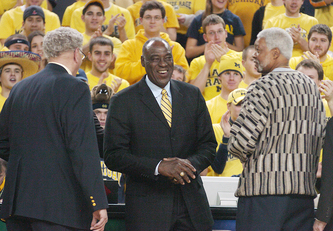 File photo
"Not little slam dunks. He didn't have the greatest hops in the whole world, but fabulous timing. He got the most out of his jumping ability and you'd have to say about Cazzie, he got the most out of everything in all facets."
Tregoning said Russell always seemed to have a basketball in his hands. When he came to Michigan, he wasn't a great shooter — so he made himself into one. He'd beat his classmate, Clawson, to the gym every day and leave after he was gone.
In games, he always wanted the ball in his hands with the game on the line.
"That showed you something about the confidence this young fella had," Tregoning said. "He was a go-to guy right from the beginning."
By the time he left, Russell was the best player in Michigan history. He is one of five players, including Buntin, to have his number hanging in the rafters of Crisler Arena, but is the only one to have his number, No. 33, retired.
Now he joins a Hall of Fame class with Ralph Sampson (Virginia), Chris Mullin (St. John's), James Worthy (North Carolina), former Oklahoma State coach Eddie Sutton, former Indiana, Army and Texas Tech coach Bobby Knight, television pioneer Eddie Einhorn and former NABC director Joe Vancisin that will be inducted in November in Kansas City.
Orr says he's surprised the induction has taken so long.
"I kind of am, because he's got to be one of the greatest players to ever play for Michigan," he said.
Michael Rothstein covers Michigan basketball for AnnArbor.com. He can be reached at 734-623-2558, by e-mail at michaelrothstein@annarbor.com or follow along on Twitter @mikerothstein.