Posted on
Mon, Apr 30, 2012 : 5:59 a.m.
Mitch McGary and Glenn Robinson III ready to bring their off-the-court bond to Michigan
By Nick Baumgardner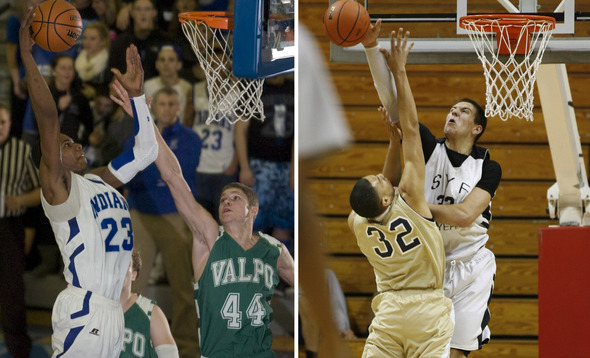 Robinson: Jeffrey D. Nicholls | Post-Tribune; McGary: Courtesy Bloomington Herald Times
Glenn Robinson III could have been that guy.
With one of his best friends, Mitch McGary, going through a highly-publicized and national recruitment process, Robinson could have been selfish.
Already committed to the Michigan basketball program, it would have been easy for Robinson to bombard his childhood pal with text messages, phone calls and emails.
It might have gone a long way, and would certainly have been beneficial for Robinson to be vocal on the subject.
But he wasn't. His friend was going through enough as it was, and some things are more important than basketball.
"I wasn't recruiting him," Robinson said. "We've got too much respect for each other. I didn't need to say anything to him.
"It wasn't about me."
Instead, Robinson was patient.
He let John Beilein and his coaching staff put the finishing touches on McGary's recruitment, hoping his old AAU teammate would join him in Ann Arbor, but knowing their friendship wouldn't change if he didn't.
It was something most close friends would do for one another, and one that showed McGary he has exactly that in Robinson.
"That just means you've got a true friend for life," McGary recalls. "He just wanted what was best for me. He wasn't looking out for himself and he could have.
"He had my best interest in mind and not his, overall. He's a true friend and I've always appreciated that and I always will."
Eventually, everything worked out for the friends from Indiana.
McGary picked Michigan, joining Robinson and fellow signee Nik Stauskas to create a top 10 recruiting class for the Wolverines.
Friends since their early days as high schoolers -- Robinson at Lake Central and McGary at Chesterton -- the duo will team up next season in college.
They'll also room together, and do their best to share their common bond with the rest of the roster in the process.
"They're a couple of clowns," McGary's father, Tim McGary, says. "But Glenn is such a gentleman and a great guy, and I couldn't be happier that they get to play together.
"And their relationship is going to help that team, too."
After meeting on the AAU circuit years ago, McGary and Robinson developed a friendship based on their opposite personalities.
McGary, a person Robinson describes as "crazy," is a boisterous and outspoken individual both on and off the floor. Robinson, meanwhile, tends to keep to himself -- opening the door for McGary to help ease him out of his shell.
"We have a lot of things in common, but he's crazy, wild and energetic," Robinson says of McGary. "Sometimes you need a person like that around you, a guy that's always positive.
"That's how Mitch is."
Over the past two years, with McGary playing prep school ball at Brewster Academy in Wolfeboro, Mass., the pair didn't get the chance to hang out in person as much as they would have liked.
But that didn't stop the lines of communication.
They talk about girls, basketball and everything in between.
When one had a good game, the other almost always heard about it and offered a congratulatory call or text. And when one had a bad game, the other was usually there for support.
Like when Robinson didn't make the McDonald's All-American team last winter, or when McGary began to receive national criticism and his recruit ranking began to slide.
"That was big-time," McGary said. "We talked on the phone about it, and it really helped. Just to have a real close friend who knows what I'm going through help pick me up meant a lot. And I would have done the same for him. He's had some tough losses, and I've always told him to just keep going.
"And once we get to Michigan, we'll do the same thing."
On the court next season, big things will be expected from Robinson and McGary.
The 6-foot-6 Robinson, a five-star prospect, is currently the highest-rated Big Ten signee, according to Rivals.com rankings. He'll likely see time at both the shooting guard and small forward position, and is expected to instantly be one of the team's best players in transition.
The 6-foot-10, 263-pound McGary, meanwhile, gives Michigan a true post presence for the first time in Beilein's tenure at the school.
Off the court, though, they'll still be Tre and Mitch.
Two best friends.
"I can't wait," McGary says. "Glenn and I are counting down the days."
Nick Baumgardner covers Michigan basketball for AnnArbor.com. He can be reached at 734-623-2514, by email at nickbaumgardner@annarbor.com and followed on Twitter @nickbaumgardner.
Want to stay connected to Wolverine basketball in your Facebook newsfeed? "Like" AnnArbor.com's Michigan Basketball News & Views.