Posted on
Tue, Jun 28, 2011 : 2:07 p.m.
Friends, family wait patiently for updates on plane-crash survivor Austin Hatch
By AnnArbor.com Freelance Journalist
By Howard Lovy
For AnnArbor.com
Outside Munson Medical Center in Traverse City on Tuesday morning, the rain starts and stops periodically and the sun even decides to take a peak now and then. Inside the massive hospital complex, where Austin Hatch remains in a drug-induced coma, friends from the 16-year-old Michigan basketball recruit's Indiana hometown sit vigil in a sterile, climate-controlled corridor.
Two girls sit on a bench built into a cubby in the wall, playing cards, while two men stand and talk sports.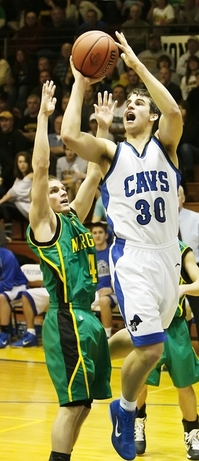 When the discussion turns to the subject of their friend Austin, the girls' eyes cloud up a bit. Hatch survived a single-engine plane crash in Charlevoix on Friday that killed his father, Dr. Stephen Hatch, and stepmother Kim.
On Monday, Austin's family asked that visitors be kept to immediate family only. Too many visitors created too much stimulation for the patient. Family members have also asked Austin's friends to refrain from commenting to the media.
So, on Tuesday morning, the media trucks were no longer in the parking lot, and these four visitors from Indiana were left in peace, for the most part, to quietly sit and talk about their hometown schools and about Austin, a junior at Canterbury High School in Fort Wayne, Ind., who has already verbally committed to the Michigan basketball program.
One man who identified himself only as a family friend said he is happy to report that Austin's condition is stable, although he remains in a coma. A hospital spokeswoman confirmed this and, after a day of denials on Monday, also confirmed that Austin is indeed a patient at Munson Medical Center.
The family friend said he is respecting the wishes of the family by not commenting to the media, and did not give his name. His eyes lit up a bit, though, when asked whether Austin had been reunited with his family dog, a labradoodle named Brady, who also survived Friday's crash. Brady was found later and brought to an animal control officer, who identified Brady by his embedded microchip.
"I don't think Brady's made his way into the ICU yet," the family friend said. "But it's a pretty amazing story. I know when he wakes up and gets through all this, he'll be happy to see Brady."
Another friend in the corridor, who said he is one of Austin's high school assistant coaches, shyly looked away when asked about his friend and said that it just wouldn't be right to comment any further.
They then retreat back into a corridor wall dotted with bland hospital art, and four dedicated friends who will be there for Austin when he wakes up.
Howard Lovy is a Traverse City-based freelance writer.