Posted on
Thu, Jun 21, 2012 : 4:29 p.m.
From one super team to another, Juwan Howard on verge of Fab Five's first NBA title
By Nick Baumgardner
Playing on a high-profile roster is nothing new to former Michigan basketball standout Juwan Howard.
Winning a championship on said roster, though, is a different story.
If all goes according to plan for Howard and the Miami Heat on Thursday night against the Oklahoma City Thunder, the 18-year NBA veteran will finally get his elusive championship.
And, it'll be the first NBA title any member of Michigan's famed Fab Five recruiting class has ever won.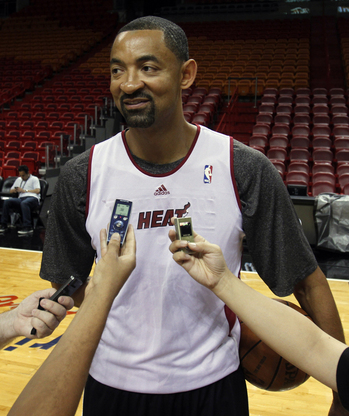 Associated Press
Deadspin.com took a look at Howard's quiet, and long, journey to a championship, while also documenting the post-Michigan careers of fellow Fab Fivers Jalen Rose, Chris Webber, Ray Jackson and Jimmy King.
Juwan Howard was always the different one. Quieter, more intellectual, old even as a teenager. While his UM teammates reinvented basketball fashion, Howard continued to rock the hi-top fade that had been on its way out for a few years. While completing an All-Rookie season for the Bullets, Howard continued to take classes and was able to graduate on time, a promise he made to his dying grandmother, who passed away the day he signed with Michigan. Steve Fisher called him "my Rock of Gibraltar," and Howard was nothing if not steady.

"I never wanted to be called an inconsistent player," Howard said on the eve of his final college game. "I never wanted to be one of those up-and-down guys who you never know when they'll show up."
The Heat lead the Thunder 3-to-1 in the best-of-seven NBA finals. Game 5 tips at 9 p.m. Thursday (ESPN) from Miami.