Posted on
Sun, Mar 11, 2012 : 7:35 p.m.
Get to know Ohio U., the Michigan basketball team's NCAA opponent
By Rich Rezler
The Michigan basketball team will open its NCAA Tournament with a second-round game against Ohio on Friday in Nashville, Tenn.
Don't know much about the Bobcats? We're here to help: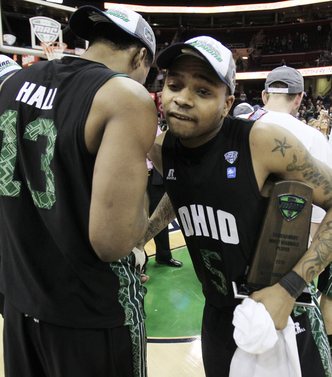 AP Photo
Ohio Bobcats
Main campus: Athens, Ohio
Enrollment: More than 35,000 students on the main campus and five regional campuses
Conference: Mid-American Conference East Division
Record: 27-7 (11-5, third place in MAC East)
RPI: 59th
Strength of schedule: 177th
Vs. top 50 opponents: Lost to Louisville, 59-54 (Nov. 25), beat Marshall, 70-68 (Nov. 30).
Colors: Hunter green and white
Coach: John Groce, who served as an assistant coach at Ohio State from 2004-08.
How they got here: The Bobcats were the No. 3 seed in the MAC Tournament. They beat Toledo in a quarterfinal, Buffalo in a semifinal and upset top-seeded Akron in the championship game, earning the conference's automatic bid.
Top players: Point guard D.J. Cooper averaged 19.7 points in Ohio's MAC Tournament run, including 23 in the championship game. The 5-foot-11, junior is averaging 14.6 points, 5.7 assists and 3.8 rebounds over the season. Walter Offutt (6-3, jr., G) averages 11.7 points and 3.6 rebounds; Reggie Keely (6-8, jr., F) averages 9.2 points and 5.1 rebounds; and Ivo Baltic (6-8, jr., F) averages 9.0 points and 5.1 rebounds.
NCAA rankings: 70.7 points scored per game (107th), 62.0 points allowed per game (55th), +0.5 rebound margin (170th), .429 field goal percentage (200th), .330 3-point percentage (216th).
More numbers: Team statistics | Roster | Schedule/results
NCAA Tournament history: In 2010, the 14-seeded Bobcats beat No. 3 Georgetown, 97-83. They lost in the second round to eventual Elite Eight member Tennessee. Overall, Ohio is 5-13 in NCAA Tournament games. They were eliminated in the first round of their three prior appearances in 2005, 1994 and 1983.