Posted on
Sat, Nov 27, 2010 : 6 a.m.
Georgia Tech's Glen Rice Jr. and Michigan's Tim Hardaway Jr. reunited in Atlantic City
By Michael Rothstein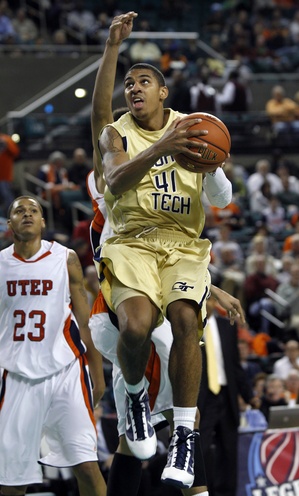 Mel Evans | AP Photo
The reunion came Thursday night when both Georgia Tech and Michigan arrived in Atlantic City, N.J., for the
Legends Classic.
Michigan freshman Tim Hardaway Jr. and Georgia Tech sophomore Glen Rice Jr. met as high school students when Rice would visit his father -- Michigan's all-time leading scorer, Glen Rice Sr. -- in Miami.
The elder Rice and Tim Hardaway Sr. are friends. Their sons would hang out and play some basketball. But eventually basketball separated them as AAU competition and travel became more serious.
"Basketball became more hectic," Rice Jr. said this week. "Then I lost my phone, lost his number, and he switched numbers on me, and I haven't talked to him in a while."
That changed Thursday. While Georgia Tech and Michigan won't play Saturday -- the Yellow Jackets face Syracuse in the Legends Classic final at 8 p.m. and Michigan plays UTEP in the consolation game at 5:30 p.m. -- they will have reunited.
"When we first met, I was a sophomore or freshman in high school and he was a grade higher than me," Hardaway Jr. said of the first meeting. "It was like once we saw each other, we were going to play ball, kick it here and there."
Hardaway Jr. has shown himself to be a slasher who can get to the basket and make good passes in Michigan's early-season games. Rice Jr. describes his game the same way.
"It's creating plays by driving to the basket," Rice Jr. said. "And defense. The defense part has grown on me more. As I got into college, I realized … offensively you couldn't just win the game every time, that you had to play more defense.
"So I adopted that as soon as I got here."
Both are also extremely smart players, stemming from their pedigree.
Michigan coach John Beilein often praises Hardaway Jr.'s intelligence and how he soaks up the sometimes-complicated two-guard offensive system Michigan runs, along with the 1-3-1 zone defensive principles.
Georgia Tech coach Paul Hewitt said similar things about Rice Jr.
"I'd imagine being around the game as much as he's been around the game his whole life has helped him," Hewitt said. "He's clearly one of our smartest players. He's a gifted athlete, had to get stronger last year and earlier in the year didn't play as much. He just wasn't quite ready.
"This year he's much more prepared but he has to take another step."
Rice Jr. had 19 points and 11 rebounds to lead Georgia Tech to a 71-61 win over UTEP on Friday night. Hardaway Jr., who leads Michigan with a 12.8-point average, had eight against Syracuse in the next semifinal.
There was a small chance they could have been teammates, too. But Rice Jr. said by the time Michigan started recruiting him, he had already made up his mind.
He wanted to go to Georgia Tech.
"I didn't want to move too far from home, and Georgia Tech was that," Rice Jr. said. "School-wise, they had a good management program, and that's what I want to go into."
That choice led to this: He'll see his father's alma mater -- and his old friend -- for one weekend instead.
Michael Rothstein covers University of Michigan basketball for AnnArbor.com. He can be reached at (734) 623-2558, by e-mail at michaelrothstein@annarbor.com or follow along on Twitter @mikerothstein