Posted on
Tue, May 29, 2012 : 5:58 a.m.
Go big or go small? With more depth and flexibility, Michigan basketball could do both next season
By Nick Baumgardner
A year ago, John Beilein's club was almost there.
With a three-man post rotation and experienced depth in the backcourt, Beilein thought the Michigan basketball team could pose major matchup problems for opponents throughout the Big Ten season.
However, an injury to Jon Horford's foot basically killed that idea before it ever got started and the Wolverines once again navigated through perhaps the most physical league in America with a four-guard offense.
But in 2012-13 -- with the addition of Mitch McGary, the development of Jordan Morgan and the improved health of Horford -- Beilein hopes his roster will be able to go big, go small and go in between, at the drop of a hat.
"We've talked about being flexible," Beilein told reporters earlier this month. "We could have moved that way (last year) if Jon Horford hadn't gotten hurt, but we talk about being more flexible and, in truth, it was very difficult to go both ways.
"The best thing was to play (small) and adapt within the game itself. Now, I think it can be game to game."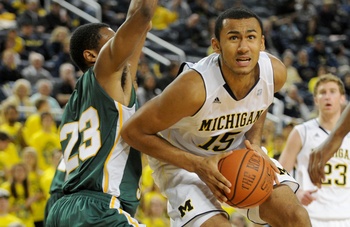 Angela J. Cesere | AnnArbor.com
Michigan will only lose one real post producer from a year ago, that being former forward Evan Smotrycz -- who transferred to Maryland, and never really seemed comfortable playing inside in the first place.
Next year's big man rotation of Morgan (6-foot-8, 250), McGary (6-foot-10, 260), Horford (6-foot-10, 250), and possibly Max Bielfeldt (6-foot-7, 240), will give Beilein four post players who prefer to work inside-out, and not the other way around. Add in versatile forward Blake McLimans (6-foot-10, 240), and Beilein might have more size than he knows what to do with.
There are obviously still question marks up front, and plenty of Michigan's lineup flexibility will rely on how quickly McGary adapts and how much Horford improves, but the basic idea is simple.
When the Wolverines -- a team that somehow won a share of the Big Ten title with a negative rebounding margin -- go toe-to-toe with traditional low-post heavyweights Michigan State or Ohio State, they shouldn't be at such a disadvantage.
"You're playing Northwestern or you're playing Michigan State, maybe (there are) two different lineups you can put out there to suit what's best to win," Beilein said. "We're getting stronger in our flexibility, and we pride ourselves (in our) flexibility."
The Wolverines will have plenty of size up front in 2012-13, but that doesn't mean they'll be void of Beilein's trademark versatility on the wing and in the backcourt.
Incoming freshmen Nik Stauskas and Glenn Robinson III could each play three different spots on the court, while Tim Hardaway Jr. should be able to play both the off-guard and small forward position.
In certain instances, Michigan could roll out a traditional five-man lineup looking something like this: Trey Burke (PG), Hardaway Jr. (SG), Robinson (SF), McGary (PF) and Morgan (C) -- a lineup with an average size of 6-foot-6, 216 pounds.
Last season, Michigan finished the year with a starting lineup of Burke, Stu Douglass, Hardaway, Zack Novak and Morgan -- averaging 6-foot-4, 208 pounds.
If Beilein wants to go quicker, he could do that, too. The only difference this year, though, would be that his lineup would still have plenty of height -- possibly replacing Douglass with 6-foot-6 Stauskas or the 6-foot-4 Matt Vogrich, and replacing Novak with the 6-foot-7 Robinson.
Big, small, quick or tough?
If Beilein has his way, he'll be able to take his pick.
Every, single night.
"I'll have to watch them more, and obviously the freshmen are really key," Beilein says. "We'll have to watch and see what they can handle.
"(But) that's our hope. That we can really take a lot of different shapes."
Nick Baumgardner covers Michigan basketball for AnnArbor.com. He can be reached at 734-623-2514, by email at nickbaumgardner@annarbor.com and followed on Twitter @nickbaumgardner.
Want to stay connected to Wolverine basketball in your Facebook newsfeed? "Like" AnnArbor.com's Michigan Basketball News & Views.