Posted on
Sun, Mar 7, 2010 : 9 a.m.
'His Brother's Keeper:' Michigan forward DeShawn Sims plays for his brother and his family
By Michael Rothstein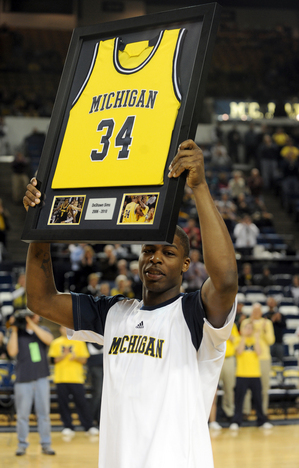 Earlier this week, DeShawn Sims and two friends - Dior Gammage and Cortez Sanders - were driving around Detroit on a rare trip home from Ann Arbor when everybody in the car went silent. Chatter ceased.
That's a "Marcus Moment."
Memories of Marcus Pruitt, Sims' younger brother who was murdered three months into Sims' freshman year at Michigan, return randomly and with varying frequency these days.
"He has those moments every now and then where it's like 'Man, I just can't believe my best friend, he's gone,'" Gammage said. "If something happens, you're going to have those times, and it was one of those times where it just hit him."
The timing of the latest Marcus Moment made sense. Sims played his final home game for the Wolverines days earlier, closing a chapter in his life that began with the biggest tragedy he's faced.
Sims, now a senior forward at Michigan playing his final regular-season game today against Michigan State (4 p.m., TV: CBS), still goes through drastic ranges of emotions. Sometimes, it feels like yesterday he dealt with the anguish of burying his brother. Other times, it feels like a long time ago.
"Every time his birthday comes up, I can't believe it or another holiday comes up, you can't really stomach it sometimes," Sims said. "It's real tough, especially, that's the first person that I've lost that was really, really serious. That was the first person that I lost that was really serious and close to me.
"It definitely took a toll and the timeframe that it's been, it's like yesterday most times. But when his birthday and stuff comes, that really lets you know it's been a long time."
In the days, weeks and months following Marcus' death, Sims found solace in a core group of friends. 
Sanders and Sims first knew each other from basketball, playing in the same neighborhood in Detroit and at a local community center. Gammage and Sims went to Farwell Middle School together. Sanders went to Cleveland but the three ended up at Pershing High School.
If Gammage had $5, the group split it. If Sims came through one day with $20, they divided it amongst themselves, planned what they would eat and then bought it. If it required cooking, Sims would get behind the stove or oven, usually making his specialty - breakfast. There'd be hash browns, eggs, bacon and toast.
"Just watching my grandma and my mother cook over the years and we would always have that type of food over at our house," Sims said. "We wouldn't have the snacks, the cookies or the chips or the fruit punch juice. We would always have to cook real food in order to eat."
Going into high school, they realized one thing. If they wanted to make it, to leave a part of Detroit that Sanders said has "too much killing going on, robbing, stealing," they had to stay together, share with each other, help each other.
They bonded, creating a kinship almost like a brotherhood. The friendship eventually found a slogan: "My Brother's Keeper."
Manny Harris, Sims' teammate and closest friend on the Wolverines, later joined the group. As a senior at Redford High School, he attended Pruitt's funeral. To this day, Sims remembers Harris showing up at his brother's funeral and how much it meant to him.
From there, Harris was brought into the tight-knit circle of friends and eventually became the sixth person with "My Brother's Keeper" tattooed on his stomach. 
The fact they have reached this point in their lives - close to college graduation and living in a location Gammage and Sanders say changed their lives and saved all three of them - is because of the bond they've shared.
That bond was tested and strengthed when Pruitt was murdered in November 2006, soon after Sims and Gammage arrived as students at Michigan and Sanders started school at Eastern Michigan.
Sims felt lost. He wasn't sure he wanted to play basketball anymore or stay at Michigan. Coming into college, Sanders said, Sims felt he might play two years and then go to the NBA. As the best player in Michigan coming out of high school in 2006, it was a fairly realistic expectation.
Marcus' death changed that.
"It set me back because I stopped caring, like, whatever," Sims said. "I'd start, whatever. I'd be on the bench and I wouldn't even want to go in the game.
"I really didn't care."
Slowly, Sims started to feel again, to pay attention and want to play. He had a good game in his first start against Army on Dec. 28, 2006, scoring 13 points and grabbing eight rebounds in 29 minutes. He started again against Georgetown two days later and scored 10 points.
Still mourning, he began to rediscover his game and his confidence.
By the 2007 NIT, Sanders saw the Sims look like the player he remembered on the basketball court. By then, too, Sims had started to recover off the court with the help of his two closest friends.
"He felt the brotherly love from us," Sanders said. "So he got more open, he opened up and it was like it happened. The light goes off, and just day to day he got better as a person."
As Sims kept playing, he realized he did so not only for himself, but for teammates who stuck by him. He was playing for his family, both by blood and by bond.
And he was playing for his brother, who was 6-foot-11 and had a college future of his own.
"My brother is definitely at the top of my list," Sims said. "He headlines the list of people I play for. He is definitely, sometimes I don't realize it, how much of an impact he has on me still playing but it's definitely a big impact.
"When I realize it, my game goes back up a notch. A big notch."
It has been more evident the past two months as Sims' college career has wound down. There have been games this season he dominated for Michigan, averaging 18.4 points and 7.8 rebounds in Big Ten games in his final season.
"He's grown a lot, a lot as a young man and will forever be one of my favorite players, just from the standpoint of personality," said Michigan coach John Beilein, Sims' coach his final three seasons. "He's a dynamic personality with a brilliant future with what he learned through college and the adversity he's gone through."
Through it all, he had his two best friends.
The three realize they were lucky to escape their youth, come to Ann Arbor and see their lives change.
Which goes back to the trip back to Detroit this week, to the car ride and the latest Marcus Moment. They saw what could have been, and how their bond and college changed everything.
"It opened our minds up to that there are much better places out there than Detroit. But for all of our lives this is what we knew, what we got accustomed to and what we got comfortable with," Gammage said. "So a lot of stuff that goes on here didn't seem far fetched to us.
"But once we got to Ann Arbor, Ann Arbor definitely changed us, and I would even credit Ann Arbor to saving us to make us realize there is a much better world out there, and there's a lot of places you want to go and experience."
Michael Rothstein covers University of Michigan basketball for AnnArbor.com. He can be reached at (734) 623-2558, by e-mail at michaelrothstein@annarbor.com or follow along on Twitter @mikerothstein.