Posted on
Tue, Mar 20, 2012 : 5:58 a.m.
How's your NCAA Tournament bracket? Nick Baumgardner's is a complete wreck
By Nick Baumgardner
Well, that was a mess.
A week ago, I was rather up front about my lack of historical success when it comes to choosing a perfect NCAA Tournament bracket.
I estimated I was roughly 12 years old the last time I correctly pegged all Final Four teams in one session. After about 36 hours of tournament play last week, that drought was officially extended.
The Sweet 16 is set to tip Thursday and, at the moment, I've only got seven teams left.
Yeah, it was that bad.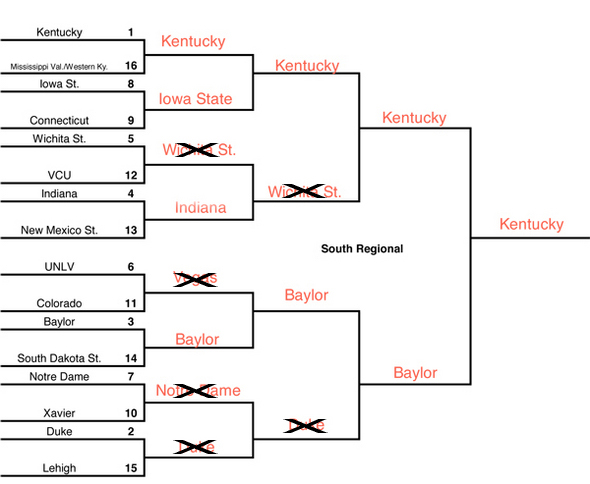 South Regional
Everything started well for me here, as Kentucky -- the most sure-fire pick in the entire thing -- made quick work of Western Kentucky.
From there, it all started to slip.
Wichita State, the mid-major I fell in love with during the whole selection process, got its heart ripped out by the mid-major I should've fallen in love with (VCU). And just to make matters worse, the Rams turned around and lost to the team I had the Shockers upsetting in the third round, Indiana.
Sorry, Hoosiers, I guess I shouldn't have doubted you. Wichita? Thanks, I'll never trust you again.
While we're on the subject of never trusting anyone again, UNLV -- what happened? The Runnin' Rebels were stuck in the mud early and often against No. 11 Colorado, falling behind by 11 early before teasing me with a late, but failed, comeback.
So, all in all, Thursday was pretty bad. But Friday? Well that was a disaster.
Notre Dame poured salt in an open wound by blowing an early lead to lower-seeded Xavier, and then Duke kicked me in the gut even more when it gagged against Lehigh.
In the South, I missed four second-round games and lost a pair of Sweet 16 teams during the first 48 hours of the tournament.
Well done.
West Regional
How the West was lost.
Lesson one: Never bet against Saint Louis coach Rick Majerus, especially when he's coaching against a wild-card Memphis club who really hadn't beaten anyone of note all season.
Lesson two: Stop being so cute and fancy. Were No. 12 Long Beach State and No. 13 Davidson really going to both make me look like a genius? Turns out, no, they weren't. Louisville and New Mexico, I apologize.
Lesson three: Florida's apparently a lot better than I thought, and Virginia was pretty much nowhere near as good as I'd believed, as evidenced by the Gators' 26-point win.
Lesson four: Frank Haith messed with karma when he left Miami in ruins and, unfortunately for Missouri, he paid the price immediately in this tournament. As a result, I lost my first Final Four team, and so did a whole bunch of other people.
I made three correct picks in this entire bracket -- and of the four teams remaining, only one (Michigan State) was a squad I selected.
What'd we learn?
Majerus is still a great coach, Haith pretty much got what was coming to him, Davidson and Long Beach hate me and Tom Izzo just keeps winning.
You taking notes on this stuff?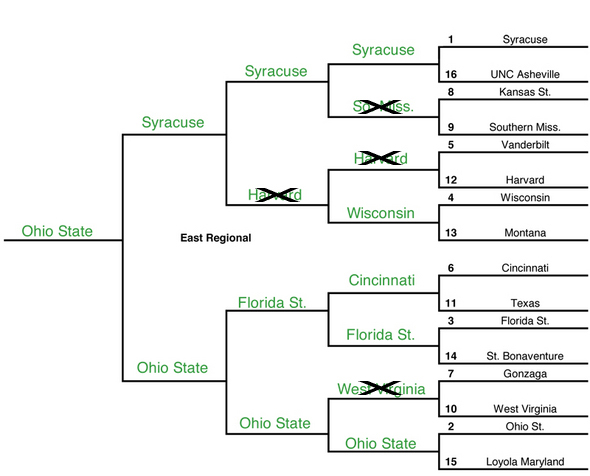 East Regional
This wasn't all bad.
I picked Syracuse to advance to the Elite Eight about two hours before it was announced that Fab Melo wouldn't play in the tournament, so my selection of the Orange in the Sweet 16 was really just dumb luck.
Blind squirrel, meet your nut.
Harvard took all of 40 minutes to make me look like an idiot in the battle of the smart kids, losing to the "Harvard of the South" (Vanderbilt), a team I never pick in early-round games.
The fighting Jay Cutlers then basically proved me right two days later by getting Bo Ryan'd by three points against Wisconsin.
I also really missed on West Virginia knocking off Gonzaga. Yeah, that didn't happen, as the Bulldogs dropped a 23-point beating on the Mountaineers. No idea what I was thinking there.
Add in a Cincinnati upset of Florida State and the Badgers taking advantage of mighty Harvard's fall and I've got two of the four Sweet 16 teams left in this bracket.
Could be worse, right?
Midwest Regional
There were two pods in this bracket I got completely correct.
And two I got completely wrong.
First, the good news.
North Carolina sat John Henson and buried Vermont, and Creighton gave me a break by nipping Alabama by a point. The Tar Heels then dumped the Blue Jays by double-digits, keeping my Final Four pick in this region alive, but not without a price.
It appears UNC point guard Kendall Marshall has a broken wrist. Of course he does, I chose his team to play in the national championship game. Sorry, guys.
On the bottom half, I went with my heart and took Robbie Hummel to drop St. Mary's -- and he did. I also thought Kansas was too much team for Detroit (it was) and too deep to fall to Hummel (it was).
The bad news (and, oh, was it bad).
Belmont, who has apparently become my NCAA kryptonite, broke my heart again by getting thumped by Georgetown. I swear, I pick Belmont to make a Sweet 16 run pretty much every season. And every year, I fail.
What's the early line on Belmont getting back in next season? Being a glutton for punishment, apparently, I'll probably take the Bruins again.
North Carolina State then completed the fail-pod by man-handling San Diego State, a team I was incredibly close to putting into the Elite Eight.
Oops.
In Nashville, the debacle only continued.
Michigan couldn't get out of its own way against the "real Ohio." But, hey, at least the large number of emails I received from Bobcat fans giving me a history lesson on the history of Ohio University was educational. So there's that.
As for South Florida? Well, the Bulls had to play in New York City for the Big East Tournament a week prior, fly back home to Tampa, then fly to Dayton, then drive to Nashville all in about a four-day span.
So there's no way they had a shot against Temple, right?
I think they won just to spite me.
***
So there it is.
I've got seven Sweet 16 teams remaining, but still have seven of my Elite Eight clubs and three of my Final Four teams left in the hunt.
Which is probably just a curse on those respective schools, who will now clearly lose only because I foolishly had them advancing in the first place.
To all fans of the remaining clubs I have alive, my advanced condolences.
Nick Baumgardner covers Michigan basketball for AnnArbor.com. He can be reached at 734-623-2514, by email at nickbaumgardner@annarbor.com and followed on Twitter @nickbaumgardner.
Want to stay connected to Wolverine basketball in your Facebook newsfeed? "Like" AnnArbor.com's Michigan Basketball News & Views.