Posted on
Thu, Jul 7, 2011 : 8:56 a.m.
Hundreds mourn for Hatch family in Fort Wayne; friends support Austin Hatch with wristbands
By AnnArbor.com Staff
Hundreds of people gathered Wednesday in Fort Wayne, Ind., for a memorial service for the parents of Michigan basketball recruit Austin Hatch. Dr. Stephen Hatch and his wife, Kim, died June 24 in a single-engine plane crash in Charlevoix.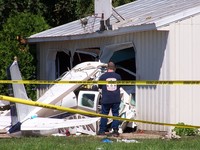 Photo courtesy Petoskey News-Review
The memorial service at Blackhawk Ministries in Fort Wayne lasted more than two hours, the Fort Wayne Journal Gazette reported.
Austin Hatch, 16, was critically injured in the crash and is in the Munson Medical Center in Traverse City. The latest reports from family members says he is recovering as brain swelling is reduced and his breathing improves.
Jake and Zach Drapala, friends and teammates at Canterbury High School of Austin Hatch, created "Austin is my brother" wristbands, IndianaNewsCenter.com reported. The blue wristbands are free, although donations are accepted. To get a wristband, email austinismybrother@gmail.com.
VIDEO STORY FROM INDIANANEWSCENTER.COM