Posted on
Thu, Jul 12, 2012 : 12:50 p.m.
In first scrimmages, Michigan basketball freshmen 'destroy' veterans and show their chops in the process
By Nick Baumgardner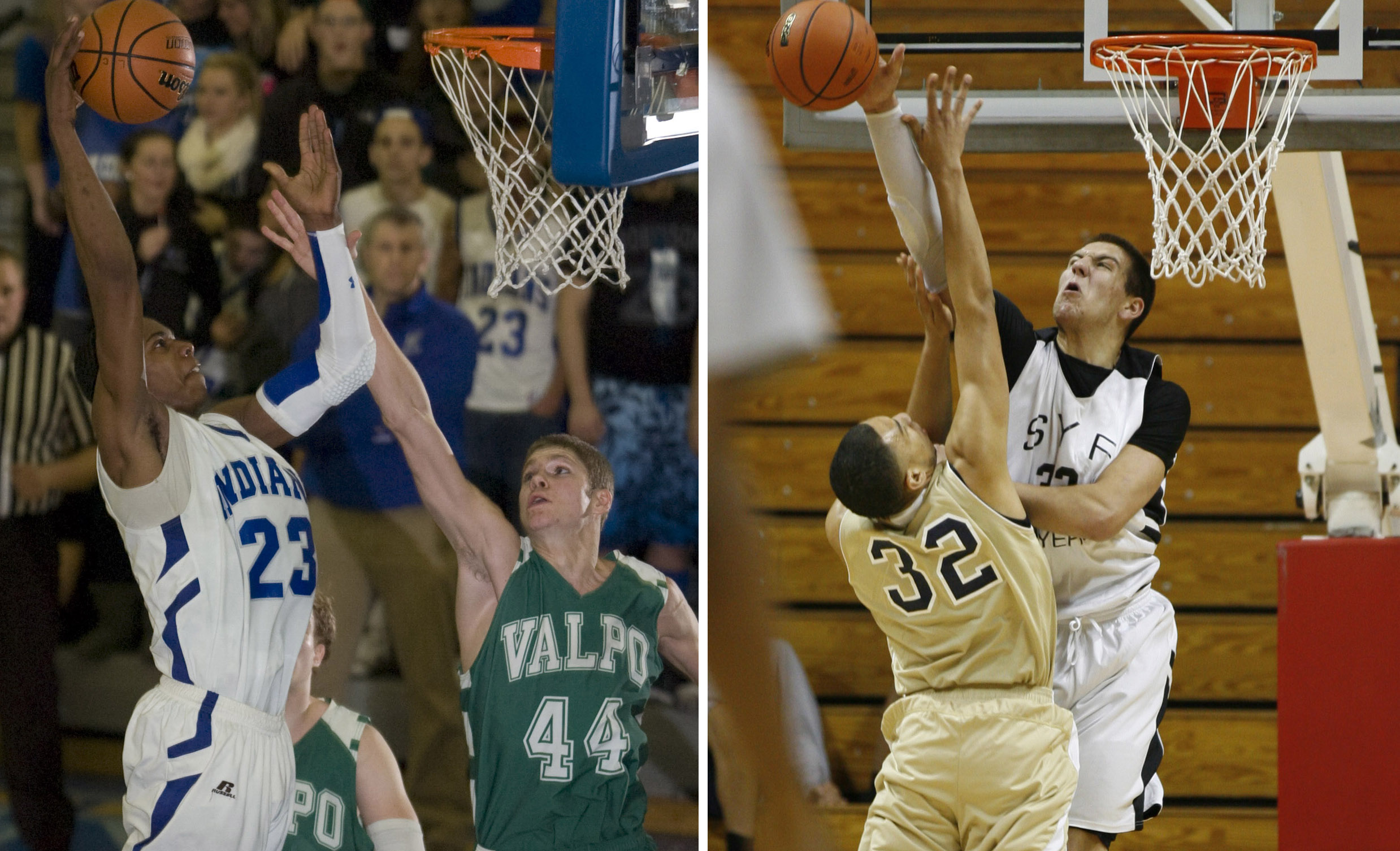 Robinson: Jeffrey D. Nicholls | Post-Tribune; McGary: Courtesy Bloomington Herald Times
Tim Hardaway Jr.
thought he knew how good the
Michigan basketball
team's 2012 recruiting class was before it got to Ann Arbor.
He knew they were athletic, he knew they had talent and he knew they could do a lot of things in several different areas.
He thought he knew it all.
And then he really found out.
"The first two or three (scrimmages), they destroyed us," the Michigan junior guard said with a laugh. "I think they were pretty excited."
Teaming together, Michigan's five freshmen -- Mitch McGary, Glenn Robinson III, Nik Stauskas, Caris LeVert and Spike Albrecht -- showed the veterans a thing or two during the early portion of the team's summer schedule.
Hardaway said in the first two games, played to 11, the rookies got the best of the old guys -- by scores of 11-6 and 11-7.
Things eventually turned around, as Hardaway said he and fellow junior Jordan Morgan explained how they needed to "show them what Big Ten basketball was about." But the message had already been sent.
In 1991, when Jalen Rose, Chris Webber, Juwan Howard, Ray Jackson and Jimmy King arrived in Ann Arbor as freshmen, stories of early and repeated rookie to veteran whippings became stuff of legend -- and eventually helped further strengthen the Fab Five moniker.
This wasn't exactly the same, Hardaway said, but still -- one thing's clear.
The kids can play.
"We ended up beating them 11-1, 11-2," Hardaway joked.
In less than a month, Michigan's highly-touted class has surprised and awed the coaching staff and the team's veterans.
Sophomore point guard Trey Burke noted how Stauskas made 78 3-pointers in five minutes earlier this month during a shooting drill, something he said was nearly a Michigan record.
Both Burke and Hardaway also made mention of the several different wrinkles the 6-foot-10, 260-pound McGary adds to the club both offensively and defensively -- from a shot-blocking, rebounding and post-scoring standpoint.
And, perhaps most impressive, the duo said they witnessed Robinson make a flat-footed broad jump of 11-feet, 11-inches.
All of a sudden, the Wolverines apparently have more talent than they know what to do with.
"(None of) that surprises me, that's the type of players they are -- they're really good," Burke said. "They have size, they know their roles and they can play.
"It's really different from last year, we're much more versatile. ... It says a lot about all of the freshmen. This class is really special, and I don't think a lot of people really know what we've got, but when the season comes, it should show."
Michigan coach John Beilein has repeatedly expressed his hope that the new freshmen class will be able to make the Wolverines a much more versatile and deeper squad in 2012-13 -- a process the players say has already begun.
And equally crucial, they all get along. Hardaway raved about the group's raw ability on the floor in one breath, and then explained how humble and easy-going they were in the next.
"It's been very fun," he said. "There's a lot of (pieces) we can use, you see them out there in practice and they're just really humble guys when it all comes down to it.
"They want to learn, they don't talk back, they want to do whatever it takes to win. Coming into a freshman year, that's very good. They're not trying to just make an impact on offense, they're doing it on defense and making hustle plays -- they're doing whatever it takes."
So far, the kids have proven they can hang inside the William Davidson Player Development Center.
They made their point on the floor, and everyone took notice.
But, according to Hardaway, there won't be any repeat performances.
"They got their time," he said. "But it won't happen again."
Nick Baumgardner covers Michigan sports for AnnArbor.com. He can be reached at 734-623-2514, by email at nickbaumgardner@annarbor.com and followed on Twitter @nickbaumgardner.