Posted on
Wed, Nov 9, 2011 : 6:27 p.m.
Into the deep end: Michigan women's basketball starts season with tough task at Florida
By Nick Baumgardner
When Michigan women's basketball coach Kevin Borseth was discussing early-season schedules recently with men's basketball coach John Beilein, he received somewhat of a startled reaction.
"You're going to play Florida your first game?" Borseth remembers Beilein asking. "Are you kidding me?"
Nope, he wasn't.
Borseth's Wolverines won't be entering the 2011-12 season from the shallow end of the pool. Michigan begins its regular season at 4:30 p.m. Friday on the road in Gainesville, Fla.
"The road is always more difficult, but you've got to find out where you are at some point in time," Borseth says. "(But) four of (our) kids have (started games) together, they've seen the good, the bad and the ugly."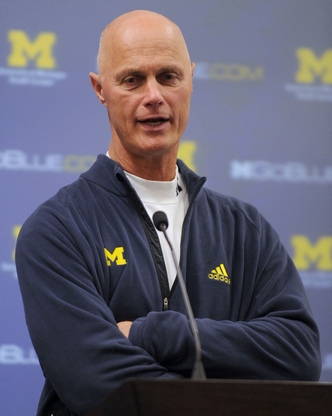 AnnArbor.com file photo
Last season, Michigan eased into the season with a 45-point home win over Alcorn State.
But this time around, the Wolverines are loaded with returning experience and see no reason to wait around for a real test.
They're jumping in head first, and they really have no issue with that.
"We're excited about it, it's an awesome opportunity to be able to play (a good team) right off the bat," Michigan senior guard/forward Carmen Reynolds said. "We're going to jump right into the season."
Borseth said the closing days of preseason camp provided some answers as far as team identity was concerned.
Entering the season, one of Michigan's holes came with regard to a go-to scorer at the end of the shot clock. Last season, departed leading scorer Veronica Hicks shouldered plenty of that load.
But so did current senior guard Courtney Boylan.
This year, Borseth expects that to continue.
"I think what people really need to understand is that every team in the country at the end of the shot clock has to give it to (someone)," he said. "Last year, we gave it to Courtney Boylan (a lot) and we're probably going to give it to her again.
"She's pretty good at that."
As far as the rest of the starting lineup goes, Borseth says that'll be a work in progress.
Boylan and junior guard Jenny Ryan will likely make up the starting backcourt, while Reynolds and junior Rachel Sheffler are expected to be fixtures up front.
Borseth said the only question is who the fifth player could be. Notable candidates could be junior forward Nya Jordan, freshman forward Nicole Elmblad or sophomore forward Kendra Seto.
As far as Florida goes, the Gators return five seniors from a 20-win team that reached the third round of the WNIT last season.
As is generally the case in the Southeastern Conference, Florida is awfully athletic.
"I got a scouting report from one of the teams that played them in the WNIT last year and by the quick kids they just put 'qq,' meaning 'quick-quick,' " Borseth said. "They've got a bunch of those."
Michigan is jumping into the deep end this season, but not in a careless manner.
The Wolverines have 10 letterwinners of their own back, and they're ready to see exactly what they can do.
"We're ready to play a game. At some point you have to go out and play against someone besides yourself," Borseth said. "I think we're ready to do that."
Nick Baumgardner covers Michigan basketball for AnnArbor.com. He can be reached at 734-623-2514, by email at nickbaumgardner@annarbor.com and followed on Twitter @nickbaumgardner.