Posted on
Mon, Jan 24, 2011 : 3:53 p.m.
Forced outside, Michigan basketball team's offensive balance tilts toward the 3-pointer and other notes
By Michael Rothstein
The 3-pointer always is a staple of John Beilein's two-guard offense, but he expects a balanced offense from the Michigan basketball team.
In a 69-64 loss to Minnesota on Saturday, Michigan launched 35 3-point shots, accounting for 66 percent of its shot selection.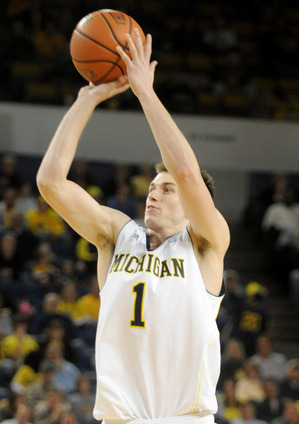 Angela J. Cesere | AnnArbor.com
"The Minnesota game, (it) was fairly obvious it was going to be very difficult for us to score inside, and that had a lot to do with their height," Beilein said. "We're 6-8 inside and developing, 6-9. (Ralph) Sampson and (Colton) Iverson and (Trevor) Mbakwe are 6-8, athletic and experienced.
"Sometimes that may be true that we could become very predictable, but at the same time we are going to have a very balanced approach."
For inside offense, Michigan (11-9 overall, 1-6 in the Big Ten) relies on redshirt freshman forward Jordan Morgan (9.3 points per game) or freshman forward Jon Horford (2.7), and until they can provide more consistency, the Wolverines will rely on their outside shooters.
Five of Michigan's eight main rotation players have taken more 3-pointers than two-pointers this season. Junior guard Stu Douglass, who has made 38.8 percent of his 3-pointers, is Michigan's top threat from outside.
The numbers detail how much Michigan has relied on the 3-pointer since Big Ten play started and where the Wolverines are as they enter a game at Michigan State on Thursday (7 p.m., ESPN).
• The Wolverines have made 36.3 percent of 3-pointers (61-of-168) and 49.7 percent of their 2-pointers (94-of-189) this season.
• Which players favor the 3-pointer? Sophomore guard Matt Vogrich (45 3-pointers, 19 2-pointers), freshman forward Evan Smotrycz (72 3-pointers, 43 2-pointers) and sophomore guard Zack Novak (85 3-pointers, 43 2-pointers) are most likely to be beyond the arc if they are putting up a shot.
• Morgan, Horford and sophomore point guard Darius Morris are the only Michigan players with more 2-point attempts than 3-point shots.
Rebuilding in the Big Ten
It's tough to break through and become a dominant team in the Big Ten, Beilein said.
Michigan State and Wisconsin have been powers over the past decade. Ohio State has made a couple of Final Fours recently. Purdue is consistently near the top of the league.
Yet teams trying to rebuild once-proud programs - Iowa, Indiana and Michigan - struggle.
"That's one of the biggest challenges facing the teams that are rebuilding, that are trying to rebuild over the past five, six years," said Beilein, in his fourth season with Michigan. "There are leagues out there that are very cyclical. This is not, over time, proved to be a cyclical league.
"There are teams in the late '90s, early '90s, did a great job of building their programs. For the most part the coaching situations have stayed stable, and they've been able to get to the top. And the rest of us are fighting for the sixth or seventh spot."
Iowa coach Fran McCaffery, in his first year in the league, isn't paying much attention to it. He's got enough work to do to fix the Hawkeyes.
"You can't get consumed with that," McCaffery said. "What you have to do is focus on your own team and try to get better."
Michael Rothstein covers Michigan basketball for AnnArbor.com. He can be reached at (734) 623-2558, by e-mail at michaelrothstein@annarbor.com or follow along on Twitter @mikerothstein.