Posted on
Fri, Feb 17, 2012 : 4:46 p.m.
A must-win game for the Michigan basketball team? It's pretty close
By Nick Baumgardner
The phrase "must win" rarely, if ever, enters Michigan basketball coach John Beilein's vocabulary.
Especially when it comes to a regular-season contest.
But Saturday against No. 6 Ohio State? Well, that's about as close as it comes.
"There's a lot of basketball to be played before you say this is a must win," Beilein said Friday. "But it certainly (would be) advantageous (for us) to get a win.
"But you'll probably never get me to say the word must win, never, ever, ever. Unless it was the NCAA Tournament when you tell me we have to win this game, or we don't get to play tomorrow."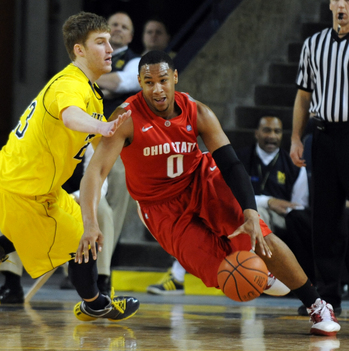 File photo
Beilein's not ready to dub Michigan's rematch with Ohio State (9 p.m., ESPN) as a game the Wolverines absolutely need to get at this point in the season.
But in terms of the Big Ten regular-season race, Saturday is as close to as must win for the Wolverines as it gets.
Whether Beilein likes it or not.
"If you're going to win the Big Ten, this is one you'd definitely like to have," Michigan senior captain Zack Novak said. "These are the games that you sign up for when you come to Michigan.
"You want to play Ohio State, you want it to be the main game on TV and you want it to have some meaning as far as your season goes. This is fun."
A Michigan win Saturday would pull the Wolverines (19-7, 9-4) even with Ohio State (22-4, 10-3) in the Big Ten standings. Michigan State (21-5, 10-3) would then take a half-game lead into a Sunday game at Purdue.
From there, Michigan has contests at Northwestern, vs. Purdue, at Illinois and at Penn State.
A loss gives Ohio State the season sweep, a two-game edge in the win column and puts Michigan's hope of ending its 26-year Big Ten title drought on life support.
"Every day before practice we talk about how we want to be champions, Big Ten champs," Michigan freshman point guard Trey Burke said. "We know this is a big game, they're tied with Michigan State for first in the standings.
"We know getting a win (Saturday) will be critical."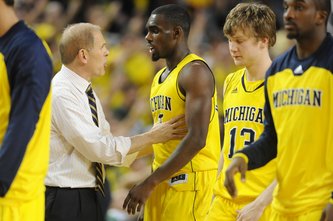 Melanie Maxwell | AnnArbor.com
Hardaway's confidence on the rise
Tim Hardaway Jr. said Michigan's week off was beneficial for him from a confidence standpoint.
"I've been very confident in practice," Hardaway said. "I want to keep on getting in the gym early and keep getting shots up.
"And with coach Beilein, whatever he sees necessary for me to change, I'm going to do it."
After shooting 27.7 percent from the floor in the four games leading up to a win over Illinois on Sunday, Hardaway had perhaps his best game in months against the Illini, scoring 15 points on 5-of-9 shooting.
The sophomore forward said he's working on simplifying things on the floor, and that individual meetings with Beilein and captains Novak and Stu Douglass prior to the Nebraska game has helped him re-focus on what he needs to do to be successful.
"They just told me I could do other things to help the team out," Hardaway said. "And I've just really focused on other parts of my game to help me out through this (slump)."

Horford, Brundidge updates

Beilein said Michigan forward Jon Horford is still being relegated to half-court workouts during practice, and has not been cleared to play.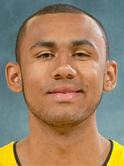 So, for the 18th consecutive game, the Wolverines will likely be without the 6-foot-10, 250-pound sophomore. Horford also missed Michigan's 64-49 loss to Ohio State in Columbus, when the Wolverines gave up 14 offensive rebounds and 16 second-chance points.
"Horford is still half-court only," Beilein said. "We do a thing (in practice) where he plays half-court defense and (freshman forward) Max Bielfeldt runs down and plays offense.
"He only goes at one end of the floor."
As for freshman guard Carlton Brundidge, the news may be a bit better. Beilein said Brundidge was going to attempt to work in full with the scout team Friday, and could possibly be cleared to play against Ohio State on Saturday, if needed.
Brundidge has missed the past three games with asthma flareups.

Week off prep

With no midweek game, Beilein said Michigan was able to get significant rest for its high-end rotation players.
Michigan used the first three days of the week as main rest periods, getting extended days off for Novak, Douglass and Burke.
Beilein said the team lifted weights throughout the week, and went through an intrasquad scrimmage Wednesday before heading into Ohio State prep Thursday.
The team will be at the Crisler Center for ESPN's College GameDay on Saturday morning, and Beilein said he and his staff will treat the lead-in to the 9 p.m. start somewhat like a road game.
"I'm old, so the time off was really good for me," Novak joked. "I can't wait to play again, that's for sure."
Nick Baumgardner covers Michigan basketball for AnnArbor.com. He can be reached at 734-623-2514, by email at nickbaumgardner@annarbor.com and followed on Twitter @nickbaumgardner.
Want to stay connected to Wolverine basketball in your Facebook newsfeed? "Like" AnnArbor.com's Michigan Basketball News & Views.