Posted on
Fri, Dec 2, 2011 : 5:24 p.m.
Is Trey Burke being overworked? John Beilein trying anything to steal rest for young point guard
By Nick Baumgardner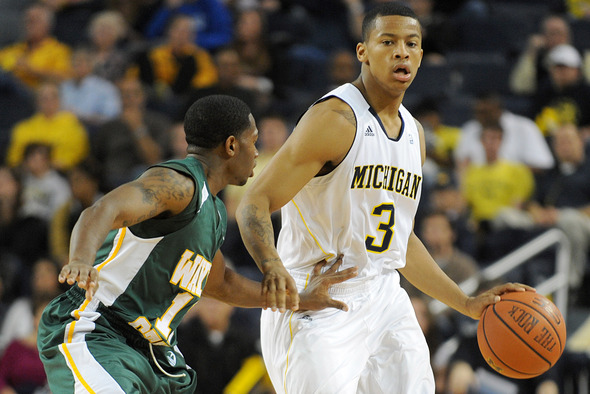 Angela J. Cesere | AnnArbor.com
For the
Michigan basketball
team to be successful, freshman point guard
Trey Burke
needs to play.
And play a lot.
But for that success to be sustained over the course of the season, Burke needs rest. He's 18 years old in his first season as a college player, and his legs don't come with re-chargeable batteries.
So what's Michigan basketball coach John Beilein to do?
"If you watch those media timeouts," Beilein said with a smile, "we like to get him a little extra (rest there)."
Entering Saturday's home game against Iowa State (noon, BTN), Burke is averaging 31.6 minutes per game, third-most on the team.
However, in Michigan's last six games, its freshman point guard is averaging nearly 34 minutes.
The problem Beilein is faced with is simple: Outside of Burke, who is averaging 11 points and 4.1 assists this season, the Wolverines have no other true viable point guard option.
Senior Stu Douglass spent some time in that role earlier this season, but Beilein prefers him to be in a shoot-first role on the floor.
Beilein has also gone to junior Eso Akunne with hope of giving Burke a breather here or there, but rarely for more than two to three minutes.
"If we had a true other point guard, we wouldn't be concerned," Beilein said. "When he's on the floor, he's one of our best guys to just run our offense.
"But he does need to get two to three minutes of rest every half. At least that's our plan."
Beilein said he didn't feel Burke was worn down Tuesday when Virginia went on a game-changing 15-0 second-half run, and early on this season, Burke's shown no signs of being affected by the heavy minutes.
In time, the heavy workload for Michigan's youngest star could become an issue.
But for now, Beilein can't and won't worry about it too much.
Because not only is Burke Michigan's best option at point guard, he's virtually its only option.
"Hopefully it doesn't hurt us," Beilein said. "(But) we don't want him out of there too long."

Beilein pays Iowa State's Royce White a high compliment

Beilein said he was impressed with Iowa State's transfer-laden roster, which includes former Michigan State guards Chris Allen and Korie Lucious.
The player that impresses him most? Former Minnesota transfer Royce White.
"Sometimes he's out there looking like LeBron James as a 6-8 point guard and then the next thing you know, he's in the post," Beilein said of the 270-pound White. "You have to be versatile with him. He'll have four turnovers a game, but also four assists. He's a brilliant passer."
So far this season, White -- a former five-star recruit -- is averaging 14.1 points, 10.4 rebounds and 4.4 assists per game. He also averages 4.3 turnovers per contest.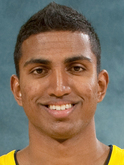 Redshirt a possibility for Sai Tummala
Michigan freshman forward Sai Tummala is continuing to recover from a concussion suffered earlier this year, and has not logged a minute of game time this season.
Beilein said Tummala -- who has been practicing -- is still not ready for game action, and a redshirt is a "definite possibility."
Tummala's career on the floor hasn't started yet, but Beilein said he likes the potential the 6-foot-6, 200-pound forward possesses.
"He may be our most athletic player," Beilein said. "Aside from maybe Trey Burke, he's one of our quickest players and has really showed some good signs. I really like what he's done so far in practice."

Props to the B1G

Even though his team didn't do its part in the Big Ten/ACC Challenge this week, Beilein said he was impressed with how well the league represented itself in its third straight victory.
Beilein says he feels several teams in the league have begun to settle into new systems that were implemented around the time he was hired at Michigan prior to the 2007-08 season.
"In the early years when I was here, the Big Ten was in transition with coaches," he said. "There's been a lot of changes in the ACC (though) over the last couple years. I think that's balancing out a little bit."

Avoiding traffic

The Michigan athletic department has provided information as to how those attending basketball games for the foreseeable future will be affected by the recent Stadium bridge project currently underway in Ann Arbor.
For full information on how to navigate through the construction into Crisler Arena, click the following: http://www.mgoblue.com/facilities/bridges-project.html
Nick Baumgardner covers Michigan basketball for AnnArbor.com. He can be reached at 734-623-2514, by email at nickbaumgardner@annarbor.com and followed on Twitter @nickbaumgardner.
Want to stay connected to Wolverine basketball in your Facebook newsfeed? "Like" AnnArbor.com's Michigan Basketball News & Views.