Posted on
Mon, Nov 21, 2011 : 8:35 a.m.
Island fever: Breaking down the Michigan basketball team and the rest of the 2011 Maui Invitational
By Nick Baumgardner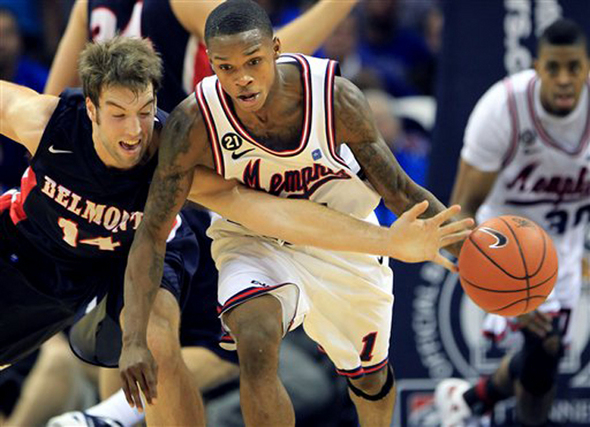 Associated Press
LAHAINA, Hawaii — There are preseason college basketball tournaments, and then there's this.
The 2011 Maui Invitational.
Not counting host Chaminade, the seven participants in this year's field went a combined 176-69 a year ago, and entering play Monday, Duke, Georgetown, Kansas, Memphis, Michigan, Tennessee and UCLA are a combined 13-3.
Four of the seven are in The Associated Press' Top 25 poll, and all seven are coming off NCAA Tournament bids a year ago.
Here's a look at how everything shakes down:
No. 17 Michigan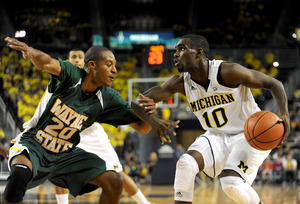 Angela J. Cesere | AnnArbor.com
First-round opponent:
No. 10 Memphis (3 p.m. today, ESPN2)
Why it's dangerous:
John Beilein is in his fifth season with the Wolverines, and though his squad is extremely young, its almost certainly the most talented squad of his Michigan career. Zack Novak and Stu Douglass are proven leaders, and Tim Hardaway Jr. has pro-level talent. Also, Michigan has the potential to be one of the country's best long-distance shooting squads.
Weaknesses: Youth and post play. Michigan will start a freshman point guard (Trey Burke) and three sophomores (Hardaway, Evan Smotrycz and Jordan Morgan). And while the Wolverines have proven shooters, they're unproven in the paint.
No. 10 Memphis
First-round opponent: No. 17 Michigan (3 p.m. today, ESPN2)
Why it's dangerous: The Tigers are as athletic as anyone in America, and have potential 20-point scorers all over the floor. Sophomore guards Joe Jackson and Will Barton are both former five-star recruits who played a ton last season, each possessing the ability to beat just about anyone off the dribble. Memphis has an experienced point guard in Charles Carmouche and 6-foot-9 guard/forward Wesley Witherspoon is a matchup nightmare. If this were a track meet, Memphis would win in a landslide.
Weaknesses: With Memphis, there is such a thing as playing too fast. The Tigers will want to constantly take advantage of their athleticism, meaning their shot selection isn't always great. There's also the issue of turnovers; Memphis averaged 15 per game a year ago.
Tennessee
First-round opponent: No. 6 Duke (5:30 p.m. today, ESPN2) Why it's dangerous: The Vols have nothing to lose and everything to gain in Maui. After putting the Bruce Pearl mess behind last season, Tennessee hired the energetic Cuonzo Martin (a Gene Keady product). The Vols are young (six freshmen), but they're not void of talent. Sophomore guard Trae Golden has averaged 23 points, 10 assists and 4.5 rebounds through two games.
Weaknesses: Six freshmen and a new coach. Martin may be a breath of fresh air, but youth and a new system (especially with a field like this) won't do the Vols any favors.
No. 6 Duke
First-round opponent: Tennessee (5:30 p.m. today, ESPN2)
Why it's dangerous: Well, it's Duke. Not sure there's much else to say there. Outside of the obvious, the Blue Devils are full of talent with star freshman point guard Austin Rivers, as well as sharp-shooting guard Seth Curry. Duke can also match up with anyone on the block, boasting a front-line trio of Mason Plumlee, Miles Plumlee and Ryan Kelly. Not Duke's most complete team, but still good enough to beat anyone in this field.
Weaknesses: Rivers really isn't a point guard, and so far this season, that's created an issue or two. Duke's 4-0, but its averaging 15 turnovers per game as opposed to just 13 assists. The overall lack of a commanding floor leader is something the Blue Devils are figuring out.
UCLA
First-round opponent: Chaminade (9:30 p.m. today, ESPNU)
Why it's dangerous: Outside of the obvious name recognition, the Bruins really don't appear dangerous early this season, as UCLA has been embarrassed already by Loyola-Marymount and Middle Tennessee. If anything, the Bruins will be backed into a corner. A semi-desperate team already, coach Ben Howland reinstated junior Reeves Nelson (the team's best player) after the Middle Tennessee loss.
Weaknesses: Lots. Howland already appears to be in hot water with the UCLA faithful, and the season's just two games old. UCLA is shooting just 38 percent as a team and allowed Middle Tennessee to shoot 71 percent from the floor in a 20-point home loss.
Chaminade
First-round opponent: ULCA (9:30 p.m. today, ESPNU)
Why it's dangerous: Chaminade is the host school, and it has won games in this tournament before. Last season, it beat Oklahoma. Also, just ask Ralph Sampson how dangerous this team can be.
Weaknesses: The Silverswords may be the local favorite, but they play in the NAIA. No matter how bad UCLA is right now, it'll still be a tall task.
Georgetown
First-round opponent: No. 12 Kansas (Midnight, Tuesday, ESPN2)
Why it's dangerous: The Hoyas are huge. Georgetown boasts eight players standing at least 6-foot-8. Hollis Thompson (16 points per game) is the team's best player inside, and senior guard Jason Clark is a steady-handed floor leader.
Weaknesses: There's tons of talent on John Thompson III's roster, but its unproven. Freshmen bigs Otto Porter, Mikael Hopkins and Tyler Adams were all highly-touted big men, but how much can they be counted on this early?
No. 12 Kansas
First-round opponent: Georgetown (Midnight, Tuesday, ESPN2)
Why it's dangerous: Tyshawn Taylor and Thomas Robinson might be the best one-two punch in this tournament. Taylor (a senior guard) and Robinson (a junior forward) have combined to average 31.5 points, 12 rebounds and 5.5 assists so far this season.
Weaknesses: The Jayhawks got a bit exposed athletically earlier this season in a lopsided loss to No. 2 Kentucky. Granted, the youthful Wildcats may have more raw ability than any other team in the country, but Kansas didn't appear to belong on the floor with a Kentucky team that relies on several freshmen.
Nick Baumgardner covers Michigan basketball for AnnArbor.com. He can be reached at 734-623-2514, by email at nickbaumgardner@annarbor.com and followed on Twitter @nickbaumgardner.