Posted on
Mon, Aug 6, 2012 : 5 p.m.
Jalen Rose isn't a fan of the media dubbing the U.S. women's gymnastics team the 'Fab Five'
By Nick Baumgardner
Jalen Rose has no issue with the United States' women's gymnastics Olympic team.
He does, however, have a bit of a problem with the media handing them a very familiar nickname.
In an interview with 97.1 FM's Jamie Samuelsen, the former Michigan basketball star says he's not a fan of the gold-medal winning squad being known as the "Fab Five."
"To use the nickname 'Fab Five' just points and screams of lazy journalism by the national media," Rose said. "That's really what it is. It's no fault at all of the young gymnasts, but I wish they would have been able to come up with (an even more) creative tag for them in their goal medal pursuit, because they have been terrific."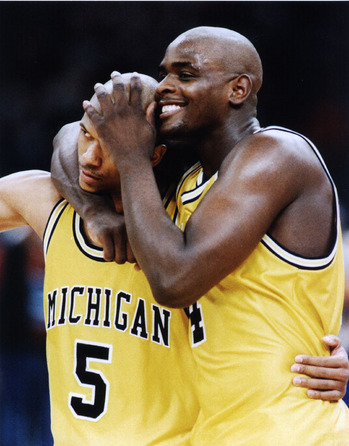 AnnArbor.com file photo
Rose prefaced his statement with complete support for the gymnasts, notably all-around gold medal winner
Gabby Douglas
, saying it's been "terrific the way she's displayed excellence in this Olympics."
According to Businessweek.com, Rose secured a trademark for the term last year, meaning any future endorsements surrounding the women's gymnastics squad and the "Fab Five" moniker could encounter a problem.
Rose, together with former Michigan stars Chris Webber, Juwan Howard, Ray Jackson and Jimmy King, made up Michigan's version of the Fab Five in 1991 -- a star-studded recruiting class that led the Wolverines to back-to-back Final Four appearances.
Asked by Samuelsen who exactly gave his group the nickname, he said he's not sure, but imagined it was someone in the media.
"I'm not sure, you and I know how the media work," he said. "Once the media decides what they want to call you, that's your name.
"I've heard maybe they want to be called 'Furious Five' or something different. Which led me to realize that was a tag the media put on them."
Rose made headlines earlier this year for criticizing Michigan president Mary Sue Coleman for her statement that Rose and company's removed Final Four banners may never return to the Crisler Center rafters.
Recently, Rose softened his stance on the matter and the banners -- which were removed in the wake of the Ed Martin recruiting scandal.
Currently an employee at ESPN, Rose will become part of the network's basketball version of College GameDay next season.
Nick Baumgardner covers Michigan sports for AnnArbor.com. He can be reached at 734-623-2514, by email at nickbaumgardner@annarbor.com and followed on Twitter @nickbaumgardner.