Posted on
Mon, Mar 28, 2011 : 2:48 p.m.
John Beilein advised Darius Morris to seek opinion of NBA's Undergraduate Advisory Committee
By Rich Rezler
Is Darius Morris going to leave the Michigan basketball program early for the NBA? It's too soon for that speculation, Michigan coach John Beilein said Monday as he clarified Morris' position.
Beilein confirmed that Morris has submitted his name to the NBA's Undergraduate Advisory Committee, a step that he advised his sophomore point guard to take.
"Within two days after the season was over, I called Darius into the office and suggested that we go through the Undergraduate Advisory Committee and gather information," Beilein said. "That's all that's happening right now. I talked with (Darius) and his dad, and we all agreed this was the best way to go about it and that's what we're doing."
The committee of NBA player personnel experts will inform draft prospects by April 18 if they are likely to be a lottery pick, a first-round pick, a second-round pick or go undrafted.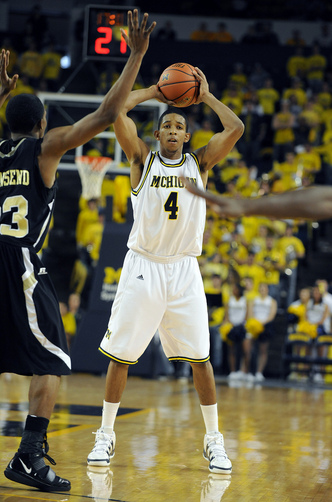 AnnArbor.com file photo
At that point, players can officially declare for the draft by April 24 and have until May 8 to withdraw their names if they have not hired an agent.
Beilein seemed to be tempering a statement by Morris' brother, DeWayne Morris Jr., who told the Detroit Free Press that Darius would enter the draft but not hire an agent.
"Information that gets out there from all different avenues is not always accurate, as we know, and this is where we are at this stage," Beilein said.
Asked who was guiding Darius Morris from his "inner circle," Beilein said his father, DeWayne Morris Sr.
As for his own recommendations to Morris, who led the Wolverines in scoring and set a school record with 235 assists this season, Beilein said he would keep them private.
"I will give him thoughts. But I stay pretty open minded," he said. "There's nothing we want more than to have Darius Morris have a career in the NBA. There's nothing we want more. So you work toward that. But that's the big thing: Have a career in the NBA.
Beilein stressed the word career.
"There's a lot involved in this, and you have to think about it. It's a very important decision," he said. "You only need to have one team out there that really, really likes you.
"But, again, having the career we all know is really important. It's not about getting drafted. It's about having success in the NBA if you're going to leave college."
Beilein said the steps being taken with Morris are identical to what he advised Manny Harris and Deshawn Sims to do after their sophomore and junior seasons.
"This is really a good issue to have," he said. "If we have these situations every year, where we have young men that have the possibility of being drafted and having a career in the NBA, these are good things to have."
Rich Rezler covers sports for AnnArbor.com. Contact him at 734-623-2553 or richrezler@annarbor.com.