Posted on
Tue, Apr 10, 2012 : 5:59 a.m.
John Beilein comments on attrition, says it's all 'part of the game'
By Nick Baumgardner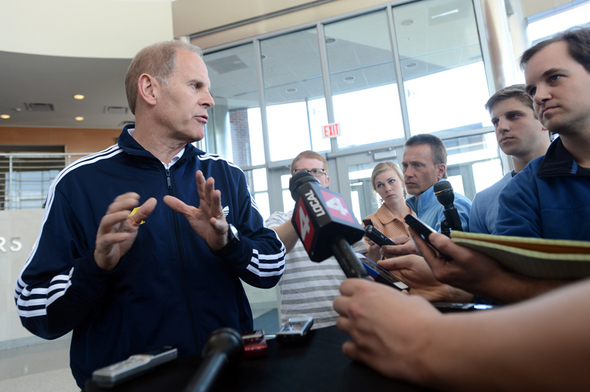 Melanie Maxwell I AnnArbor.com
John Beilein is getting used to spring uncertainty.
Each of the past three seasons, the Michigan basketball coach has watched underclassmen explore the idea of leaving school early for the NBA (he has a 1-for-3 return-rate now, by the way).
This year, Beilein watched as three players -- Evan Smotrycz, Carlton Brundidge and Colton Christian -- opted to leave his program last month in search of transfers.
Is he worried? Not really.
Is he surprised? Not at all.
"Nothing surprises me," Beilein said Monday after freshman point guard Trey Burke announced he would return to Michigan for his sophomore season. "When you get to the end of the year, and even through the season, there's all kinds of things that go on.
"This is what we do. We're dealing with 18-, 19- and 20-year-old young men. You can expect anything every day. And that's what makes it so exciting, actually."
Beilein wouldn't get into specifics on why Smotrycz, Brundidge or Christian chose to leave his program.
He said he meets with his entire roster at the close of every season to assess their situation. Sometimes those meetings lead to attrition, something he says is "part of the game."
"We meet with them and if transfers are going to happen, we don't want them to happen in June or July or August when we can't get anyone in their place," he said. "We have heart-to-heart talks with them, want everyone to stay, but we expect everyone is going to leave for different reasons and that's part of the game."
"I heard a stat (at the Final Four) that 40 percent of those that reach the end of their sophomore year in, I think it was BCS conferences, transfer or go pro. We just have to end up going through it and planning for change. Change sometimes is good, change sometimes is bad. But you (have to plan for it)."
As far as the NBA situation goes, Beilein says the threat of players leaving early for a professional career is something that comes with the territory when you recruit elite talent.
Burke chose to return, but was projected to be a second-round pick had he left, and may likely be projected as a first-rounder next season. Tim Hardaway Jr. may also be in that boat.
Michigan has signed five-star players in Glenn Robinson III and Mitch McGary that could also be tempted to leave school early.
College basketball has become a high-risk, high-reward game, and it's something Beilein says he has no control over.
"It's something you have to (prepare for)," he said. "In football, it goes with injuries, guys have to stay three years, you get 85 scholarships -- (players leaving early) really impacts how you look at the future.
"You have to continue to recruit, knowing that if you're recruiting really good players, this is always an option."
During Burke's decision-making process, Michigan netted a point guard insurance policy in the form of Northfield North Hermon (Mass.) commit Spike Albrecht, who can sign a letter of intent Wednesday.
Beilein said some of his recent recruiting ventures have hinged on Burke's decision, and now that he's made his choice, Michigan can move forward with a better plan of attack.
The Wolverines have two scholarships remaining for 2012-13. Asked if he's done recruiting for next season, Beilein said "nothing's really closed, you just keep going."
UMHoops.com reported Monday night that Italian-born combo guard Amedeo Della Valle has planned a visit to Ann Arbor for the upcoming weekend.
There have been transfers, one addition and an NBA scare.
And through it all, Beilein's team currently sits as a potential Final Four contender, on paper at least.
The offseason isn't a month old, but it's already seen plenty of action.
"You can't stop looking at what you may have and what you might have one or two years from now," Beilein said. "You (may) lose people along the way because you have to make decisions.
"You can't have too many scholarships in one year because you may not have enough. You look at it, and weigh your options for the future."
Nick Baumgardner covers Michigan basketball for AnnArbor.com. He can be reached at 734-623-2514, by email at nickbaumgardner@annarbor.com and followed on Twitter @nickbaumgardner.
Want to stay connected to Wolverine basketball in your Facebook newsfeed? "Like" AnnArbor.com's Michigan Basketball News & Views.