Posted on
Mon, Dec 19, 2011 : 9:13 p.m.
John Beilein: Michigan senior Zack Novak now 'living a dream' as a true two guard
By Nick Baumgardner
Throughout his college career, Zack Novak has been used in just about every way imaginable.
The 6-foot-4 Novak has handled the ball, shot from deep, defended four positions and been asked to be the team's top rebounder, all while maintaining a role as the emotional leader of the Michigan basketball team.
But now, with a little help from sophomore forward Evan Smotrycz, Novak has been able to finally settle into his true position -- something coach John Beilein is quite excited about.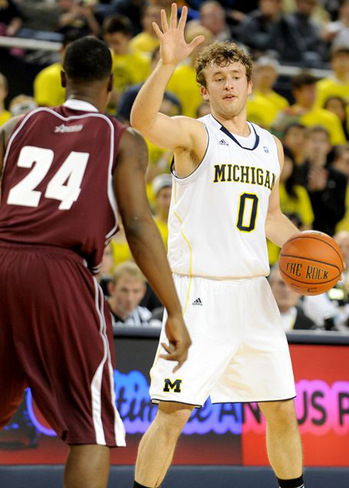 Angela J. Cesere | AnnArbor.com
"He's not showing you his versatility, he's showing you his hard work," Beilein said of Novak on Monday, during his weekly radio show. "He's worked and worked and worked and now he's living a dream right now of playing the two guard in the Big Ten.
"(He was always told he's) too slow to play the two guard, doesn't pass it well enough, doesn't handle it well enough. He's doing all those things now."
This season, as usual, Novak has shown an ability to do a little bit of everything.
But, thanks to the improved interior play of Smotrycz, he's been able to do so almost exclusively in the back court, as his services aren't needed nearly as much on the block.
Novak's shooting 43.2 percent from 3-point range, averaging 9.3 points per game, grabbing 4.6 rebounds per contest and has handed out 28 assists against just seven turnovers.
In his last three outings, Novak has averaged 7.7 points, six assists and 4.3 rebounds and just two total turnovers.
"Handling (the ball is) fun," Novak said following a win over Alabama A&M on Saturday. "It's good that if teams try to shut (freshman point guard Trey Burke) out, we have other options to handle the ball."
Novak insisted he'll always defer the ball-handling duties to Burke, claiming he's Michigan's best option to create a scoring play.
That may be true, but according to Beilein, Novak may in fact be a close second.
"He had a couple plays the other day and I looked at my assistants and just said 'wow,' " Beilein said. "He had an inside-out sweep that we call a 'Tony Parker,' where you cross (the ball over) and it's your last dribble. He crossed it at 17 feet, picked it up and laid it in just like that.
"We hadn't seen that in a game or a practice, so he's really filled with confidence."

Brundidge being pushed as a point guard

Michigan freshman guard Carlton Brundidge saw his first extended minutes of the season Saturday in the win over Alabama A&M, mainly as a backup to Burke at the point.
And, according to Beilein, that could be the norm going forward.
"When (Burke) is worn out, we ask 'what's our best way to get him some rest and help Carlton,' " Beilein said. "We said, let's push (Brundidge) at the point instead of trying to steal him time from Stu (Douglass) and Zack.
"If (Brundidge) is going to play, he's going to play at the point guard and try to develop (there)."

Beilein: Bradley series a 'win-win'

Beilein was joined on his show Monday by Bradley coach Geno Ford, who will bring his Braves into Crisler Arena to face Michigan at 6:30 p.m. Thursday.
Michigan will give Bradley a return home game during the 2012-13 campaign. Beilein said the game will be played during the first semester, and believes the series will be beneficial for both squads.
Bradley, located in Peoria, Ill., is 5-5 so far this season.
"It's hard to find these situations where they're 'win-win' both ways," Beilein said. "Where you go on the road and if you can get a win, it counts as a good win. And if you play them at home, it's a good win.
"Bradley's had a great program for a long time."
One subplot to Thursday's game will be the return of Beilein's son, Patrick, to Crisler Arena. Patrick, who played for his father at West Virginia before spending two seasons as a graduate assistant at Michigan, is currently Bradley's director of basketball operations.
"Patrick's just a superstar in the business," Ford said. "He's going to be a head coach really soon."

Odds and ends
After being asked by a fan to discuss the role of sophomore forward Jon Horford this season, Beilein said it will all depend on how quickly he recovers from his right foot injury. Horford has missed the past two games with the injury, not dressing Saturday against Alabama A&M. "We have to wait and see how this injury is and see what the X-rays and MRIs will tell us," Beilein said. "He makes big steps forward and then steps backward. But this young man has a great attitude and he wants to get better." ... Former Michigan point guard Darius Morris officially began his NBA career Monday night when the Los Angeles Lakers opened their preseason schedule against the Los Angeles Clippers. Beilein said he was excited to watch Morris play, and believes he'll be just fine in the NBA. "I'm looking forward to it," Beilein said. "That young man has tremendous will to make it in the NBA, he'll work his tail off to do whatever he can to make it. ... He'll adjust, he's a tough, smart young man."
Nick Baumgardner covers Michigan basketball for AnnArbor.com. He can be reached at 734-623-2514, by email at nickbaumgardner@annarbor.com and followed on Twitter @nickbaumgardner.
Want to stay connected to Wolverine basketball in your Facebook newsfeed? "Like" AnnArbor.com's Michigan Basketball News & Views.