Posted on
Thu, Mar 4, 2010 : 4:20 p.m.
Laval Lucas-Perry continues to struggle as Michigan's season winds down
By Michael Rothstein
On Monday afternoon in practice, sophomore guard Laval Lucas-Perry hit 15 of 16 three-pointers. The next night, against Minnesota, Lucas-Perry didn't attempt a shot.
This is normal for the sophomore from Flint. All season long Lucas-Perry has been an offensive enigma. When he releases his shot, it looks smooth. There are no obvious mechanical flaws.
Yet in 10 games this season, Lucas-Perry has not scored a point.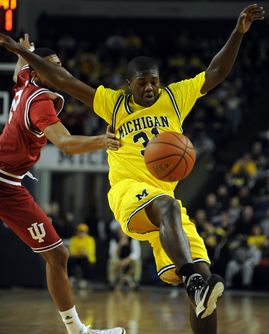 Melanie Maxwell | AnnArbor.com
"I'm fine," Lucas-Perry said Tuesday night. "I'm not knocking down shots, but I'm getting good looks. The ball is just not going in.
"I'm feeling great right now with my confidence."
Lucas-Perry hasn't scored since a 13-point outing at Iowa on Feb. 16. Since then, he's taken 11 shots - nine of them three-pointers - and missed them all.
He's been equally poor from the free throw line, missing both of his attempts there.
The lack of offensive production would be more understandable if Lucas-Perry played minutes like he did against Minnesota, when he came off the bench for a brief five minutes.
But prior to that, he recorded single-digit minutes just once this season, when he scored four points in seven minutes against Wisconsin.
But he's averaging 22.5 minutes a game and started 22 games for Michigan this season despite not scoring in over a third of the Wolverines' 29 contests.
"It's something that you go through," Lucas-Perry said. "I'm not worried about a thing. I'm going to keep my head up. I know I'm a good player and I'm going to do what I can for this team.
"I have a lot to give this team."
The lack of translation from his practice success to live action has baffled him a little bit.
He did, after all, make 34.4 percent of his three-pointers last year.
"You get a little frustrated," Lucas-Perry said. "But I'm a good shooter and I'm a great player. I'm going to keep working hard and do whatever it takes to be the player I know I can be."
So while Lucas-Perry said he's still feeling confident, something is going on. Michigan coach John Beilein seems to think that for a lot of his shooters - including Lucas-Perry - it is a confidence issue.
"There are just times where people just lose their confidence," Beilein said. "And it's very difficult to get it back without a make.
"You just want the ball to go in any way, bounce around, hit the top of the backboard, go in and it could change everything."
Michael Rothstein covers University of Michigan basketball for AnnArbor.com. He can be reached at (734) 623-2558, by e-mail at michaelrothstein@annarbor.com or follow along on Twitter @mikerothstein